---
Sunday, April 8, 2001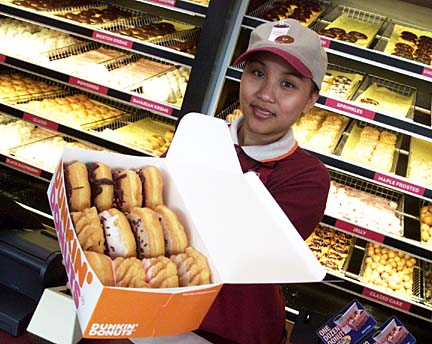 CRAIG T. KOJIMA / STAR-BULLETIN
Anamarie Lee offers up some Dunkin' Donuts at the Pearl City
store, which has broken sales records since its January opening.
---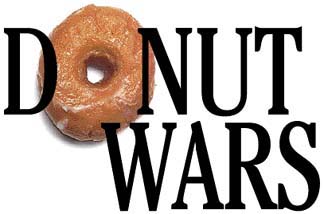 Hawaii's Dunkin' Donuts franchise
is ready to compete with the
legendary Krispy Kreme
---
By Russ Lynch
Star-Bulletin
TOMMY NOBLE loves Dunkin' Donuts. He has driven to Pearl City from his Wilhelmina Rise home twice since the new store opened there in mid-January, buying three dozen doughnuts at a time.

"They make the best cake doughnuts," said Noble, bar and wine manager at Sunset Grill.

Noble typifies the appreciation shown to the first Dunkin' Donuts shop to open since the only outlet, at the Ala Moana Center, closed in 1995.

Dunkin' Donuts came to the islands in 1966, but a decade later only one outlet hung on. When that closed, fans like Noble were bereft.

But as big a fan as he is of Dunkin' Donuts, Noble can't wait for competitor Krispy Kreme Doughnuts to open a Hawaii store, which could be as soon as a few months from now.

"They're fabulous," Noble said. "Every college student on the mainland has sat in front of a Krispy Kreme waiting for the red 'hot' sign to light up."

The competition is coming and while the separate businesses that hold franchises for Dunkin' Donuts and Krispy Kreme for Hawaii don't expect to be battered in a doughnut war, they'll be fighting for their share of island doughnut lovers.

HONOLULU ENTREPRENEUR Kenneth Iong, getting ready to open his second Dunkin' Donuts outlet in a couple of weeks on Kapiolani Boulevard across from the Hawaii Convention Center, says he welcomes competition.

"I love competition. It gets me activated and excited," said Iong, who plans at least 10 Dunkin' Donuts stores in the islands.

Chicago restaurant operator Gerard Centioli, who acquired the Krispy Kreme franchise for the Pacific Northwest, Hawaii and Alaska for an undisclosed fee, says his years in the restaurant business have taught him that there are only so many people in a community and the restaurants have to fight for their share.

"I've been in this business all my life," Centioli said. "What I've learned about the restaurant business is that there is a battlefield that goes on that's called, half seriously, a fight for 'share of stomach.'"

Centioli sees Dunkin' Donuts and Krispy Kreme as different operations, making different products and selling them in different ways.

A KRISPY KREME store makes doughnuts on the premises, behind glass, allowing customers to watch them being produced. When the line's most famous product, hot glazed doughnuts, starts coming off the production line, a red "hot" sign is lighted and customers rush the counter.

That may happen two or three times a day. The rest of the time the production line is turning out the 18 other Krispy Kreme varieties.

Dunkin' Donuts island franchisee Iong said that may be attractive but he thinks his own system makes more economic sense. His plan uses a central kitchen to produce thousands of doughnuts and deliver them fresh to a number of stores.

Centioli sees the Krispy Kreme brand as an icon, widely recognizable for decades. In fact, he and his partners formed Icon Doughnut Development Co. to handle the franchise.

"When we started Icon as a sister company to our parent Lettuce Entertain You, it was for the express purpose of forming partnerships with 'Best of Class' businesses," Centioli said.

He sees Krispy Kreme fitting that description in two ways.

"It's stood the test of time. Krispy Kreme has been around for 63 years. And it is certainly the best in its class," he said. "We feel that Krispy Kreme is clearly the best doughnut. It's a pretty amazing product."

Centioli expects to open 30 Krispy Kremes in his franchise area, including a tentative total of three in Hawaii, with the possibility of more. He is looking at two stores on Oahu and one on Maui.

"And it could grow from that," he said.

He won't give out any information yet about specific island locations or even about timing. The first could be next year or it could be later, he said. Centioli first is completing his Krispy Kreme outlet in Issaquah, Wash., on the outskirts of Seattle. He then intends to open one in Portland before starting the first Hawaii outlet.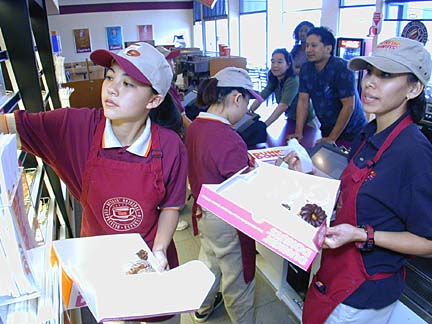 CRAIG T. KOJIMA / STAR-BULLETIN
Kristin Halbert (left) and manager Richel Forest
select doughnuts for customers.
---
MEANWHILE IONG is pushing ahead with Dunkin' Donuts and says he is doing so with proven island experience. Educated at St. Louis High School and the University of Hawaii, Iong has been a successful entrepreneur through his food manufacturing and wholesale business, ICH Group, which operates under the Sushi Chef name.

In 1998, the company opened an 18,000-square-foot central kitchen to make a range of products for wholesale to retailers, restaurants, airlines and others. A natural extension of that was to go directly into retail himself. He started with Catch of the Day Sushi, which has expanded to four restaurants. For some years Iong has been aware that Hawaii had no national-brand doughnut.

He looked at Krispy Kreme, but decided Dunkin' Donuts would suit his business better because it was less capital intensive and suited for central distribution of doughnuts. Since it was not necessary to have a doughnut-making plant in each store, it could use smaller outlets of 1,500 to 2,000 square feet. Krispy Kreme outlets are three times that size to accommodate the kitchen.

Iong started negotiating with Massachusetts-based Allied Domecq Quick Service Restaurants, which holds the U.S. license for the Dunkin' Donuts brand.

Iong was already known to the company. Domecq also has the Baskin-Robbins ice cream brand and Iong's company has run Baskin-Robbins operations in Waikiki for more than 10 years.

Nevertheless it took four years to get the Dunkin' Donuts franchise. Hawaii just wasn't a target area for the brand, he said.

He finally achieved it by getting the company to treat Hawaii as an "international" location, under Domecq's international division. It allowed him to become a "local area developer," such as those who get franchise rights for whole countries.

Iong would not say what he is paying for the rights.

"There's usually a $40,000-a-store franchise fee and there's percentages that go into advertising, etc.," he said. But to get all the rights for Hawaii he had to make "a substantial investment" up front, Iong said in an interview at the Catch of the Day Sushi restaurant behind the soon-to-open Dunkin' Donuts on Kapiolani.

DUNKIN' DONUTS franchisees in the United States are usually required to show that they have at least $200,000 in cash or other liquid assets and a total net worth of at least $400,000. Iong said his deal was different because it was international.

Krispy Kreme officials said they don't disclose franchise terms, which are worked out with individual franchisees. The company's Web site, www.krispykreme.com, lists no U.S. franchise price, saying only that all its domestic franchises are taken. It has multistore market-area franchises available in foreign markets and for those the minimum net worth requirement is $5 million or $750,000 per store.

Domecq's U.S. operations depend on what the company calls a "complementary daypart branding strategy." Its three brands -- Dunkin' Donuts, a sandwich business called Togo's and Baskin-Robbins -- are supposed to work together.

IONG SAID the idea is to group the franchises in one complex, attracting customers to each at different times of the day, for doughnuts and coffee in the morning, sandwiches at lunch and ice cream later. Things are a bit different in Hawaii, he said. Ice cream is an all-day, year-round commodity, for instance. He is mixing Catch of the Day Sushi with Dunkin' Donuts at the first two doughnut locations.

He said he will open a combination Baskin-Robbins and Dunkin' Donuts at King's Village in Waikiki in May.

The key to his operation is the central kitchen in Iwilei, which can produce 400 dozen doughnuts a day on automated equipment and also produces sushi and other items. He'll stake his brand against Krispy Kreme in the marketplace any time.

"Dunkin' Donuts quality is always top and we are offering variety and freshness" through fast and frequent deliveries, usually less than 30 minutes from the kitchen, Iong said.

Fan fever surrounds new doughnut shop openings. At the opening of Denver's first Krispy Kreme last week hundreds of people waited for hours in the freezing early morning fog to taste the first Krispy Kreme doughnuts emerging from the glaze.

During the first week of business in January, Iong's Dunkin' Donuts at Pearl City shattered the opening-week sales record for 5,000 franchises in the company's 51-year history. The store opened at 6 a.m. and within three hours customers had snapped up more than 300 dozen doughnuts. Iong reported selling more than 20,000 doughnuts in that first week.

If you want to know which is the best doughnut, ask around and you'll get a lot of opinions.

On television, police and doughnuts are inextricably linked. An officer at the Pearl City station, who did not want his name used, said that's true in real life.

"Oh, yeah, we know about doughnuts," he said.

He's tried Krispy Kreme on the mainland and the new Dunkin' Donuts is nearby. But the cops he knows still prefer tried and true local brands.

"Bakery Kapiolani and Safeway, they're better," he said.

Love's Bakery, which makes doughnuts here and delivers them to supermarkets, isn't worried.

"We see it as competition, sure," said Sales Manager Kevin Takayesu. But Love's real competition comes from bakeries inside supermarkets, he said.

People who pick up Love's doughnuts generally intend to take them home and eat them later, since they have a three-day shelf life, he said. Those who get Dunkin' Donuts or Krispy Kreme products treat them more as an instant snack than as a grocery product, he said.





Taste of the titans

Some facts about doughnut dynasties Dunkin' Donuts and Krispy Kreme:

DUNKIN DONUTS

>> Founded: 1950

>> Franchises: About 5,000 in every state and 40 countries

>> Sells: 6 million doughnuts a day, 2.3 billion a year

>> Employees: About 88,000

>> Same store sales volume: increased 5.8 percent in 1999

>> Headquarters: Randolph, Mass.

>> Owner: British company Allied Domecq PLC

>> Best seller: Glazed

>> Have a doughnut idea? Too bad, the company doesn't accept unsolicited ideas.

>> Want a franchise? None are available in Hawaii, but are in 17 other states. To operate a single store, you must have a minimum net worth of $400,000

>> CEO: Philip Bowman (Allied Domecq PLC)

KRISPY KREME

>> Founded: 1937

>> Stores: About 178 in 29 states

>> Produces: 3 million doughnuts a day, 1.3 billion a year. Each store can produce 2,400 to 6,000 dozen a day

>> Same-store sales growth: 14.1 percent for fiscal year 2000

>> Ticker: KREME on the Nasdaq. (In May, the company will change to KK on the New York Stock Exchange.)

>> Employees: About 3,300

>> Headquarters: Winston-Salem, N.C.

>> Want a franchise? Sorry, all U.S. markets are already spoken for

>> CEO: Scott A. Livengood







Dunkin Donuts

From Massachusetts to multinational

Dunkin' Donuts grew from a single shop opened in 1950 in Quincy, Mass. Today there are nearly 5,000 Dunkin' Donuts shops in United States and 40 other countries.

The company went public in 1968 and in 1990 was acquired by British wines and spirits dealer Allied Domecq PLC. The U.S. franchisor is Allied Domecq Quick Service Restaurants in Randolph, Mass., which also holds franchises for the Baskin-Robbins ice cream and Togo's sandwiches brands and tries where possible to put the three brands together in one complex.

The Hawaii franchisee is ICH Group LLC, headed by Kenneth Iong and doing business as Sushi Chef. The wholesale food importing, manufacturing and distribution business has rights to 10 Dunkin' Donuts outlets in Hawaii, has one open in Pearl City and is soon to open a second, on Kapiolani Boulevard. Dunkin' Donuts is best known for its cake doughnuts.

Krispy Kreme

Rising from the south back in 1937

Krispy Kreme Doughnuts' first store opened in 1937 in Winston-Salem, N.C. Today there are 178 Krispy Kreme outlets in 29 U.S. states. The company, which went public a year ago, is traded on the Nasdaq stock market. The franchise for Hawaii is held by Icon LLC, part of Chicago-based Lettuce Entertain You Enterprises Inc., which operates more than 70 restaurants in six states and Japan.

Icon, headed by Gerard Centioli, vice president of Lettuce Entertain You Enterprises and president and CEO of Icon, has Krispy Kreme rights for the Pacific Northwest, Hawaii and Alaska and plans at least three outlets for Hawaii - two on Oahu and one on Maui. No startup date has been announced.

Krispy Kreme is best known for its yeast-raised doughnuts and its glowing red "Hot Doughnuts Now" sign that comes on when the glazed doughnuts are ready.

---

Star-Bulletin staff



E-mail to Business Editor
---
---
© 2001 Honolulu Star-Bulletin
http://archives.starbulletin.com