---
Thursday, March 29, 2001
Ship Back For Repairs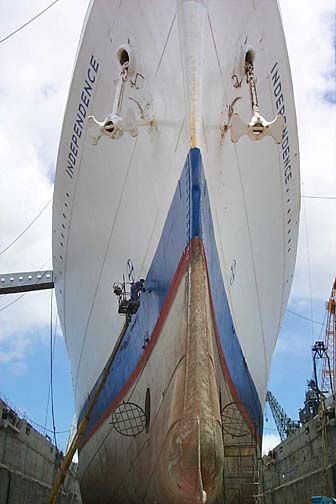 PHOTO COURTESY OF PEARL HARBOR NAVAL SHIPYARD
The 860-passenger cruise ship SS Independence will be tied up at the Pearl
Harbor Naval Shipyard through tomorrow for $478,000 worth of emergency
repairs to a 3-ton bow thruster. The job is expected to employ about 30 civilian
shipyard workers. Because Honolulu does not have a private dry dock large
enough to accommodate large cruise ships, the job would have had to be done
on the mainland. This is the second time in a year the ship docked at Pearl
Harbor for repairs. In January 2000 the Independence was dry-docked at
Pearl Harbor for two weeks for $5 million worth of regularly
scheduled maintenance work.
---
E-mail to Business Editor
---
---
© 2001 Honolulu Star-Bulletin
http://archives.starbulletin.com