---




Newswatch
Police, Fire, Courts
By Star-Bulletin Staff
Tuesday, March 27, 2001
---
Waianae Coast to celebrate ocean
environment, island culture

Kai Makana and the Waianae Coast community will be teaching youth how to preserve Hawaii's environment Saturday.

Waianae High School students will also host an awards ceremony Saturday at the Pokai Bay Community Ocean Environmental Day to announce the results of the Na Opio Challenge.

The challenge was issued in January to encourage youth across Oahu to take the lead in establishing environmental preservation projects in their own communities. Youth groups from Nanakuli, Castle, Kailua, Kaiser, Kalaheo, Kaimuki and Roosevelt high schools have been participating in this challenge.

The Na Opio challenge is part of the Adventure Aloha 2001 program, which culminates with a youth exchange with Tahiti in October.

More than 300 people from the Waianae Coast and other communities are expected to participate in Pokai Bay's Community Ocean Environmental Day.

Along with the awards ceremony, four workshops will be held to educate the community in Hawaiian cultural protocol and to provide training in poi pounding, canoe paddling and limu planting.

"Kai Makana wants to raise environmental awareness at all levels of our community," said Donna Kahakui, Kai Makana's founder.

The events begin at 8 a.m. with a paddling clinic.

The first canoe race starts at 10 a.m.

House debates moving sex offender location

The House Health Committee was to hear a measure today to relocate a juvenile sex offender program in Pearl City to Kahi Mohala Hospital and Residential Treatment Center in Ewa Beach.

The concurrent resolution is scheduled for hearing at 8:30 a.m. in Room 329 of the state Capitol.

A treatment center for juvenile sex offenders opened in December at the Waimano Training School and Hospital in Pearl City, but strong opposition by area residents led the state to study alternatives.

A study by Kimura International recommended three relocation sites: Kahi Mohala, Kalaeloa, and Wahiawa near Kemoo Farm.

Kamehameha Schools announces new staff

Hamilton I. McCubbin, chief executive officer of Kamehameha Schools, announced Dudley Hare Jr. as the new chief education officer.

He also named Rodney Chamberlain as headmaster for the Maui campus and Stan Fortuna as headmaster for the Hawaii campus.

All will start their new job positions in July.

Hare was superintendent of schools in New York and has headed a regional agency servicing school districts in Putnam and Westchester counties in New York.

Fortuna was a school superintendent in three Michigan districts with extensive fiscal and school construction background. Chamberlain is a career educator who spent 22 years at Milton Hershey School in Pennsylvania and recently has been the headmaster for the University Lake School in Wisconsin.

Outreach College presents summer lineup

A listing of summer courses, events and programs offered by the Outreach College at the University of Hawaii-Manoa is on the street.

Outreach College this summer will feature the Hawaii Guitar Festival 2001, an evening of Hawaiian music from the 1920s and 1930s, a performance by Italian performance troupe Teatro Del Vicolo, a concert by Trout Fishing in America, international cinema and a variety of lectures.

Free copies of the Outreach College catalog are available at the UH campus, at locations around the community, at neighbor island libraries or by request a 956-5666.

Corrections and clarifications

The Capitol View column by Richard Borreca that ran Saturday incorrectly spelled the name of the late Star-Bulletin writer Cornelius D. Downes.

The Honolulu Star-Bulletin strives to make its news report fair and accurate. If you have a question or comment about news coverage, call Publisher and Editor in Chief John Flanagan at 529-4748 or email him at jflanagan@starbulletin.com.






---




Police, Fire, Courts



By Star-Bulletin staff



BOMB DAMAGES KAILUA CHURCH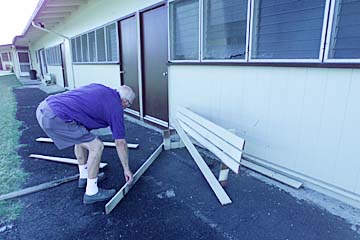 KEN SAKAMOTO / STAR-BULLETIN
A bomb exploded at a church in Kailua last night, destroying a wooden bench, breaking window louvers and a rain gutter on a Bible study classroom. Neighbors reported hearing a loud explosion at 9:07 p.m. at the Church of Christ at Kailua, at 400 Maluniu Ave. No one was injured. Police have made no arrests. "I've been living in Kailua since 1949 and we've had minor vandalism. That's kids, they come and scratch screens and stuff like that. This was a homemade bomb, I think," said church volunteer Arthur Hillman, who helped clean up the damage this morning.

---




Bottle of mercury found in Waipahu back yard

A Waipahu man found a bottle of mercury in the back yard of his rental home at 94-405 Apowale St. yesterday evening.

Waipahu firefighters said the man was cleaning his back yard when he discovered a sealed glass jar with about a half a cup of mercury in it.

Fire fighters said the mercury did not appear to be leaking from the container.

The container was turned over to state health officials from the Hazardous Evaluation and Emergency Response team.

2 men charged with travel check forgery, theft

Honolulu police detectives said two men arrested for cashing fake travelers checks over the weekend may be a part of a much larger forgery ring involving hundreds of potential cases both in and out of state.

Prosecutors last night charged 30-year-old Norbert Chichocki and 34-year-old Wdeslaw Kajewski with 8 counts of forgery and 8 counts of theft.

Ward Warehouse security guards detained Chichocki and Kajewski Saturday after a store owner realized the travelers checks both allegedly used were not valid.

Police officers arriving on scene arrested both men and also found fake identification along with up to $2,000 in fake checks and cash.

Police reports state that both men were using the counterfeit travelers checks to purchase items so as to obtain cash change.

Detectives working the case said that the same kind of checks have been reportedly used elsewhere on Oahu, Maui and on the mainland.

Although Chichocki and Kajewski list California addresses, detectives say it is likely false information.

Both men are being held in lieu of $100,000 bail.

Space heater causes home fire in Kaimuki

A space heater caused a fire yesterday that severely damaged a Kaimuki home and injured two residents, fire investigators said.

An 85-year-old woman suffered second-degree burns and her husband, 85, suffered minor burns to his hands pushing his wife out of the fire.

The 6:06 a.m. fire, at 1044 22nd Ave., caused an estimated $250,000 in damage to the two-story home.

The fire investigator said a space heater in the second-floor living room ignited material that set a sofa on fire.

A neighboring home sustained $10,000 damage to its exterior.

Police investigate possible child assault

Honolulu police opened a second-degree assault investigation after a 7-month-old boy suffered head injuries. According to a police report, the boy was taken to Queen's Medical Center on March 16 for seizures.

Hospital officials sent the boy home, but a later examination discovered the boy had a fractured skull and swollen brain. The boy was treated at Kapiolani Medical Center and was listed in good condition the report said.

A Kapiolani spokeswoman said the boy is no longer at the hospital. Police have made no arrests or identified any suspects.

Dead body turns up on Kauai's North Shore

Lihue, KAUAI >> Police are investigating the death of a man whose body was found Friday afternoon in a tent on the North Shore.

At 12:51 p.m., police received a call from a Kilauea resident of a body located at Kee Beach. Officers said the man had been dead for some time.

Police do not know yet whether foul play is a factor in the man's death. The case is currently classified as an unattended death.

Elderly pedestrian killed by car is identified

The 77-year-old woman who died after being struck by a car while crossing Lumiauau Street Thursday morning has been identified by medical examiners as Emiliana Melo of Waipahu.

Police said she was not in the crosswalk.

Melo suffered head injuries and was taken to Queen's Medical Center where she was later pronounced dead.







E-mail to City Desk
---
---
© 2001 Honolulu Star-Bulletin
http://archives.starbulletin.com