---
Friday, March 23, 2001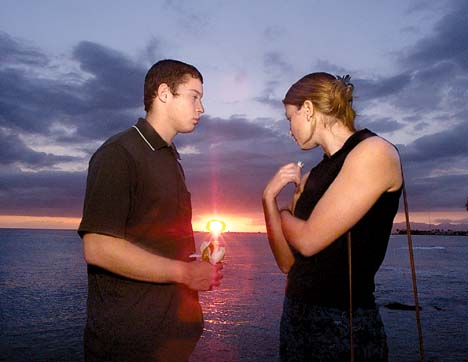 DENNIS ODA / STAR-BULLETIN
Andy Lachman and Marina Sprinker were among Tammy Tye's
many teammates and friends remembering her yesterday at Magic
Island. Tye, who came to Hawaii to "swim fast (and live) in paradise,"
was killed while bicycling in Moiliili.
---
UH swimmer's
spirit stays here


Friends share stories with
Tammy Tye's father in
final farewell

---

By Leila Fujimori
Star-Bulletin

ELEGANT as an English rose but as strong as an oak. That's how Noe Hilyard described 19-year-old University of Hawaii swimmer Tammy Tye from England. Tye would lift his spirits by helping him focus on the positive whenever he got homesick.

And Tye's coaches and teammates agreed that she buoyed the entire team's spirit with her vitality and humor.

Friends scattered red and yellow flower petals into the ocean to say their final farewell to Tye as the sun set at Magic Island yesterday. Tye was killed when she was struck by a car while bicycling in a Moiliili crosswalk last Friday night.

Although her many friends shed tears as they thought of her, their faces lit up when they reminisced of the times spent with the young Englishwoman.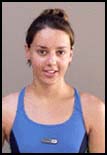 Tammy Tye: Her vitality and
humor won her many friends
---
"She was always right. She was so feisty, and she was so full of life," said Katie Seall. It was ironic that she should lose her life, Seall said.

Many friends and parents of friends who knew her well had stepped up to the podium at First Presbyterian Church earlier in the day to share poetry, tears and their memories of the UH sophomore.

Tye "carried herself so well in her schoolwork, in her swimming and with her friends," said Seall, 20, a fellow teammate.

"She was so bright, she didn't have to put any effort in anything she did," said Tammy's best friend and roommate, Brandie Smith. The two had become fast friends, even visiting each other's homes in England and Canada.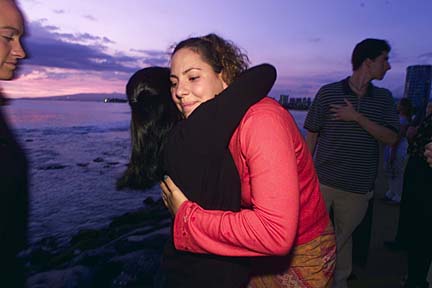 DENNIS ODA / STAR-BULLETIN
Brandie Smith, in red, gets a hug from Jill Saldanewere, Tye's
teammate. Roommates, Smith and Tye became fast friends, even
visiting each other's homes. Tye's father recorded the oceanside
service for the family and met many of her friends.
---
"She was the most kind and caring person that I ever knew, that could be so sarcastic in the most kind and caring way," said Smith, 22.

Interim coach Bruce Kennard said she was a valuable athlete who provided an uplifting spirit for the team.

Assistant coach Andy Deichert said Tammy came to UH because a swimmer from her hometown, Greg Phillips, attended the university and inspired her.

Deichert said she was always laughing. Deichert said she set a record in the 200-meter freestyle at the Maui Shoji Sakamoto meet last summer.

"She was looking to be a solid performer," Deichert said. "She was next in line to come up."

Her father, Richard Tye, videotaped the oceanside gathering for Tammy's mother, two sisters and brother in Burtle, England.

"They will know just how many people Tammy touched," Tye said. "She lives on in their hearts."

Dozens of her friends came up and hugged Tye and shared stories of his daughter with him.

He said it was his daughter's dream to come to Hawaii to "swim fast, study hard and to experience life in paradise."

"Although I'm taking home Tammy's remains to England, her spirit stays here in Hawaii," Tye said.
E-mail to City Desk
---
---
© 2001 Honolulu Star-Bulletin
http://archives.starbulletin.com