---
Friday, March 23, 2001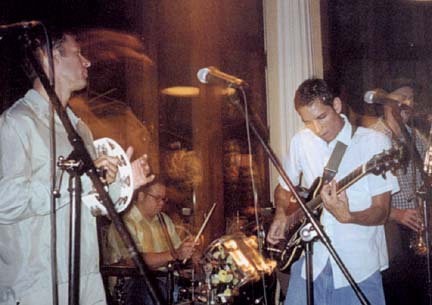 GO JIMMY GO
---
Rooted in ska

Go Jimmy Go
Slow Time Jump Up Records

Polluted by decades of pop sludge, punk posing and MTV-style exploitation, the mutated spawn of the original '60s ska ensembles have relied on unsavory heapings of punk, metal and shock rock to validate their old school Jamaican grooves to a rootless generation.

The Hawaii-bred Go Jimmy Go, however, takes few liberties with ska's tradition-rich sound, preferring to remain true to its original, lo-fi, scratchy-vinyl glory.

Not since the mid-'90s, when local outfit Tantra Monsters were signed to Dill records has Honolulu been able to trumpet such a praiseworthy ska band. But whereas the eclectic Tantra Monsters were more revelry than respect, much of Go Jimmy Go's repertoire concedes its debt to classic, pre-reggae forms. Theirs is an infectious, upbeat sound that recalls a teen-aged Bob Marley in suit and tie; years before rasta theology introduced social consciousness and spirituality to the Jamaican sound.

Pleasantly adept at navigating a myriad of Jamaican subgenres from ska to dub, reggae to rocksteady, Go Jimmy Go is inherently catchy, yet mindful of the origins of their chosen idiom.

Songs like "Tin Penny" and the wistful "Miss Argentina" bellow with such balmy, heartfelt romanticism that the band's minor vocal indiscretions are easily pardoned. From the buoyant "Bang the Skillet" and "Mountainview" to the wicked skank of "Set Me Free," "Slow Time" bubbles over with a joyous concoction of impassioned melodies and vintage grooves.

-- Shawn "Speedy" Lopes, Star-Bulletin





Click for online
calendars and events.
E-mail to Features Editor
---
---
© 2001 Honolulu Star-Bulletin
http://archives.starbulletin.com