---
Wednesday, March 21, 2001



M A J O R _ _ L E A G U E _ B A S E B A L L
---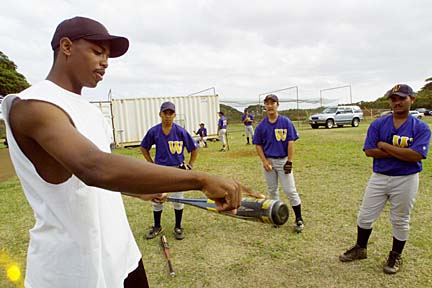 GEORGE F. LEE / STAR-BULLETIN Jerome Williams, left, one of the San Francisco Giants' top prospects,
gives some bunting tips to Waipahu High School baseball players
Ty Takahashi and Jaryd Kiyabu. Williams returned to his alma mater
while on his trip home for his mom's funeral.
---
Torn between the
game and sorrow
of losing mom


Giants' prospect Jerome Williams
returns home from spring training
for his mom's funeral

---

By Dave Reardon
Star-Bulletin

When you hurt inside, you go to the place you love. When you are gifted, the best thing to do is share the gift.

That's Jerome Williams this week at Waipahu High School's Masa Yonamine Athletic Complex.

The San Francisco Giants phenom prospect is supposed to be in Scottsdale, Ariz., blowing his 95-mph fastball past other professional baseball players. But he has a very good excuse to be home working out with his old high school team, sharing the gift.

Deborah Williams, Jerome's mother, died Saturday after a six-year battle with breast cancer. She was 46. Services are tentatively scheduled for next Wednesday at Hawaiian Memorial Park Cemetery.

When he left for spring training two weeks ago, Williams, 19, said he knew his mother might pass away before he returned to Hawaii. He argued with his father, Glenn Sr., who told Jerome to remain with the Giants. He called home from California, and again from Scottsdale, begging to come back. Each time Glenn told him to stay, that Deborah wants him to keep to the path of his dream.

"Leaving was the hardest thing to do. I knew I might not see my No. 1 friend ever again. I could talk to her about anything," Jerome said. "But then I beared down and concentrated on baseball and kept her in my mind at the same time."

Williams, who returned home Sunday, continues to balance baseball and sorrow the best he can. With the help of Lenn Sakata, a Kalani alumnus who is a minor-league manager for the Giants, the team drafted him a workout regimen and got him home as quickly as possible.

Yesterday at Waipahu, Williams ran the Marauders through the Giants' agility drills and taught them bunting skills at their last practice before today's league opener, in which they host Campbell.

"I just feel lucky to be able to share with my old school. Some guys can't, for whatever reason," Williams said.

It's the worst reason possible that Williams has this opportunity, at this time, to give back. That he knew it was coming is little consolation, but it did help him prepare for the eventuality.

He is dealing with his loss the same way he has handled his baseball success to date: With dignity. Williams finds the courage to give to others in days that should be his darkest.

"Before he left for spring training he stopped by off and on. He told me his mom could be going soon," Waipahu coach Milton Takenaka said. "I'm surprised the way he's handling it. I think he's shown real maturity in that aspect.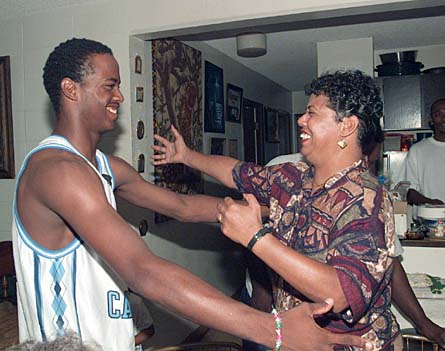 KEN SAKAMOTO / STAR-BULLETIN
Jerome Williams, left, and his mother Deborah Williams embrace
on June 3, 1999, after finding out Jerome was drafted in the first
round by the San Francisco Giants. Deborah passed away
Saturday from breast cancer.
---
"What he's doing helps himself and it helps the team. A lot of the kids are still kind of in awe of him because they were freshmen when he was here. But they know him, and he feels relaxed around the kids."

Williams, a 1999 Waipahu graduate, posted a 0.30 ERA with 116 strikeouts in 65 innings as a senior. In his first season as a pro, last year with the San Jose Giants in A-league, Williams struck out 115 batters in 126 innings. He went 7-6 with a 2.94 ERA while developing an effective slider and change-up to go with a fastball that he regularly gets up to 95 mph.

"Physically he looks a little more dominating on mound. He's filling out," Takenaka said. "Yesterday you could see the difference in the velocity and the breaking pitch. There's a lot more sharpness."

Waipahu senior Jannsen Rivera caught Williams in high school and again recently.

"He could always throw hard, but now he has a nasty slider," Rivera said. "It's just so sad why he's here, but it's good for him, because he knows us and can talk to us."

Baseball America magazine considers Williams the top prospect in the Giants system and his stuff draws comparisons to Dwight Gooden's at the same age.

"I think he could be better than Gooden," said locally based Kansas City Royals scout Eric Tokunaga, who has known Williams and his family for several years, and seen him mature from a raw kid who had never been out of Hawaii to a poised professional.

"Besides the physical talent, he has an outstanding work ethic and the ability to make adjustments. That's from the family. The Williams family might not have been rich in bank account but they are rich in family life, morals and love," Tokunaga added. "That's what the mother really instilled. Dad came in with the work side. Mom gave him a solid foundation of being a good kid. They didn't have a lot financially, but they had a lot in everything else."

The family has struggled not only due to Deborah's illness, but also Glenn's neck injuries that have kept him from work since 1995, right around the time when Deborah was diagnosed.

But the entire family, which also includes sons Elliott and Glenn Jr., has kept a collective positive attitude through it all. Deborah never got down, so why should anyone else?

"She was the base, the backbone," Glenn Jr. said. "Dad had a lot of say in raising us, but mom controlled the show."

Williams received a large signing bonus when the Giants selected him with the 39th pick of the 1999 draft, enough to put the family on the track to financial security.

But Jerome and Glenn Sr. both said it was never about money with Deborah. She merely wanted to see her son succeed at what he loves.

"She's always a part of it," Jerome Williams said. "Always. Even though she's gone she'll always be a part of it. She was like my driving force.

"She told me, 'Once I go, I'm always going to have a front-row seat.' "
E-mail to Sports Editor
---
---
© 2001 Honolulu Star-Bulletin
http://archives.starbulletin.com