---

In The Garden



Saturday, March 17, 2001
By Suzanne Tswei
---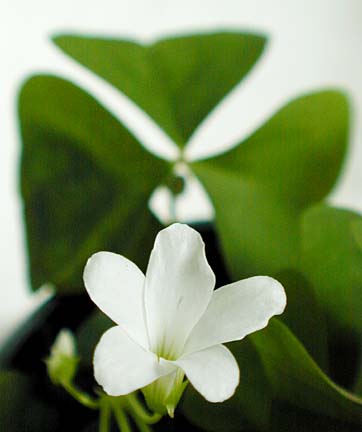 Ken Ige / Star-bulletin
Will the real four-leaf clover stand up? This may
look like a four-leaf clover, but it is an imposter.
Oxalis regnellii actually has three leaflets and
white, bell-like flowers.
---
Four-leaf posers
as good as
the real thing

FINDING a four-leaf clover never has been easy. In the old days, it depended on a rare chance encounter in the wild. Nowadays, your chances are better if you walk into a garden store -- especially if you're willing to settle for a four-leaf clover look-alike.

One of them is a strictly Hawaiian impostor, the 'ihi'ihi lauakea. Its resemblance to a rare four-leaf shamrock makes it a popular plant for St. Patrick's Day.

The true shamrock is a dainty, water-loving weed with three-leaflets to each stem. Every now and then it produces four leaflets, and folklore says finding that four-leaf freak of nature brings good luck.

'Ihi'ihi lauakea, or 'ihi'ihi for short, also is a dainty (but larger) water-loving weed. It is not a clover, but a fern. Without fail, each stem always has four leaflets.

But the 'ihi'ihi shows its true nature at night or when it's in the shade. The leaflets fold up, like a wind-swept, upside-down umbrella, something that the true shamrock does not do.

The 'ihi'ihi may or may not bring good luck, but it is being sold as a St. Patrick's Day plant at garden stores. We found some 5-inch pots at Star Garden Supply stores, each decorated with clover-pattern wrap and a green bow for $4.99.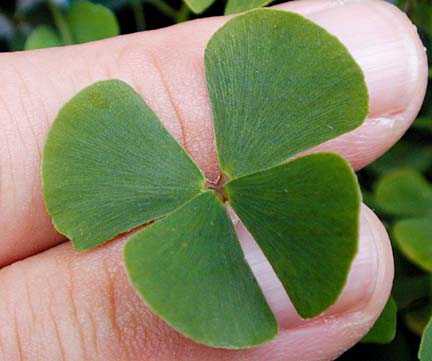 Ken Ige / Star-Bulletin
'ihi'ihi lauakea is an endangered Hawaiian fern that
has four leaflets to every leaf, making it a popular
pick for St. Patrick's Day. In comparison, the true
Irish shamrock, which normally has only three
leaflets, is smaller and has heart-shaped leaflets.
---
Gordon Tsumoto, a back-yard grower, said he was intrigued by the looks of 'ihi'ihi when a friend gave him one a few years ago. From that single plant, he now supplies garden shops with about 200 plants for sale for St. Patrick's Day.

"I thought the plant looked unusual when I got it. Every leaf comes out with four -- like getting a four-leaf clover all the time," Tsumoto said.

As for good luck, Tsumoto isn't sure 'ihi'ihi has brought any. "But I've always been a lucky guy anyway," he said.

The plant is as hardy as a weed and easy to care for, he said. As a potted plant, it likes a lot of sunlight, water and a balanced fertilizer every three or four months.

In the wild, though, this Native Hawaiian plant has a peculiar life and thrives under extreme conditions that would spell extinction for almost all other plants.

It is on the federal endangered-species list and can be found only in a handful of locations on the islands, one of which is the Koko Head 'ihi'ihi Lauakea Preserve on Oahu. The plant once could be found in at least 11 locations on Oahu, Molokai and Niihau.

'Ihi'ihi, or Marsilea villosa, is found in terrain that alternates from arid to flood conditions, both of which are crucial to the plant's reproduction. Like a fern, it reproduces from spore capsules but it needs the soil to dry out before the capsules can mature. The capsules lie dormant in the dry soil until the next flood brings the moisture it needs to produce new plants.

Another popular four-leaf impostor, a showy plant with pink flowers, is Oxalis tetraphylla or Oxalis deppei as it once was known. Its leaf, large and marked with dark purple toward the center, always has four leaflets.

Because of its appearance, this native Mexican plant is known as "lucky plant" or "lucky clover." It also is called the "iron cross" because of the darkish marking in the center of the leaf resembles a cross.

Others in the Oxalis family, or sorrel, also are popularit St. Patrick's Day plants, but they only have three leaflets. Oxalis regnellii has green leaves and white flowers, and is more commonly available. Oxalis triangularis is harder to find because of its unusual dark red leaves. It produces white flowers.

Although these sorrels are really bulb plants, they are commonly referred to as clovers. Their leaves also fold at night or when there isn't strong light. But unlike 'ihi'ihi, these leaves fold downward, like a regular umbrella.

They are easy to care for and make attractive in-door plants. Allow for plenty of light and expect the plants to go dormant when the leaves begin to drop. Keep them in a shady spot, and when the leaves begin to sprout, feed them water and balanced fertilizer regularly.





---

Suzanne Tswei's gardening column runs Fridays in Today.
You can write her at the Star-Bulletin,
500 Ala Moana, Tower Seven, 2nd floor, Honolulu, HI, 96813
or email stswei@starbulletin.com
E-mail to Features Editor
---
---
© 2001 Honolulu Star-Bulletin
http://archives.starbulletin.com