Advertisement - Click to support our sponsors.

---

---
Monday, March 12, 2001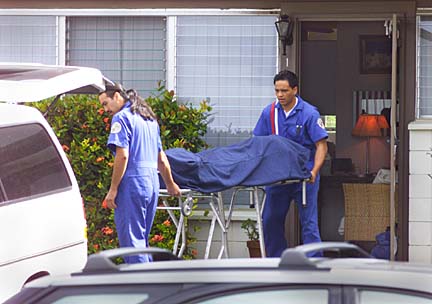 By FL Morris, Star-Bulletin
The body of the victim is removed today from the
apartment in the Tropic Gardens townhouses in Kahala.
---
Kahala woman
fatally stabbed;
suspect surrenders


The woman moved into the area
because she thought it would be
a nice place to raise her son

---

By Rosemarie Bernardo
Star-Bulletin

A 32-year-old suspect who allegedly stabbed his former girlfriend to death in her Waialae home this morning has turned himself in, said Lt. William Kato of the Honolulu Police Department's Homicide Division.

Police said the man turned himself in at the Pearl City Police Station around noon today. He came in and started asking unfocused questions, said Kato. Detectives from the Auto Theft and Commercial Crime unit saw the suspect and were aware of the stabbing that occured in the morning.

The victim's male roommate told police he heard a struggle and yelling from the woman's bedroom about 4:50 a.m. He found the 38-year-old woman lying on the floor bleeding from a knife wound to the neck.

Police said the roommate saw the suspect leave through the back door of the two-story duplex at 4178 Keanu St. One of the door's jalousies was missing and the screen mesh was torn open above the door knob. Police said they recovered a kitchen knife which appears to be the murder weapon.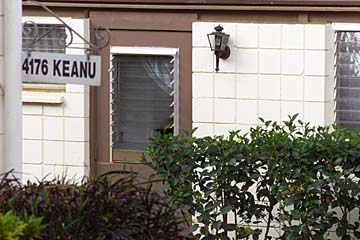 By FL Morris, Star-Bulletin
The attacker may have entered by breaking a louver in the back door.
---
The woman's 8-year-old son ran outside and sought help from an off-duty police officer who lives nearby. Police took the boy to the main police station while they investigated.

Neighbors said they heard a man and woman yelling at around 4 a.m. and then heard the woman apologizing. Neighbors said later they heard the sound of glass breaking.

Tom French, resident manager of the Tropic Gardens complex, said he has heard arguing from the unit before. Last Friday, police came by around 5 p.m because there were calls of a woman screaming in the townhouse, French said.

Neighbors said the woman and her son moved into the townhouse less than a year ago. French said the woman moved in the area because she thought it would be a nice place to raise her son.

Overall, French decribed Tropic Gardens as a quiet place. "This is very much out of character," he said of today's incident.

Kevin Minke, who lives in an adjacent building, said, "You wouldn't think this would happen in your neighborhood."

Detectives are expected to transport the suspect to the main station.
E-mail to City Desk
---
---
© 2001 Honolulu Star-Bulletin
http://archives.starbulletin.com