Advertisement - Click to support our sponsors.

---

---
Friday, February 23, 2001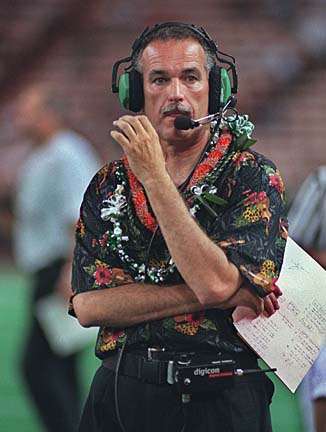 File photo
---



The condition of the
UH football coach is
upgraded to guarded

---

By Rosemarie Bernardo
and Leila Fujimori
Star-Bulletin

University of Hawaii football coach June Jones was upgraded to guarded condition from critical this morning by his surgeon, Neil Fergusson.

Jones is opening his eyes, responding to doctors' requests and moving all of his extremities, said Fergusson, Queen's Medical Center trauma surgeon and attending physician for Jones.

Fergusson said all abdominal and chest bleeding has stopped and blood pressure is normal. He does not anticipate any further surgery at this time.

Police said today that they are still investigating the accident, which occurred at 10:35 a.m. yesterday east of H-1 Exit 15 after the Hickam Air Force Base and Nimitz offramp.

Jones, 48, was driving east in a 1999 black four-door Lincoln Town Car. Soon after he passed the Hickam offramp, Jones drifted off the roadway onto a grass and dirt shoulder. Police said the car struck the pillar between the two-lane offramp and the freeway.

Jones underwent two surgeries yesterday. A first operation was done to the abdomen to control bleeding. Another operation was to the chest to fix his aorta after a tear was found in the major blood vessel that feeds the lower part of the body.

"It occurs in injuries where there's been a tremendous deceleration of the body," Fergusson said yesterday.

The outer layer of the blood vessel tends to contain the hemorrhage. "In these types of injuries, if the patient does make it to the hospital, there's a good chance to repair," he said.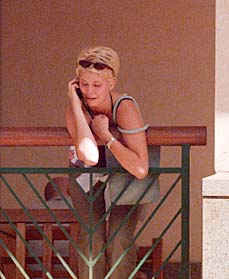 By Craig T. Kojima
Nicole Jones, June Jones' daughter, takes a phone call
yesterday on the veranda at Queen's Hospital.
---
There were no injuries to the heart, said Fergusson. Each of the surgeries lasted about two hours.

"At this point in time, there may be further injuries that we're not aware of," Fergusson said.

Sgt. David Talon of the Vehicular Homicide Traffic Division said Jones suffered an open head injury to the right side of his forehead. Both airbags in the car deployed, but Jones' head apparently hit the windshield.

He was not wearing a seat belt, police said.

Jones was the only person in the car at the time of the crash.

Worried football players, faculty members and friends consoled each other as they waited yesterday afternoon at Queen's.

UH Athletic Director Hugh Yoshida said, "The only concern we have is for June's welfare."

"We're just praying, like all of you here, that he comes to a full recovery and that everything will go well for him," Yoshida said at a news conference in the Kamehameha Auditorium.

"We all understand what June means to our community and all the good things he has done, not only for the university, but for the entire state of Hawaii," he said.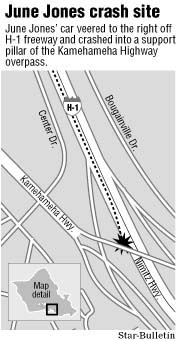 Fergusson said Jones was unconscious upon his arrival at the emergency room. It is possible that the coach may have suffered a concussion, because he was not responding to doctors.

"However, the CAT scan of his head was completely normal," Fergusson said.

It is unknown how long Jones might remain in the hospital.

At the H-1 accident scene, Jones was drifting in and out of consciousness, responding to paramedics.

Fire Capt. Moke Hauanio said firefighters had to extract Jones from the vehicle.

Hauanio said firefighters put a neck brace on Jones, who was slumped over on the passenger side of the car, put a C-spine board under him and took him out through the passenger side door.

He said the force of the accident pushed the engine back to the dashboard, causing Jones' knees to be jammed under the steering wheel.

Jones, who turned 48 on Monday, was named head coach of the UH football team in 1999.

---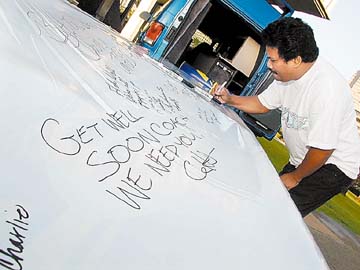 By Ken Ige, Star-Bulletin
Hento Lalimo signs a get-well banner for UH football
coach June Jones. Radio station Krater 96 urged folks
to sign the 40-foot banner at the state Capitol this morning.
---
Friends, fans
fill banner with
get-well wishes

---

By Helen Altonn
Star-Bulletin

Friends and fans of June Jones stopped by a KRTR-FM 96 van this morning at the State Capitol to express wishes and prayers for his recovery.

From 7 a.m. to 8 a.m., passers-by had signed more than 24 feet of a "get-well card" for the University of Hawaii coach, injured in a one-car crash yesterday.

Aron Dote, promotional coordinator for the station, said the signing would continue until 9 a.m., when the banner was expected to be filled. He didn't know how long it was, just that "it's a lot."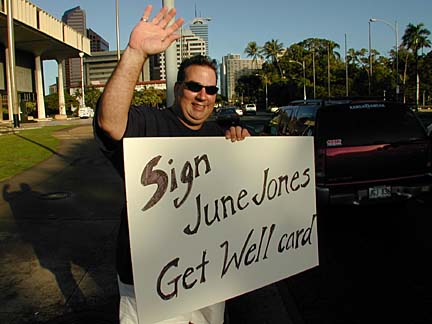 By Ken Ige, Star-Bulletin
Krater 96 deejay Chris Hart urges commuters to
come sign a get-well banner for UH football coach
June Jones at the state Capitol.
---
Some signatures are undecipherable but there's no mistaking Hawaii's love and admiration for Jones in the messages:

"June Jones, please get well, from Russell Higa, UH sports fan."

"Go get um coach! Your friends in Section 'K,' Row 24. The Perrys."

"Best wishes June. Go Warrior. Aloha."

"The Lord be with you. Brother Patrick McGuire."

"We love you J.J., the Senate Print Shop."

"Aloha & God Bless. Thank you for your inspirational leadership. Corlis Chang."

An attorney headed for work at Goodsill Anderson Quinn & Stifel, Chang said: "I stopped my car and came over here. I think it's great.

"He's so inspiring. He's an example, not only of a great coach, but a great leader."

She left, saying, "I'd better go tell the people in my office about this."




Coach Jones' career highlights

1999: Head coach of the University of Hawaii football team
1998: Interim head coach for the San Diego Chargers
1994-96: Head coach for the Atlanta Falcons
1982: Quarterback for the Toronto Argonauts
1977-81: Quarterback for Atlanta Falcons
1975-76: Quarterback for Portland State University
1973-74: Quarterback for University of Hawaii
1971-72: Quarterback for University of Oregon




---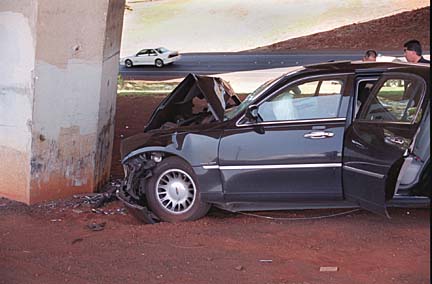 By FL Morris, Star-Bulletin
June Jones' car rested on the H-1 freeway, townbound
near the Nimitz offramp yesterday. The coach was
critically injured.
---
Friends, colleagues
express shock for
'a terrific coach
and a good man'

---

Star-Bulletin staff

The reaction from the mainland was swift upon learning about University of Hawaii football coach June Jones' accident on the H-1 freeway: He's a great man and person. Hope he has a speedy recovery.

Gov. Ben Cayetano paused on the way to the National Governors Association winter meeting in Washington, D.C., to relay his thoughts:

"Vicky and I have had the privilege of becoming good personal friends with June Jones since he left the National Football League to coach in Hawaii. He has had such a positive influence on our student athletes, our people and our state. Our prayers are with June and his family in this difficult time, and we hope for a speedy and full recovery."

Jones' agent Leigh Steinberg, who played a big role in his decision to take the head coaching job at Hawaii, expressed similar feelings for his close friend.

"We are all in a state of shock right now," Steinberg said from his Los Angeles office. "We're hoping for the best and our prayers are with him. Knowing June in his condition, we're just praying for a speedy and full recovery."

"June's a terrific coach and a good man," said San Diego Chargers public relations director Bill Johnston. "He had a positive effect on San Diego and in our office with the Chargers. We hate to see anything like that happen to anyone, but especially June, who everybody loved here."

Texas-El Paso coach Gary Nord, who coaches against Jones in the Western Athletic Conference, expressed similar sentiments.

"First of all, my prayers and heart are with him. He's such a great person, not just a great football coach. I have all the respect in the world for what he's accomplished and hopefully he'll get back on the sideline.

"It sure puts this sport in perspective, makes sure our priorities are right. The head coach worries about everybody else, then something like this happens and everybody worries about you."

At the Kamehameha Auditorium at Queen's Medical Center, UH athletic director Hugh Yoshida read a statement: "Earlier today when we first go to the news and found out about the seriousness of June's accident, we of course were very shocked. We immediately contacted June's wife's family and other friends who are close to him. We all understand what June means to our community and all the good things he has done, not only for the university, but the entire state of Hawaii. Please join all of us in the athletic department in prayer for June's full recovery."

Yoshida learned of the accident while in a meeting in his office with WAC commissioner Karl Benson.

San Diego Chargers linebacker Junior Seau, who spoke to the UH football team while here for the Pro Bowl, also considers Jones a close friend and mentor.

"It's a big shock how quickly life can change," said Seau, who played for Jones. "I just spent quality time with him at the Pro Bowl. He's a good guy I love as a person and respect as a coach. Our prayers are with him and his family. And we hope for a complete recovery."

Jones' daughter Nikki is a member of the Punahou School girls' varsity basketball team which had a game yesterday afternoon. Co-assistant athletic director Jeff Meister said Nikki Jones left school to be with her family at the hospital after receiving news of the accident. He said the basketball team members had met for a counseling session.

Waianae native Kurt Gouveia, a Las Vegas Outlaws linebacker in the XFL, played under Jones one season with the San Diego Chargers.

"My wife called me because she'd heard the news on ESPN. I was shocked.

"You feel like you want to do something but you can't. You think, 'Should I fly back?' but there are certain situations that prevent that. I have a game this weekend in San Francisco. But my prayers are with the family. It's so so sad to see June and his wife have to go through this.

"He asked me to come out and coach with him two years ago, but I wanted to keep playing. He's such a good person and great coach.

"He and I hit it off in San Diego. He kept us together as a team after Kevin Gilbride got fired. He had that aloha spirit. Always a hand out. He liked a lot of people."

---

Contributing to this report were staff members
Pat Bigold, Dave Reardon, Paul Arnett and Cindy Luis.
E-mail to City Desk
---
---
© 2001 Honolulu Star-Bulletin
http://archives.starbulletin.com