Advertisement - Click to support our sponsors.

---

---
Thursday, February 22, 2001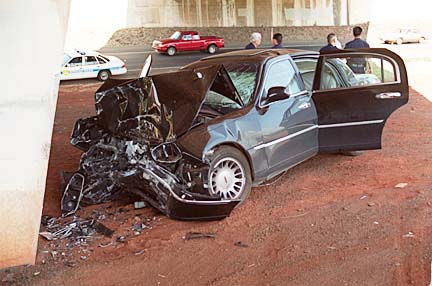 By F.L. Morris, Star-Bulletin
June Jones' Thunderbird hit a concrete freeway support pillar
at the Nimitz Highway off-ramp from the H-1 freeway, town-
bound near the airport. The car hit and bounced back, coming
to rest a few feet from the pillar. Jones was taken in critical
condition to Queen's hospital.
---



But a hospital spokewoman
says he is 'looking good'
after surgery

---


Star-Bulletin staff

University of Hawaii football coach June Jones was critically injured in a one-car accident on the H-1 freeway's airport viaduct about 10:40 this morning.

He was taken to Queen's Medical Center, where his wife, daughter, players, coaches and friends were gathering. A nursing supervisor said his condition was the same but that he is "looking good."

Jones was listed in stable but critical condition. He suffered head injuries, a bruised liver and internal bleeding.

Fire Capt. Moke Hauanio of the Mokulele Fire Station said Jones had trauma to the right side of his forehead, which apparently hit the windshield.

When firefighters arrived, Jones was drifting in and out of consciousness, responding to paramedics, who took him to the hospital.

Police said he was the lone occupant in the car.

The vehicle was traveling toward town on the freeway when it went off on the right shoulder at the Hickam offramp, police said.

The car then went toward the freeway when it struck a pillar in the median between the freeway and Hickam offramp, police said.

Police said Jones was not wearing a seat belt.

Hauanio said firefighters responded and had to extract Jones from the vehicle.

Hauanio said firefighters put a neck brace on Jones, who was slumped over on the passenger side of the car, put a C-spine board under him and took him out through the passenger side door.

He said the force of the accident pushed the engine back to the dashboard and his knees were jammed under the steering wheel.

Jones, who turned 48 on Monday, was named head coach of the football team in 1999. He was interim head coach for the San Diego Chargers in 1998. Previous to that, he was the head coach for the Atlanta Falcons from 1994-96.

He quarterbacked the Toronto Argonauts in 1982; Atlanta Falcons 1977-81; Portland State University from 1975-76; University of Hawaii, 1973-74; and University of Oregon 1971-72.

Jones' brother, Peter, of Portland, Ore., said: "Obviously, we're very encouraged (after receiving a phone call from June Jones' wife Diane). The initial report didn't look good. We're praying that things will be all right."

Fire Capt. Richard Soo said many firefighters are loyal UH football fans and the Fire Department wishes Jones "a speedy recovery."

The initial reaction on the Mainland to Jones' situation from those who had worked with him was shock, sadness and hope.

"June's a terrific coach and a good man," said San Diego Chargers director of public relations Bill Johnston. "He had a positive effect on San Diego and in our office with the Chargers. We hate to see anything like that happen to anyone, but especially June, who everybody loved here."

Texas-El Paso coach Gary Nord, who coaches against Jones in the WAC, expressed similar sentiments.

"First of all, my prayers and heart with him. He's such a great person, not just a great football coach. I have all the respect in world for what he's accomplished and hopefully he'll get back on the sideline.

"It sure puts this sport in perspective, makes sure our priorities are right. The head coach worries about everybody else, then something like this happens and everybody worries about you."UH athletic director Hugh Yoshida did not have an immediate comment. He learned of the accident while in a meeting in his office with Western Athletic Conference commissioner Karl Benson.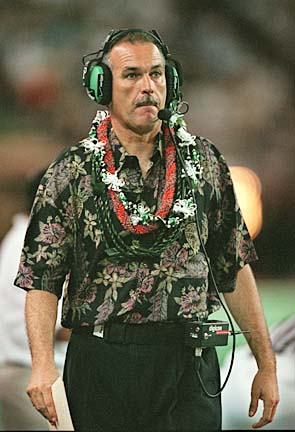 By Dennis Oda, Star-Bulletin
June Jones paces the sidelines of Aloha Stadium
during last January's football matchup between
the Hawaii and UNLV.
---
Assistant coach Ron Lee returned from the mainland today.

At about 3:30 p.m., he said the latest news was more positive than earlier reports.

"We heard he was out of surgery and that they had stopped the bleeding, but they're not releasing much more information,'' said Lee.

Lee underwent bypass surgery following a mild heart last September. Although he could relate to some degree, he said Jones' condition is much more serious.

"It's scary. He's in intensive care and we can't see him,'' said Lee.

Lee said he did not know how the staff would handle spring football if Jones is unavailable.

"We're supposed to start March 1 but I doubt he'll be back right away,'' said Lee. "We'll probably meet tomorrow.

"Everybody's more concerned which June's health. The next 48 hours will probably be (key).''

Jones agent Leigh Steinberg, who played a big role in his decision to take the head coaching job at Hawaii, expressed similar feelings for his close friend.

"We are all in a state of shock right now,'' Steinberg said from his Los Angeles office. "We're hoping for the best and our prayers are with him. Knowing June in his condition, we're just praying for a speedy and full recovery."

San Diego Chargers linebacker Junior Seau, who spoke to the UH football team while here for the Pro Bowl, also considers Jones a close friend and mentor.

"It's a big shock how quickly life can change," said Seau, who played for Jones. "I just spent quality time with him at the Pro Bowl. He's a good guy I love as a person and respect as a coach. Our prayers are with him and his family. And we hope for a complete recovery."

Jones' daughter Nikki is a member of the Punahou School girls' varsity basketball team which had a game this afternoon (thursday)

Co-assistant athletic director Jeff Meister said Nikki Jones left school to be with her family at the hospital after receiving news of the accident. He said the basketball team members had met for a counseling session.

UH football player Craig Stutzman heard about the accident after getting out of class around 1:15 p.m. Thursday. He went to the hospital, joining a crowd of some 60 people, including about 30 current and former players.

"From what we heard, it sounds like things are getting better,'' said Stutzman, a senior wide receiver. "We're just trying to stay optimistic. He's like a dad to all of us. It's hard but we're keeping him in our prayers. If the family or coaches need us for anything, they know the players are there for them. We're all a close-knit family and whatever happens we will see through this.''

Contributing to this story were staff members Rosemarie Bernardo, Leila Fujimori, Pat Bigold, Dave Reardon, Paul Arnett and Cindy Luis




---




UH Athletics
Ka Leo O Hawaii
E-mail to City Desk
---
---
© 2001 Honolulu Star-Bulletin
http://archives.starbulletin.com