Advertisement - Click to support our sponsors.

---

---
Wednesday, February 21, 2001
Chef appeals
deportation to
higher court


Restaurateur Chai Chaowasaree
has been facing immigration
problems for years

---

By Rosemarie Bernardo
Star-Bulletin

Restaurateur Chai Chaowasaree has been facing immigration problems for more than a decade.

Unless a last-ditch appeal to the 9th U.S. Circuit Court of Appeals is successful, Chaowasaree, whose real name is Vichai Sae Tung, will be returned to his native Thailand.

On Saturday, U.S. District Court Judge David Ezra issued a ruling allowing Chaowasaree to stay in the United States until Monday as the appeal is considered.

However, other immigration attorneys say the appeal is unlikely to succeed and once deported, it will be difficult for Chaowasaree to return to the United States.

Chaoswasaree's legal troubles with the Immigration and Naturalization Service began after he applied for permanent resident status in 1989 after he married Victoria Dubray, a waitress and U.S. citizen he met while working in a restaurant on a temporary visa, court documents say.

During interviews with immigration officials, Chaowasaree and his wife gave conflicting information about addresses, bank accounts and their relationship with others and the INS found Chaowasaree and his wife had not lived together since April 1987 and denied the petition for permanent resident status in June 1991 stating the marriage was a sham. As a result of the denial, the Immigration Service initiated deportation proceedings in December 1993.

On Jan. 20, 2000, Chaowasaree left Hawaii for Thailand to visit his ill father. According to an affidavit filed by Chaowasaree's attorney, he applied for advance parole to assure his entrance when he returned. He said an immigration officer issued him a temporary alien registration card valid until May 11 of this year. When he returned on Feb. 5, officials told him he was misinformed by the immigration official.

By leaving the country while the appeal of his deportation ruling was pending, he is considered to have "abandoned his appeal," said immigration lawyer David McCauley, who is not representing Chaowasaree.

The testimonials Chaowasaree's friends and fellow chefs are writing for him could make an impression on the federal judge who hears his case, as could his record of community service, McCauley said. But in the end, the law in this case is inflexible, he said. Even if the judge were to be sympathetic, "the court's hands are tied in terms of doing anything for him."

Attorney Ben Tao said to voluntarily leave the country when a deportation order is pending, "you basically have deported yourself." It would be very difficult for a person in this position to qualify for a green card in the future, he added.

Chaowasaree's current lawyer, James Stanton, did not return phone calls to the Star-Bulletin.

Chaowasaree, 39, owns Chai's Island Bistro at Aloha Tower Marketplace and Singha Thai Cuisine located in Waikiki. He is being held at the Oahu Community Correctional Center.

---




Star-Bulletin reporter Betty Shimabukuro contributed to this report.

---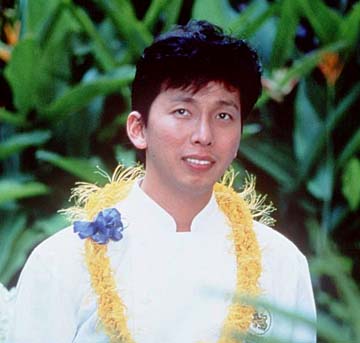 Star-Bulletin
Chef Chai Chaowasaree in a photo taken in 1996.
---
Community
support strong for
Chai Chaowasaree


'He should be praised instead
of deported,' says a fellow chef

---

By Betty Shimabukuro
Star-Bulletin

Chai Chaowasaree's fellow chefs and friends in the restaurant industry are putting pen to paper to try to stop his deportation.

Their bottom line: Whatever the man's transgressions with the Immigration and Naturalization Service, his contributions to Hawaii should count for more.

"He's created jobs and he's created opportunities for people to get ahead in this state," chef Roy Yamaguchi said. "He should be praised instead of deported."

Yamaguchi and a host of other supporters emphasized that Chaowasaree is more than a successful businessman, he has also donated personal time and the resources of his restaurants to various causes.

"I just hope they take all these things into consideration when they make a decision on his future," said Chuck Furuya, wine distributor and master sommelier.

Chaowasaree has been tireless in his contributions, Furuya wrote in his letter of support. "He even helps down at the schools teaching the next culinary generation. Chai has made a difference here in the islands with his contributions on so many levels."

John Delaney, manager of Chai's Island Bistro, said he has been inundated with calls from those asking how they can help with Chaowasaree's case. He's been telling them to write letters of support and send them to the restaurant, where he'll forward them.

Delaney said he has been unable to talk to Chaowasaree -- only his lawyers and family are allowed to speak to him. "His situation is extremely delicate and complicated."

But he said Chaowasaree is most concerned that people understand both his restaurants will remain open, even if he has to leave the country.

Chaowasaree's sisters, as well as many of his employees, will stay with Singha Thai and Chai's Island Bistro, Delaney said. "Our commitment to what he has established will never change."

The celebrity quotient is high when it comes to the popular chef's supporters.

Colin Nishida, owner of Side Street Inn, is collecting letters of support and plans to send copies to Gov. Ben Cayetano and Hawaii's U.S. congressional delegation in hopes they will try to intervene with the Immigration Service.

Nishida said that by delivering the letters in large bundles, he hopes to impress on the officials how strongly they feel about their friend.

D.K. Kodama, chef/owner of Sansei Seafood Restaurant and Sushi Bar on Maui and Oahu, is co-chairman of the Hawaiian Island Chefs, of which Chaowasaree is a founding member. Like many others in the industry, Kodama said, he is desperate to help.

"This is a guy who is providing 80-plus jobs, who's paying taxes ... it's not fair," he said. "This is the kind of person who should be an example to others who want to come to this country."
E-mail to City Desk
---
---
© 2001 Honolulu Star-Bulletin
http://archives.starbulletin.com