Advertisement - Click to support our sponsors.

---

---
Monday, February 19, 2001



Photographs often are the best way to show dramatic changes in Hawaii, providing an easy update on landmarks, persons and events. At other times, however, photos showing minimal changes during the years remind us that the more things change, the more they remain the same. Look for examples of big and little changes every Monday in "It's about time," which will inform, update and prod a few memories.

Presidential visits
to Hawaii

Today is Presidents Day, an apt opportunity to recall all the U.S. presidents who visited Hawaii over the years -- 11 of them. They begin with Franklin D. Roosevelt in 1934 (and secretly in 1944) and every head of our country since: Harry S Truman; Dwight D. Eisenhower; John F. Kennedy (in June 1963, just five months before his assassination); Lyndon B. Johnson; Richard M. Nixon; Gerald Ford; Jimmy Carter; Ronald Reagan; George Bush; and Bill Clinton. The string may continue this year, should newly elected President George W. Bush meet here with Asian-Pacific leaders.

What's striking as we looked at photos of past visits was how open the motorcades were, with the presidents often standing and waving openly to thousands of people lining the streets. These days, the president is swept away in a convoy of vehicles, shielded from public view.

Here are selected shots from those visits.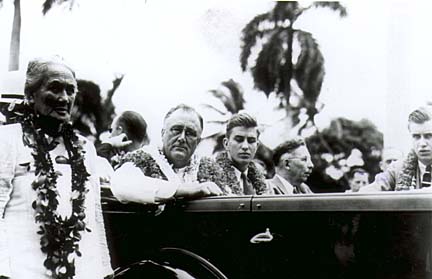 By Tai Sing Loo, FDR Library
FDR vacationed in Hawaii in 1934, even making a trip
to the Hawaiian homestead area of Papakolea.
---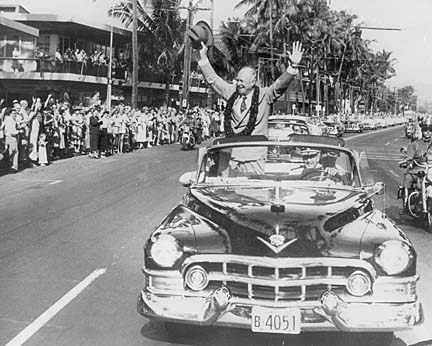 Star-Bulletin
With red carnation lei draped to his waist and his familiar hat
in one hand, Eisenhower waved to massive crowds lining
Kalakaua Avenue in December 1952.
---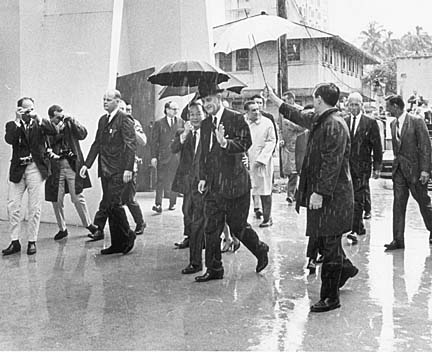 By Warren Roll, Star-Bulletin
Johnson, shielded with an umbrella by the late U.S. Sen. Spark
Matsunaga (then a U.S. representative), walks to St. Augustine's
Church in Waikiki in February 1966. The late
Gov. John A. Burns is at far right.
---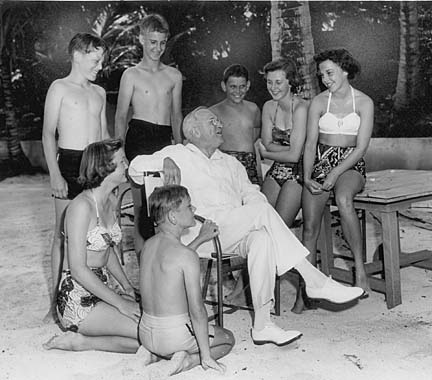 Star-Bulletin
Truman did stop in Hawaii as president, but there are no photos of
him bedecked with leis. Truman was on his way to Midway to fire
Gen. Douglas MacArthur as commander of U.S. forces in Korea,
so everything was hush-hush. But here he is, post-presidency,
relaxing on Coconut Island in Kaneohe Bay in April 1953,
posing with a group of young Californians.
---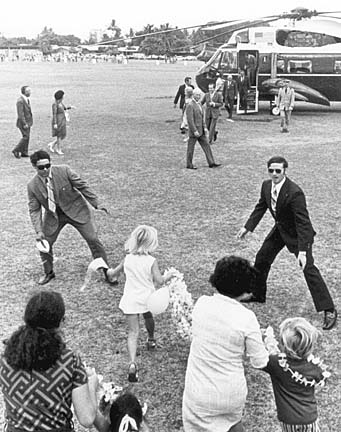 By Bob Young, Star-Bulletin
Secret Service agents started at the unexpected approach of
5-year-old Michelle Moder of Wai-Kahala Preschool when a copter
carrying Nixon landed in a park in August 1972. Moder was able to
present her lei. Gov. John A. Burns, in front of Nixon,
watches the commotion.
---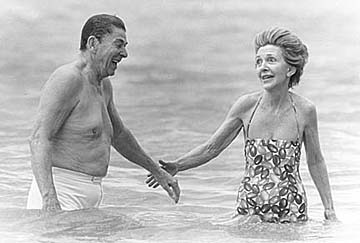 Associated Press
The beach was a favorite place to cool off for Reagan,
shown dipping in the waters off Kahala in
April 1984 with Nancy.
---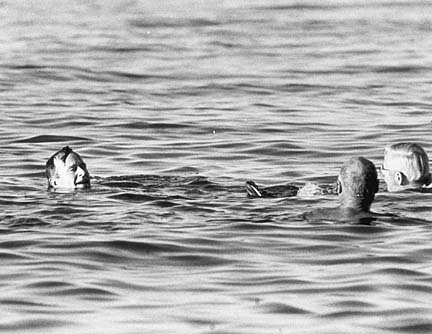 By Ken Sakamoto, Star-Bulletin
Bush, jumped into the ocean off Waikiki after
a morning jog in October 1990.
---
E-mail to City Desk
---
---
© 2001 Honolulu Star-Bulletin
http://archives.starbulletin.com