Advertisement - Click to support our sponsors.

---

---
Monday, February 5, 2001



P R O _ B O W L
---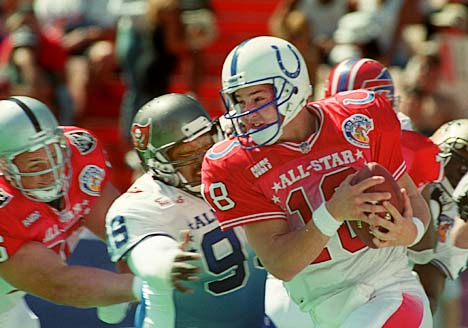 By Dennis Oda, Star-Bulletin
Indianapolis Colts' quarterback Peyton Manning tries unsuccessfully
to avoid the rush of Tampa Bay's Warren Sapp during yesterday's
Pro Bowl at Aloha Stadium. Manning threw two touchdown
passes in the AFC's victory.
---
Game of X's
and mostly O's


Gannon plays less than one quarter
and throws two touchdown passes
to start the AFC's offensive blitz

---

By Paul Arnett
Star-Bulletin

Rich Gannon didn't even make it out of the first quarter, but by the time he left the field, the game was already over.

Giving a clinic on the West Coast offense, the Oakland Raiders' quarterback led the American Football Conference to a 38-17 victory over the National Football Conference in yesterday's 51st annual Pro Bowl at Aloha Stadium.

Named the Pro Bowl's most valuable player, Gannon overcame a shoulder injury suffered in the loss to Baltimore in the AFC championship game.

"He could have pulled out of this game, but instead, he worked twice as hard to get ready for it," AFC coach Jon Gruden said. "That's the kind of guy you want running your football team."

Gannon was under center for 19 plays. He completed 12 of 14 passes, including the first eight, for 160 yards and two touchdowns. The first score was an 8-yard strike to Kansas City Chiefs' tight end Tony Gonzales that brought back memories for both.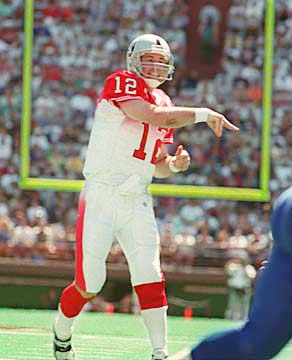 By Dennis Oda, Star-Bulletin
Rich Gannon, yesterday's MVP.
---
"When I played in Kansas City, Tony was always a big target downfield," Gannon said. "It was like old times throwing him a touchdown pass."

The second strike to Marvin Harrison of the Indianapolis Colts was from 16 yards out and gave the AFC a 14-point advantage it wouldn't relinquish.

"We fell behind early and just couldn't catch up," NFC coach Dennis Green said. "When you make big plays like that on your first two drives, it's difficult to come back from that in a game like this."

AFC quarterback Peyton Manning made sure of it. After Gannon went out late in the first quarter, the Indianapolis quarterback came in and didn't miss a snap.

Manning threw two touchdown passes to Harrison and Jacksonville's Jimmy Smith, en route to completing 16 of 22 attempts for 150 yards.

During the week, he spent a lot of down time with Gruden, learning the ins and outs of the West Coast offense. Manning proved to be a quick study.

"He's a great quarterback, who understands the game," Gruden said. "He's a student of football. I can talk with a guy like him for hours and never get tired.

"You saw what he did. He came in and picked up where Rich left off. He would be a great quarterback in any system. Peyton showed that today."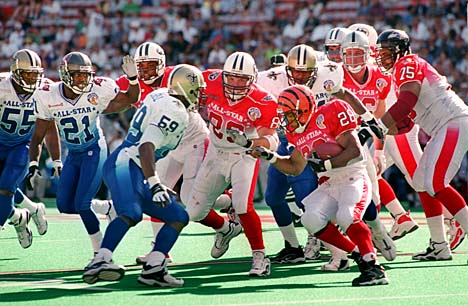 By Dennis Oda, Star-Bulletin
The AFC's Corey Dillon, right, of the Cincinnati Bengals, tries
to get through the NFC's defensive line as tight end Frank
Wycheck (89) of Tennessee tries to block NFC linebacker
Keith Mitchell (59) of New Orleans in yesterday's Pro Bowl
game. Dillon rushed five times for 16 yards.
---
Unfortunately for the NFC, Daunte Culpepper did not. The Minnesota quarterback appeared uncomfortable without Randy Moss on the receiving end of his towering passes.

While Gannon was leading the parade to the end zone, Culpepper went a quick three-and-out on the opening two series, completing 1 of 6 passes for 6 yards to Minnesota teammate Cris Carter.

By halftime, the AFC held a commanding 24-3 advantage. The NFC flirt with getting back in the game, but only briefly. Philadelphia quarterback Donovan McNabb led a quick sprint to the end zone on the opening drive of the second half, throwing a 17-yard TD pass to Terrell Owens of San Francisco.

But Manning responded with a lightning-round drive of his own. It ended with a 24-yard scoring pass to Harrison, on the classic stop-and-go.

"I gave him (Philadelphia corner Troy Vincent) a little fake," Harrison said. "And he took it. Peyton threw it right to me. It was a nice play to put the game away."

Culpepper did counter with a 20-yard scoring pass to Torry Holt of St. Louis to make it 31-17 with 3:22 left in the third.

But the Colts made it a clean sweep after Edgerrin James ran it in from 20 yards out with 11:19 remaining in the fourth quarter to seal the deal.

"Peyton threw a couple of touchdown passes, Marvin caught a pair and I scored, too," James said. "We did right by Indianapolis."

The victory narrows the NFC's lead to 16-15 since the game was first played in its current format in 1971. The winners take home $30,000. The losers pocket $15,000.

"We were all laughing and having fun," Tennessee's Jevon Kearse said. "But we were still trying to win. So, I got a little extra money for myself."

Game summary

First Quarter
AFC--Gonzalez 8 pass from Gannon (Stover kick), 9:38.
AFC--Harrison 16 pass from Gannon (Stover Kick), 4:08.

Second Quarter
AFC--FG Stover 29, 13:41.
NFC--FG Gramatica 48, 9:17.
AFC--J. Smith 2 pass from Manning (Stover kick), :54.

Third Quarter
NFC--Owens 17 pass from McNabb (Gramatica kick), 13:39.
AFC--Harrison 24 pass from Manning (Stover kick), 11:10.
NFC--Holt 20 pass from Culpepper (Gramatica kick), 3:22.

Fourth Quarter
AFC--James 20 run (Stover kick), 11:19.

A--50,128.

| | | |
| --- | --- | --- |
| | NFC | AFC |
| First downs | 20 | 29 |
| Rushes-yards | 9-36 | 23-83 |
| Passing | 297 | 348 |
| Punt Returns | 1-11 | 2-33 |
| Kickoff Returns | 7-187 | 3-70 |
| Interceptions Ret. | 1-0 | 3-17 |
| Comp-Att-Int | 28-56-3 | 32-42-1 |
| Sacked-Yards Lost | 0-0 | 4-21 |
| Punts | 3-48.7 | 3-39.0 |
| Fumbles-Lost | 1-1 | 1-0 |
| Penalties-Yards | 1-17 | 7-55 |
| Time of Possession | 25:42 | 34:18 |

Individual statistics

RUSHING--NFC, Culpepper 2-16, Dunn 2-13, Alstott 2-7, Garner 2-3, Garcia 1-(minus 3). AFC, George 8-31, James 4-26, Dillon 5-16, Grbac 3-7, Anderson 2-4, Manning 1-(minus 1).

PASSING--NFC, Culpepper 9-21-1-81, Garcia 15-28-1-144, McNabb 4-7-1-72. AFC, Gannon 12-14-0-160, Manning 16-22-0-150, Grbac 4-6-1-59.

RECEIVING--NFC, Holt 7-103, Dunn 7-69, Owens 5-50, Carter 5-41, Alexander 1-16, C.Lewis 1-11, Alstott 1-4, Garner 1-3, AFC, Harrison 8-84, Gonzalez 6-108, Moulds 6-65, Wycheck 3-23, Dillon 2-36, J.Smith 2-12, Anderson 2-8, James 1-15, R.Smith 1-12, Mason 1-6.

MISSED FIELD GOALS--None.

---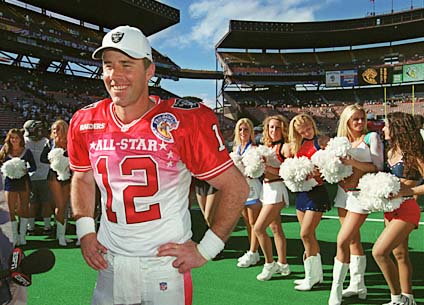 By Dennis Oda, Star-Bulletin
The AFC's Rich Gannon, of Oakland, was
named the game's MVP.
---
Scores and MVPs

1971
AFC -- 6
NFC -- 27
MVPs: Back-Mel Renfro, WR, Dallas; Lineman-Fred Carr, LB, Green Bay

1972
AFC -- 26
NFC -- 13
MVPs: Back-Jan Stenerud, PK, Kansas City; Lineman-Willie Lanier, LB, Kansas City

1973
AFC -- 33
NFC -- 28
MVP: O.J Simpson, RB, Buffalo

1974
AFC -- 15
NFC -- 13
MVP: Garo Yepremian, PK, Miami

1975
AFC -- 10
NFC -- 17
MVP: James Harris, QB, Los Angeles

1976
AFC -- 20
NFC -- 23
MVP: Billy "White Shoes" Johnson, WR, Houston

1977
AFC -- 24
NFC -- 14
MVP: Mel Blount, DB, Pittsburgh

1978
AFC -- 13
NFC -- 14
MVP: Walter Payton, RB, Chicago

1979
AFC -- 7
NFC -- 13
MVP: Ahmad Rashad, WR, Minnesota

1980
AFC -- 27
NFC -- 37
MVP: Chuck Muncie, RB, New Orleans

1981
AFC -- 7
NFC -- 21
MVP: Ed Murray, PK, Detroit

1982
AFC -- 16
NFC -- 13
MVP: Lee Roy Selmon, DE, Tampa Bay, and Kellen Winslow, TE, San Diego

1983
AFC -- 19
NFC -- 20
MVP: Dan Fouts, QB, San Diego, and John Jefferson, WR, Green Bay

1984
AFC -- 3
NFC -- 45
MVP: Joe Theismann, QB, Washington

1985
AFC -- 22
NFC -- 14
MVP: Mark Gastineau, DE, New York Jets

1986
AFC -- 24
NFC -- 28
MVP: Phil Simms, QB, New York Giants

1987
AFC -- 10
NFC -- 6
MVP: Reggie White, DE, Philadelphia

1988
AFC -- 15
NFC -- 6
MVP: Bruce Smith, DE, Buffalo

1989
AFC -- 34
NFC -- 3
MVP: Randall Cunningham, QB, Philadelphia

1990
AFC -- 21
NFC -- 27
MVP: Jerry Gray, CB, Los Angeles Rams

1991
AFC -- 23
NFC -- 21
MVP: Jim Kelly, QB, Buffalo

1992
AFC -- 15
NFC -- 21
MVP: Michael Irvin, WR, Dallas

1993*
AFC -- 23
NFC -- 20
MVP: Steve Tasker, WR, Buffalo

1994
AFC -- 3
NFC -- 17
MVP: Andre Rison, WR, Atlanta

1995
AFC -- 41
NFC -- 13
MVP: Marshall Faulk, RB, Indianapolis

1996
AFC -- 13
NFC -- 20
MVP: Jerry Rice, WR, San Francisco

1997*
AFC -- 26
NFC -- 23
MVP: Mark Brunell, QB, Jacksonville

1998
AFC -- 29
NFC -- 24
MVP: Warren Moon, QB, Seattle

1999
AFC -- 23
NFC -- 10
MVP: Keyshawn Johnson, WR, New York Jets, and Ty Law, CB, New England

2000
AFC -- 31
NFC -- 51
MVP: Randy Moss, WR, Minnesota

2001
AFC -- 38
NFC -- 17
MVP: Rich Gannon, QB, Oakland

* Overtime
E-mail to Sports Editor
---
---
© 2001 Honolulu Star-Bulletin
http://archives.starbulletin.com