Advertisement - Click to support our sponsors.

---

---
Monday, February 5, 2001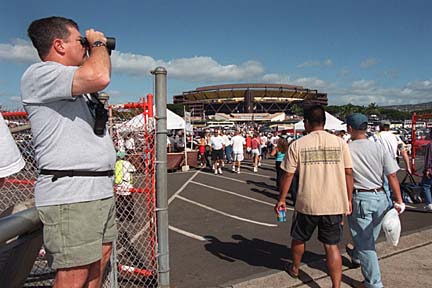 By George F. Lee, Star-Bulletin
Clay Tallmar of Hickam AFB surveys the Aloha Stadium parking
lot on Pro Bowl morning yesterday in search of four of his fellow
tailgaters. Tallmar said the new parking rules made it harder
to meet up with his friends.
---
Aloha Stadium
parking change:
Fans and foes


The separated lots made access
easier for many; some
tailgaters had a beef

---

By Treena Shapiro
Star-Bulletin

University of Hawaii football fans can look forward to separated parking lots as standard procedure when the season starts in the fall -- if Aloha Stadium officials decide they like what they saw at yesterday's Pro Bowl.

The parking lot was segmented into five areas to eliminate the problem of drivers circling the stadium looking for spaces. This was tried instead of the system where all parking areas were accessible through any gate.

Fan reaction was mixed. Some said the new system eliminated congestion and made it easier to park, but others complained that being restricted to one lot made it harder to find their tailgating friends.

Scott Schierburg, vice president and general manager of Better Brands, said that while the new system could prove to be effective, the Pro Bowl was not the game to test it on.

"I think the timing was suspect," Schierburg said.

"If you're going to change a policy, why change it at our biggest event?"

Any problems with parking could provide fuel for those who argue that the all-star game should be moved to the mainland, Schierburg said.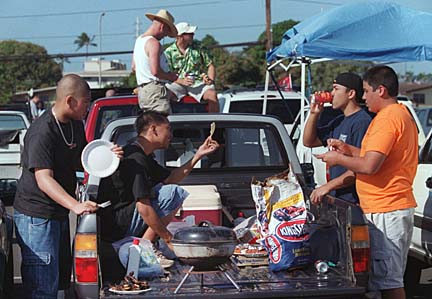 By George F. Lee, Star-Bulletin
Shane Halmas of Kunia, Michael Pagayas of Wahiawa, Tim Izon
of Whitmore Village and Tony Camacho of Wahiawa
enjoy their tailgate party.
---
"With the nation's eyes on the stadium, this wasn't the time to create chaos in, with the parking."

Schierburg avoided any problems by parking outside the stadium and walking over to the Better Brands tailgate party, which some 350 people were expected to attend.

Many tailgaters who tested the new procedures yesterday found access to the stadium easy and had no problems meeting friends who came in other cars.

Praising the Stadium Authority for adding manpower and moving the buses into a separate lot, Rick Davis of Makiki said, "It was pretty smooth compared to all the other years."

The only problem, he said, was that one member of his party couldn't park in the same lot. But she was able to walk over and meet them.

Vernalani Keb, who went to the same party, said they had been apprehensive when the new regulations were announced.

"We were upset in the beginning, but we got here and we got a good spot," she said.

Those who were the last to make it into the stadium lot before the gates closed encountered the most problems because officials didn't take into account -- in the parking space count-- that tailgaters would take up extra spaces.

"If we let them in, there's supposed to be parking," said one parking lot attendant, a minute after he told one driver to exit the lot and try another one because that section was full.

Even with careful preparations, Eric Frazier's plans went awry when the parking gates opened earlier than expected.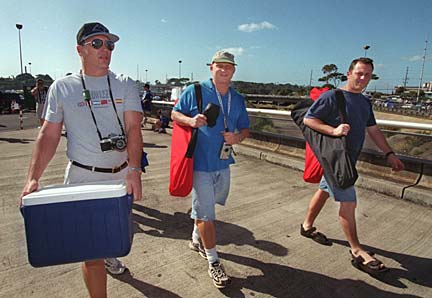 By George F. Lee, Star-Bulletin
From left, Pro Bowl fans Ken Broome of Hickam Air Force Base,
Neil Pasternak of Honolulu and Jason Cooper of Honolulu make
the long trek across the stadium parking areas in search
of their friends and the tailgate party.
---
Frazer and his friends had met in the parking lot of the McDonald's across the street from the stadium at 6 a.m. and planned to caravan in, "but once we got in here it was all discombobulated," he said.

With his friends partying in a different lot on the other side of the stadium, Frazier -- with his 4-year-old daughter, Erica, in tow -- found himself lugging a cooler filled with ice, soda pop and bottled water about a mile, he said.

His assessment: "It's all messed up. I think they should go back to the old way."

Parking for the Pro Bowl is usually better than for UH games because more than 200 bus loads of tourists are brought in, alleviating much of the parking congestion.

Those who caught a bus yesterday said that it was much more convenient, although Traci Belton of Texas complained that she had to pay $10 for a round-trip ride on a school bus that dropped her outside of the stadium, when the city buses were only $1 and dropped passengers off at the gate.

Those who arrived shortly before kickoff with no intention of partying in the parking lot complained about traffic congestion near the stadium.

But even if it meant parking at Ford Island or Richardson Field, parking in designated areas was available after the opening kickoff.

Jim Smith said he was able to find stadium parking 15 minutes before last year's pre-game show. But about the same time this year, he couldn't park at the stadium and had to go to Ford Island.

He wasn't complaining. "It's better than not parking at all," he said.
E-mail to City Desk
---
---
© 2001 Honolulu Star-Bulletin
http://archives.starbulletin.com