Advertisement - Click to support our sponsors.

---

---



Ocean Watch

By Susan Scott

Monday, February 5, 2001

---




Look for rain if your
dojo swims around

AT a recent dinner party, I met a man who mentioned that years ago, he and his friends went to Oahu streams to dig for dojo.

"Dig for what?" I asked.

"Dojo. We used them for bait."

"What are they?"

"I don't know, exactly," he said. "They look like little eels about this long." He held his thumb and forefinger four or five inches apart. "You never heard of them?"

"No."

He shrugged. "Well, it's been years. Maybe they aren't here anymore."

They are. Dojo is the Japanese name for one of several types of freshwater fish that Asian immigrants brought to Hawaii for food in the 1800s. The fish dug right in, so to speak, and are now found on Kauai, Oahu, Maui and the Big Island.

People don't usually eat dojo here anymore, but in Japan they are considered a delicacy. The method of cooking these small fish is unique.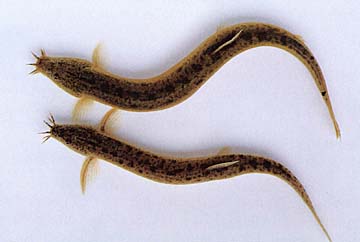 Hawaii Division of Aquatic Resources
Dojo are usually four or five inches long but can grow to
9 inches. They are yellowish brown with a marbled pattern.
---
Japanese cooks place live dojo in a pot containing cool water and a block of tofu, then turn on the stove. When the water starts getting warm, the fish burrow into the cool interior of the tofu. Eventually the water boils, killing and cooking the fish inside the block. Later, when the tofu is sliced, it contains embedded chunks of dojo.

In Hawaii, people search for dojo to use as bait for shore fishing. Dojo are most active at night, swimming around the murky waters of streams and ponds, eating worms, shrimp, insects and any other small animals they can catch. During the day, these fish bury themselves in muddy bottoms, often among grass or leaf litter, with only their heads showing.

DOJO are hearty fish. When the oxygen content of their water gets low, these fish rise to the surface and take a gulp of air. Their intestines absorb the swallowed oxygen.

Like goatfish and catfish, the dojo has taste-sensing organs that look like whiskers protruding from around the mouth. Dojo bodies are long and narrow and could easily be mistaken for eels.

Although dojo is the most common name for this fish here, it has others. Its scientific name is Misgurnus anguillicaudatus, the latter word meaning eel tail in Latin. The fish's English names are weather loach and oriental weatherfish.

People call dojo weatherfish because when stormy weather is approaching, aquarium dojo begin swimming around their tank like crazy. This happens because when the air pressure drops rapidly, as it does during a storm, the dojo's air-filled swimbladder (the buoyancy organ inside its body) expands. More air in the swimbladder means it's harder for the fish to stay on the bottom. Therefore, the usually sedentary fish swims around the aquarium.

Sometimes, during a large pressure drop, a dojo will release air through its mouth or anus. A burping, gas-passing dojo is a signal that it's time to close your louvers.

---




Marine science writer Susan Scott's Ocean Watch column
appears Mondays in the Star-Bulletin. Contact her at susanscott@hawaii.rr.com.
E-mail to City Desk
---
---
© 2001 Honolulu Star-Bulletin
http://archives.starbulletin.com