Advertisement - Click to support our sponsors.

---

---
Friday, February 2, 2001



B. Y. U. _ H A W A I I
---



So'onalole gives BYUH
a second No. 1 tennis player

---

By Brandon Lee
Special to the Star-Bulletin

Western Samoa isn't exactly a tennis hotbed, but it has produced a particularly hot player with a nickname to match.

She is Brigham Young-Hawaii's Tagifano "Dengue" So'onalole, a junior in her second season with the Seasiders.

Her nickname (pronounced Dan-kee), which was given to her by her father during her youth, is the name of a type of fever prevalent at the time, though fortunately no one in her family was afflicted by it.

So'onalole picked up tennis at the age of 5 because her family played it. And since coming to the States in 1997 after training at the International Tennis Federation's regional tennis center in Fiji, she has made all of her opponents victims to her boiling-hot game.

So'onalole went undefeated and was the top-ranked junior college player in the nation three seasons ago while attending McLennan Community College in Texas. After redshirting the following year upon transferring to BYUH, she went undefeated again last season, helping the Seasiders to their second consecutive Division II national championship.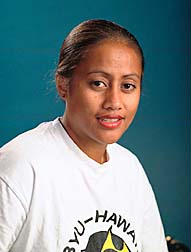 Tagifano So'onalole
BYUH TENNIS PLAYER
Transferred from Texas
---
"After a year in Texas, it was just too far from home and there were no other Polynesians around," So'onalole said. "I had met (BYUH) coach (Dave) Porter at a tennis camp here back in '97, and when he found out that I had left junior college, he recruited me to play."

Considering that Porter has had a full arsenal of talent at BYUH in recent years -- including So'onalole's doubles partner and last year's No. 1-ranked Division II player, Petra Gaspar -- his recruit added a new dimension to the team.

So'onalole finished last year ranked 13th in the nation, despite playing the No. 4 singles position for the Seasiders. This year she's in the 2 spot, just behind Gaspar, and moved into the top 10 nationally.

"Most people last year felt that her position (at No. 4) was where we were strongest in relation to the other teams, even with Petra at No. 1," Porter said. "(So'onalole is) smarter and has matured as a player this year. She's really another No. 1 player."

The Division II regular season just started two weeks ago, with BYUH easily defeating Chaminade in its opener. The Seasiders have a match today at Laie again with Chaminade, but So'onalole and Gaspar will be noticeably absent.

That's because the two are in Farmers Branch, Texas, for the Division I Rolex National Intercollegiate Indoor Championships, which began yesterday and runs through Sunday. They are the No. 1-ranked Division II doubles team in the nation and are again competing as the lone small college entry in doubles after winning the Rolex National Small College Championships the past two years.

"Last time, we lost in the quarters and we want to do better," So'onalole said.

And as for any competition about who is the team's top player, So'onalole said: "I really don't look at it that way. I knew (Gaspar) before I came here. I focus on working on what I need to do to get better."

---



E-mail to Sports Editor
---
---
© 2001 Honolulu Star-Bulletin
http://archives.starbulletin.com