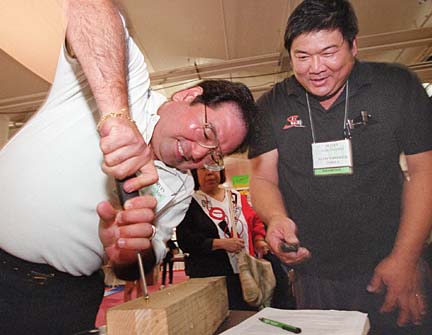 By George F. Lee, Star-Bulletin
Marvin Min of Hawaii Kai tries to unscrew a sunken screw without
using a power tool as Scott Okemura of Slim's Power Tools times him.

The events were part of the Building Industry Association's annual
Home Building & Remodeling Show, which continues through
Sunday at Blaisdell Exhibition Hall. The show runs 5-9:30 p.m.
today, 10 a.m.-9:30 p.m. tomorrow and 10 a.m.-4 p.m. Sunday.
Cost is $4 for adults and free for kids under 12 with a paying
adult. A $6 ticket is good for all three remaining days.