Advertisement - Click to support our sponsors.

---

---
Friday, February 2, 2001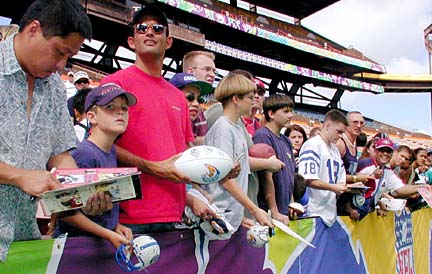 By Craig T. Kojima, Star-Bulletin
Sports fans attend Pro Bowl practices at Aloha Stadium this week,
hoping for autographs from top players.
---



Child-exploiting profiteers
take the joy out of
a tradition

---

By Pat Bigold
Star-Bulletin

IT'S Pro Bowl week, and that means open season for autograph hunters in Honolulu. When NFL players finish their morning practices at the JW Marriott Ihilani Resort at Ko Olina and Aloha Stadium, they approach spectators.

The scene quickly becomes a feeding frenzy.

Men, women and children jockey for position behind barriers, stepping on each other's toes, thrusting footballs, helmets, shirts and other items into the athletes' faces.

"I was taught a long time ago you ought to be thrilled someone wants your autograph," said Oakland Raiders quarterback Rich Gannon.

"There'll be a day -- and it's coming for me pretty shortly -- when no one will even care for my autograph. It's a privilege of being in this game."

But Gannon and other players said this week that the thrill is diminished by profiteering autograph collectors who sell players' signatures on Internet auction sites.

"Now, with eBay and the other Internet stuff, it's not as sentimental anymore," said Tennessee Titans tight end Frank Wycheck. "It's more to make a buck.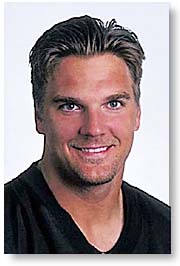 Frank Wycheck
TENNESSEE TITANS TIGHT END

'Now, with eBay and the other Internet stuff, it's not as
sentimental anymore (for autograph seekers).
It's more to make a buck.'
---
"When you see people have like eight pictures of you, obviously they're going to sell them."

The Internet is where autograph sharks turn these days because it's not easy to sell autographs to store dealers.

Representatives of three local sports memorabilia stores contacted by the Star-Bulletin made it clear they won't buy autographed items brought in by people they don't know. Authentication is critical.

Paula Nakata of Paula's Sports Cards Etc. said she only buys from major memorabilia manufacturers such as Skybox, Fleer, Upper Deck, Topps and Playoff.

"The problem is that 85 percent of all autographed memorabilia not sold by those manufacturers is phony," said Nakata.

NFL players said they don't like being exploited by the profiteering autograph seekers.

But what especially irks them is the fact that children are often being paid to front for adults.

"I know people who personally pay kids to go to athletes and get their autographs because kids have an easier time than adults," said Buffalo guard Ruben Brown. "Seven, 8, 9, 10 years old. I've met people who've done it. I don't know how many are doing it. But I thought it was pretty low to pay little kids."

Kansas City Chiefs quarterback Elvis Grbac said he sees it throughout his travels.

"Every place we go to on the road, we notice there are kids either getting hired by trading sharks or guys that are selling items via the Internet or other accesses," he said.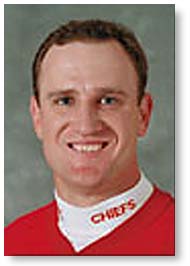 Elvis Grbac
KANSAS CITY CHIEFS QUARTERBACK

'You really want to do something for a kid who's never seen
you play before and wants to get your autograph.
But sometimes you don't know if you're giving it to that
child or the child is working for somebody.'
---
"You really want to do something for a kid who's never seen you play before and wants to get your autograph. But sometimes you don't know if you're giving it to that child or if the child is working for somebody."

Indianapolis Colts running back Edgerrin James said he won't sign when he knows a child has been recruited by an adult.

"That's why I personalize my autographs," said James.

It's harder to sell a personalized autograph.

Indianapolis Colts quarterback Peyton Manning said he can always spot a setup.

"How many kids can really afford three brand-new NFL football helmets? You put that together."

He said that when there's a big crowd, he'll stipulate that he'll sign only one item per fan.

Gannon said he often spots a van, "full of helmets and footballs," parked nearby when children are soliciting autographs.

"A young kid will get one signed and then come back and get someone else," he said. "We've had kids at our facility at 6 in the morning when the guys come in to work and they'll be out there at 6 at night."

Denver wide receiver Rod Smith said it saddens him to see a ritual he enjoys soured.

"When people want you to do with certain pens in certain spots, and so big, you know they're going to make some money off it," said Smith.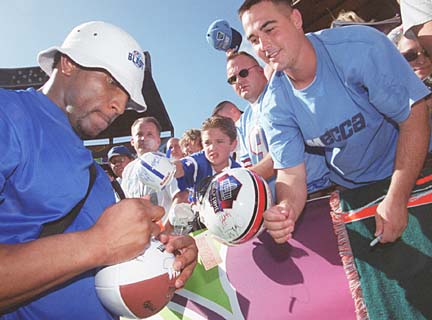 By Ken Ige, Star-Bulletin
Ray Lewis signs autographs for lucky fans yesterday after the
AFC team's Pro Bowl practice at Aloha Stadium.
---
"I know how much money they'll get from mine. But it takes away from the people who just want to say, 'I met this guy in person.' And I do love signing for the kids, so it's unfortunate that people take advantage of that."

Kansas City tight end Tony Gonzalez said he often will pass by an adult to reach the youngsters.

"Nothing against adult autograph seekers, but it's kind of like a kid's thing, I think," said Gonzalez.

Grbac also said he demands priority for children.

"There are situations where adults will try to get the upper hand, and I've really just told people to step away and let the child through," he said.

Gannon said he believes the scams are practiced in Hawaii as well as on the mainland.

"They get you at the airport as soon as you get off the plane," he said. "We're out there (at Aloha Stadium) and there could be several dealers."

But Gannon said he sympathizes with the great majority of people who want his autograph.

"I have two daughters, and there might come a day when I'm at a figure-skating event and I'm standing there waiting to get Kristi Yamaguchi's autograph," he said. "I'll probably be hanging over the barrier like everyone else, so how's she going to know who it's for?"
E-mail to City Desk
---
---
© 2001 Honolulu Star-Bulletin
http://archives.starbulletin.com