Advertisement - Click to support our sponsors.

---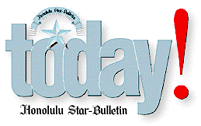 ---
Thursday, February 1, 2001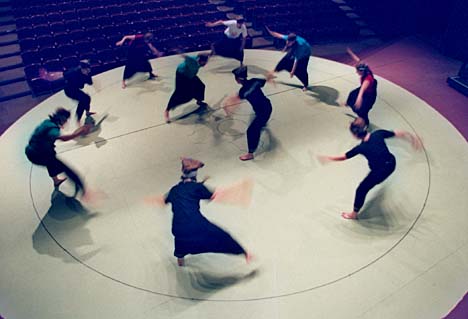 By Dennis Oda,Star-Bulletin
Randai is performed in the round, combining dance,
martial arts, music and acting.
---


---
By Cynthia Oi
Star-Bulletin
STANDING in a circle, 17 people kick their legs to stretch tight their black pants and, with hands held stiff, slap the cloth.

Whap, whap, whap! Whappity, whap, whap, whap!

They kick to the right, stretching the cloth again. Whap, whap, whap, whap!

To the left. Whap, whap, whap!

Toward the center. Whappity, whappity, whap, whap!

What they are performing is called, appropriately enough, pant slapping, and it is part of the folk art form of West Sumatra called Randai.

For the first time in the United States and for the first time in the English language, Randai -- a spirited combination of dance, martial arts, music and acting --will be presented at the University of Hawaii at Manoa beginning tomorrow.




ON STAGE

What: "Umbuik Mudo and the Magic Flute"
The story: A young man falls in love with a woman far above his class and goes to find magic bamboo to make a flute that will woo her.
Dates: 8 p.m. tomorrow and Saturday, Feb. 8, 9, 10; 2 p.m. Feb. 11
Place: Kennedy Theatre, University of Hawaii at Manoa
Tickets: $12; $9 seniors, military, UH faculty/staff; $7 students; $3 UH students. At Kennedy box office, TicketPlus, by phone at 526-4400.
Tickets online: http://www.hawaiitix.com
Call: 956-7655




It is Kirsten Pauka's dream come true, and Hasanawi's proud demonstration of his culture.

Pauka, an assistant professor of Asian theater, brought Hasanawi and Musra Dahrizal, both master teachers of Randai, to Hawaii.

"I'm grateful I have the opportunity to give the Randai artists a chance to present their art here and expose the students and people in Hawaii to it as well," she said. Pauka, one of only a handful of Westerners who have studied the art, did her doctoral dissertation on Randai and was eager to share her enthusiasm for it with others.

But it took 18 months of wrangling with grants, visas and bureaucracy to get teachers to the islands and six months of teaching and translating to ready it for the stage.

When Pauka invited Hasanawi (he goes by the one name) to teach in Hawaii, he at first didn't answer her. As is customary with the Minangkabau people, he felt he had to consult his teachers, students and community before agreeing, he said through a translator.

"With mutual agreement we decided we shouldn't pass up this opportunity to share our culture with a broader audience," he said. Randai, while a performance art, encompasses Minang spirituality. For example, it is performed in a circle, a symbol that binds West Sumatra society.

Randai reflects a body of tradition called adat, Hasanawi said. "There is a Minang philosophy related to religion -- that's adat."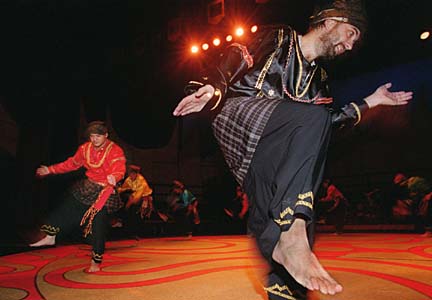 By George F. Lee, Star-Bulletin
Dancers slap the fabric of their pants like drums.
---
He compared adat to a shirt. "The two are very different. The shirt, after a while, will wear out, get holes in it and you can no longer use it. Adat has the capability to renew itself and adapt. When you wear a culture, it never wears out, it is always lasting."

Also symbolic of adat is his view of spirituality: "There is money and there is spiritualness. With money, we use it and eventually --it doesn't matter how much we have -- we will use it up, finish it up. But the more we use our spiritual side, the bigger it gets, the more it becomes, the more we have it as a repository of ourselves."

Pauka, who is 37 and originally from Germany, embraces that sensibility. "I've been a martial artist for over 20 years," she said, having studied tai kwan do, aikido and tai chi. "When I found that Randai was based on martial arts, I was intrigued."

As she investigated further, Pauka discovered that it also involved percussion, theater and dance. It is "a container" for all of her creative interests, she said.

Silat, the martial art form of West Sumatra, is the most essential part of the art form, Pauka said. Randai came about in the practicing of silat movements.

"The technique of slapping the pants while kicking is used in the silat martial arts form. It is used to fake out or distract somebody or give emphasis to a kick.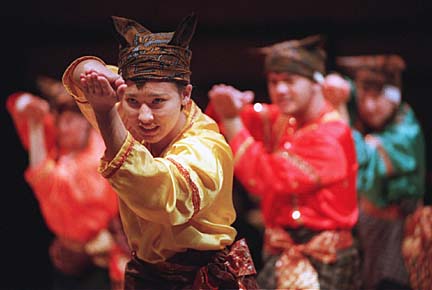 By George F. Lee, Star-Bulletin
Randai dancers will present a traditional dance-drama piece,
"Umbuik Mudo and the Magic Flute," at Kennedy Theatre.
---
"I guess somebody just realized 'this sounds really cool' and as Randai developed, it was integrated, then became more complex and now it's full-on syncopated rhythms. It's really quite something, really a unique thing."

Pauka believes that islanders will respond to Randai "because people are more exposed to different cultural performance arts than say in Utah or Texas. People are more open to it here."

Hasanawi, 50, who had never been outside of his home country before, said he thought coming to Hawaii was coming to America.

"But after I stayed here for a time, I realized I was still in the heart of Asia and the heart of Asia is still here. I felt at home."

Hasanawi is a Seniman alam, which translates into "natural folk artist," and comes by his expertise not through academics, he said.

"I've had many teachers, faceless teachers, from all walks of life. It is a lifetime of learning while working in the rice field, while sitting in a coffeehouse talking with someone."

The dance-drama piece he has taught to UH students was trimmed from its usual six-hour format and the music altered to fit the English translation, but Hasanawi doesn't view it as a corruption of the original.

"Even though it is changed quite a bit, it is a seed and will grow. It still has the Minang elements, it still has the backbone of Minang culture.

"The changes are the bridges, part of the growth of Randai," he said. "An example of that is that a year ago, there was no Randai in Hawaii and now there is."






Click for online
calendars and events.
E-mail to Features Editor
---
---
© 2001 Honolulu Star-Bulletin
http://archives.starbulletin.com