Advertisement - Click to support our sponsors.

---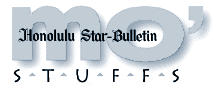 ---
Tuesday, January 30, 2001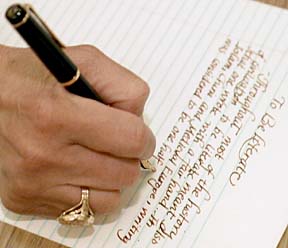 File photo

---
Best, worst
penmanship
will win prizes
Do you take pride in the curlicues in your signature, or in the fact that no one can read your handwriting? Now you have the chance to test your penmanship against the competition by entering the Pen World International Handwriting Contest. There will be prizes for the best and worst handwriting.

To enter, anyone 18 or older may write a letter of 200 words or less and address it to Handwriting Contest, Pen World International, 3946 Glade Valley Drive, Kingwood, TX 77339.

Letters may be published in the magazine, so subject matter should relate to handwriting.

Prizes will be fine quality Faber-Castell pens, stationery or copies of the handwriting guide "Write Now," by Barbara Getty and Inga Dubay, who have made it their mission to improve doctors' handwriting.

Entries must be postmarked by Feb. 14. For information, visit www.penworld.com.
More 'Ballyhoo'
Manoa Valley Theatre will extend its production of the Tony Award-winning romantic comedy, "The Last Night of Ballyhoo," with five additional performances tomorrow through Sunday.

Written by Alfred Uhry, author of "Driving Miss Daisy," Ballyhoo is set in Atlanta, Ga., in 1939, as Hitler is invading Poland. The play involves high-society German Jews, Southern anti-Semitism, and the Freitags, a colorful family which pulls apart.

Show times are 7:30 p.m. Wednesday and Thursday; 8 p.m. Friday and Saturday; and 4 p.m. and Sunday. Tickets are $22 for all seats and all shows. Discounts are available for seniors, students, military and patrons under 25.

A buffet dinner by The Eclectic Chef will be offered on the theater lanai starting at 6 p.m. tomorrow through Saturday. For tickets and information, call 988-6131.
Tea in the 1800s
In celebration of African-American History Month, Mission Houses Museum will whisk people into the 1800s for tea with two historical figures, Anthony Allen and Betsey Stockton.

The events take place 10 a.m. to 11 p.m. Feb. 10 and 17. Costumed actors will portray the businessman who ran a large Waikiki farm in the 1820s, and the single, African-American woman who opened a school for Native Hawaiians in Lahaina in 1823.

Reservations are required for the free events. Donations are accepted. For more information, call 531-0481.
Preview
Coming to the big screen

Three movies are scheduled to open Friday at Oahu theaters:
Head over Heels
Rated PG-13
An art restorer finds a great deal on a Manhattan apartment but is stuck with four models as roommates. She also finds herself falling in love with the guy next door, whom she suspects has committed a crime.
Oh Brother Where Art Thou
Rated PG-13
Three escapees from a Mississippi chain gang set off on an adventure in pursuit of their freedom and a way home. Stars George Clooney, John Turturro and Charles Durning.
Valentine
Rated R
Ten years ago, four college girlfriends enjoyed teasing and mercilessly tormenting a nerdy kid on campus. Now handsome and very appealing to women, he seeks revenge by seducing each of them, killing one on Valentine's Day each year.
---
One movie is scheduled for a sneak preview Saturday at Oahu theaters:
Saving Silverman
Rated PG-13
The film traces the misadventures of buddies J.D. and Wayne, who suspect that their best friend, Darren Silverman, is being badgered into marrying Judith, a women he doesn't love.

| | |

Scoops
Scholarships and more

"Junior Leaders Sweepstakes": Ten children ages 8-14 will receive two tickets to the Pro Bowl, entry on the sidelines at the game and photo opportunities with Pro Bowl players, coaches, cheerleaders and mascots.

Entries will be accepted through tomorrow at Pearlridge Center. The winners will be announced at "Pro Bowl Family Night," 6 p.m. Friday. For official rules and information, call 488-0981.

High school writing competition: Hawaii Pacific University is seeking entries from high school juniors and seniors for its annual writing awards competition.
The theme is a political, economic or social event that had a significant impact on the history of Hawaii including its relevance to modern life today.
Entries are judged on originality, analysis, vocabulary, syntax and expressiveness.
Essays must be typed and no more than five pages long, double spaced, and mailed to: The Office of Scholarships and Honors Programs, Hawaii Pacific University, 1164 Bishop St., Suite 201A, Honolulu, 96813. Deadline for submissions is Feb. 12.
Call 566-2430 for an application form
---
Scoops, which runs Tuesday in Today, provides information on scholarships and opportunities for students and young adults. Send listings to: The Scoops, P.O. Box 3080, Honolulu 96802


Click for online
calendars and events.
---
Send WatDat? questions, stories
or any other story ideas or comments to:
Features, Honolulu Star-Bulletin, P.O. Box 3080,
Honolulu, HI 96802 or send a fax to 523-8509
or E-mail to features@starbulletin.com.
Please include your phone number.
E-mail to Features Editor
---
---
© 2001 Honolulu Star-Bulletin
http://archives.starbulletin.com