Advertisement - Click to support our sponsors.

---

---
Friday, January 26, 2001



---

By Harold Morse
Star-Bulletin

Murder charges are pending against a 43-year-old man after an elderly Canadian man who had just arrived for a visit was fatally attacked Tuesday night in a Waikiki hotel.

Norman Chaplan, 81, of Ontario died at 3:26 p.m. yesterday at Queen's Medical Center.

The prime suspect in the murder, Steven Michael Hauge, was arraigned in District Court this morning for an unrelated robbery that occurred Monday in Waikiki. He was charged with two counts of kidnapping, and one count each of second-degree robbery, first-degree terroristic threatening and first-degree burglary. His bail was set at $100,000. A preliminary hearing is set for 1:30 p.m. Tuesday in District Court.




HOW TO HELP

Outrigger Hotels and Resorts has set up a fund to assist the victim's family. Others wishing to help may make donations to "Friends of the Chaplan Family" at any Bank of Hawaii branch or mail them to:

Bank of Hawaii, Waikiki Branch
2228 Kalakaua Ave., Honolulu, HI 96815




Hauge was arrested about 12:45 a.m. Wednesday about a block from the Ohana Waikiki West Hotel, where Chaplan was attacked in a men's restroom.

Police are asking for the public's help in tracking Hauge's activities and where he has been living.

"All indications are that he is the suspect in (the Chaplan murder) case," police Chief Lee Donohue said yesterday. "It appears that the suspect was in the area and that he was looking for a victim."

Police said that in the Monday case, a 25-year-old man was asked for cigarettes on Kuhio Avenue at about 4:30 a.m. The solicitor then punched him, drew a knife and forced the victim to take him to the victim's Kuhio Avenue apartment.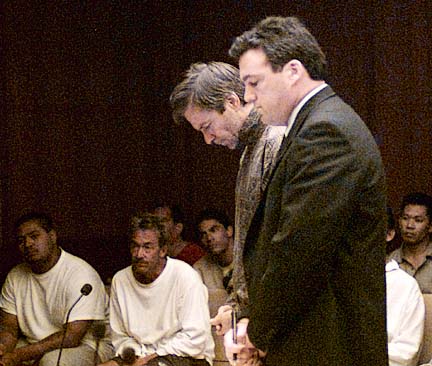 By Ken Sakamoto, Star-Bulletin
Steven Michael Hauge is arraigned at District
Court today for a robbery.
---
The attacker tied up the victim, then used his computer to email the victim's girlfriend, demanding $500. The victim said he had to go to the bathroom, then managed to escape and alert police. The attacker, in the meantime, took $3 and a CD player and left.

That incident and a CrimeStoppers tip helped link Hauge to the fatal attack against Chaplan, who had just arrived in Hawaii with his wife and a senior citizens group.

He went to a restroom at the Ohana Waikiki West, formerly known as the Outrigger Waikiki West, while the group checked in about 1:30 a.m. Tuesday. He was struck on the head and robbed of his wallet.

Donohue said Hauge has nine prior felony convictions involving robbery, forgery and credit card misuse. He has been a Hawaii resident for several years, he said.

According to the Hawaii Criminal Justice Data Center, Hauge has a total of 46 prior convictions -- including ones for criminal property damage, assault and robbery -- between 1976 and 2000.

Despite this tragedy, Donohue maintained that Honolulu is a relatively safe place. "Last year, we had 24 homicides, which is very low for a major city," he said.

"It is heartening that the people of Hawaii have been calling our hotels, the hospital and other organizations looking for ways to assist the family," said Barry Wallace, senior vice president of Outrigger Hotels & Resorts.

---

Reporters Rosemarie Bernardo and
Leila Fujimori contributed to this report.
E-mail to City Desk
---
---
© 2001 Honolulu Star-Bulletin
http://archives.starbulletin.com