Advertisement - Click to support our sponsors.

---

---
Tuesday, January 9, 2001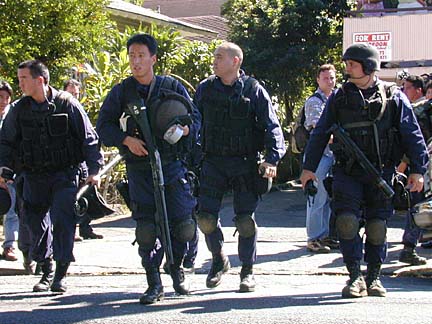 By Craig T. Kojima, Star-Bulletin
SWAT team members walk away from the Nuuanu Gardens
apartment building after arresting Frank K. Chin yesterday. Last
Friday, police surrounded the same apartment building because
they believed Chin was inside. However, he had already left.
---
Tip leads to
capture of fugitive
in Nuuanu

A lawyer talks the
man into surrendering

---

By Leila Fujimori
Star-Bulletin

A fugitive who surrendered to police was scheduled to be returned to Oahu Community Correctional Center today.

Frank K. Chin eluded a SWAT team last week but surrendered yesterday to police at the same apartment building where the manhunt began Friday.

Chin, 24, emerged from the Nuuanu Garden Apartments with his arms raised shortly after noon and was taken into custody by Specialized Services Division officers who had again surrounded the building. The SWAT team also evacuated up to a dozen people from the building.

Police said they got an anonymous tip through CrimeStoppers at about 9:30 a.m. yesterday that Chin had returned to the apartment he shared with his girlfriend, Marilyn Ah Yun.

Police arrived before 10 a.m.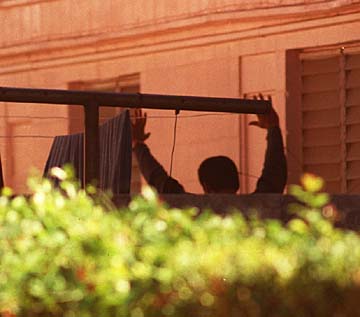 By Craig T. Kojima, Star-Bulletin
Chin surrenders yesterday.
---
Police say they spoke by telephone to Ah Yun, who said Chin was not there, but would not let them in to check. Ah Yun asked for attorney Don Wilkerson.

Wilkerson said he received a call sometime before noon from Chin and talked him into giving up. "He realized he had to turn himself in and take care of matters," Wilkerson said. The lawyer said Chin was concerned for his and Ah Yun's safety.

Wilkerson said Chin was afraid because of the SWAT team surrounding the building.

Chin's parole had been revoked, and police and sheriff's deputies were looking to take him back to prison. Chin allegedly threatened to kill Ah Yun in a New Year's Day incident and may face kidnapping and terroristic threatening charges, police said.

Police informed area schools and left it to them to decide how to handle the situation. Students at Cathedral School across the street remained inside during the incident.

Wilkerson said he represents both Chin and Ah Yun. She was not arrested as of late yesterday.

Police believed Chin may have been armed, but no gun was found when he was taken into custody.
E-mail to City Desk
---
---
© 2001 Honolulu Star-Bulletin
http://archives.starbulletin.com