Advertisement - Click to support our sponsors.

---
---
Tuesday, January 9, 2001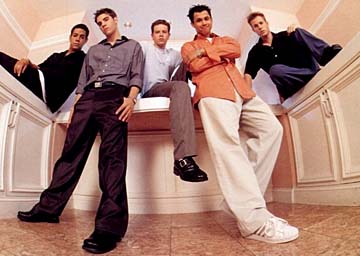 O-Town
O-Town, from left, Trevor Penick, Dan Miller, Jacob
Underwood, Erick-Michael Estrada and Ashley Parker Angel.
---
Bring O-Town to
perform at your prom
O-Town could be the headliner at your prom this year. Enter the "Rock Your Prom Sweepstakes," sponsored by JC Penney and Seventeen magazine, for a chance to win limo transportation on prom night, a dress from JC Penney, a free tuxedo rental, dinner for two on the big night, your picture in Seventeen, and just so your friends don't get jealous, an appearance by O-Town for the whole school.

The group, from ABC's "Making the Band" series, features Trevor Penick, Dan Miller, Jacob Underwood, Erik-Michael Estrada and Ashley Parker Angel. Their performance will be webcast on Seventeen.com, putting your class in the spotlight.

Eight sweepstakes runners-up will also receive a free prom dress.

Entry forms are available in the February and March issues of Seventeen and at Seventeen.com.
---
Preview
Coming to the big screen
Antitrust
(R)
When computer genius Milo is recruited by a multibillion-dollar Silicon Valley corporation, he is ecstatic at having been chosen by his professional guru Gary Winston, the company's head. Milo soon discovers, however, that the success of the company is due to Winston's unethical strategy regarding antitrust complaints. Tim Robbins, Ryan Phillippe, Rachael Leigh Cook.

Double Take
(PG-13)
An investment banker is framed for laundering Mexican drug money. In an attempt to flee, he takes another man's passport, only to find that he has inadvertently chosen the identity of a street hustler more wanted than he is. Orlando Jones, Eddie Griffin, Gary Grubbs.

Finding Forrester
(PG-13)
Sent to an all-white prep school on an athletic scholarship, Jamal Wallace's true aspiration is to be a writer. After meeting a novelist, they embark on a friendship that ultimately pushes Jamal to choose between his writing and hoop dreams. Sean Connery, Anna Paquin, F. Murray Abraham.

Save the Last Dance
(PG-13)
Julia Stiles plays Sara, an aspiring ballet dancer who swears off dancing and heads to Chicago to live with her absentee father (Terry Kinney) after her mother is killed in a car wreck. Sara finds interracial romance with Derek (Patrick Thomas), who is lord of the dance at a club, and he reignites Sara's ballet aspirations.

State and Main
(R)
A comedy about what happens to a quaint New England town when a huge Hollywood movie crew moves into shoot. Alec Baldwin, Charles Durning, William Macy.

Thirteen Days
(PG-13)
The film is set during the two-week Cuban missile crisis in October 1962, and centers on how President John F. Kennedy, Attorney General Robert Kennedy, and others handled the explosive situation. Kevin Costner, Bruce Greenwood, Stephen Culp.






Click for online
calendars and events.
---
Send WatDat? questions, stories
or any other story ideas or comments to:
Features, Honolulu Star-Bulletin, P.O. Box 3080,
Honolulu, HI 96802 or send a fax to 523-8509
or E-mail to features@starbulletin.com.
Please include your phone number.
E-mail to Features Editor
---
---
© 2001 Honolulu Star-Bulletin
http://archives.starbulletin.com