Advertisement - Click to support our sponsors.

---

---
Monday, January 1, 2001
We present the Star-Bulletin's annual
picks of 10 people who, in ways public
and not-so-public, made a difference
to Hawaii during the past year.

---

'Freddy' Rice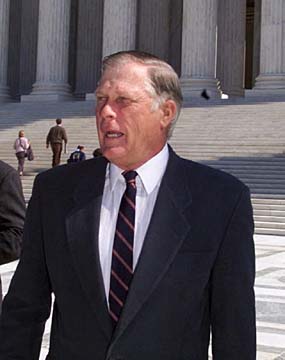 Associated Press
Harold "Freddy" Rice: The Supreme Court
rules that OHA's restricted voting is an
unconstitutional racial exclusion.
---
His lawsuit opens
OHA voting to all

He hopes it's 'remembered as the
case that eliminated racial
preferences in Hawaii'

---

By Christine Donnelly
Star-Bulletin

HAROLD "Freddy" Rice relished voting in the Office of Hawaiian Affairs election in November, more than four years after he filed his landmark lawsuit, claiming voter discrimination.

The 66-year-old Big Island rancher, a fifth-generation white kamaaina, had sued in April 1996, after being refused an OHA ballot, available then only to native Hawaiians.

The case made it to the U.S. Supreme Court, which in February ruled that OHA's restricted voting was an unconstitutional racial exclusion. That decision paved the way for a U.S. District Court ruling that OHA should be open to candidates of any race, as well as voters. In November, a non-Hawaiian was elected for the first time in the state agency's 22-year history, along with eight native Hawaiians.

The Supreme Court ruling also provided grist for more legal challenges against other taxpayer-funded programs for native Hawaiians. Several remain pending, including lawsuits seeking to dismantle OHA and the Department of Hawaiian Home Lands.

Rice said he hopes the ruling is "remembered as the case that eliminated racial preferences in Hawaii ... and if someday there are no racial preferences in Hawaii, then I would like some of the credit for that."

But despite all the legal precedents, others hope the case's most lasting legacy will be the way it energized supporters of native Hawaiian sovereignty.

Outrage over the ruling coalesced behind federal legislation that would designate native Hawaiians a distinct indigenous political group with autonomy over their own affairs, similar to Indian tribes.

The "Akaka bill" passed the Republican-controlled U.S. House but died in the Senate without a vote in the waning days of Congress. U.S. Sen. Daniel Akaka, D-Hawaii, said he would reintroduce the bill early next session.

Clayton Hee, OHA's senior member, remained hopeful it eventually will become law, and render moot further challenges to Hawaiian programs. "That's the silver lining. Because of Rice, it has hastened the discussion at the federal level, which to me is positive," said Hee. "Once Akaka does pass, it will signal the dawning of a new day for the Hawaiian people."

But Freddy Rice believes the legal precedent set by his case -- especially that native Hawaiians are a racial, not political, group -- would serve to overturn the Akaka bill if it does become law.

"I'm not going to challenge it myself, but I'm pretty sure someone else would," he said. "Rice vs. Cayetano is the landmark case."

---

Benny Agbayani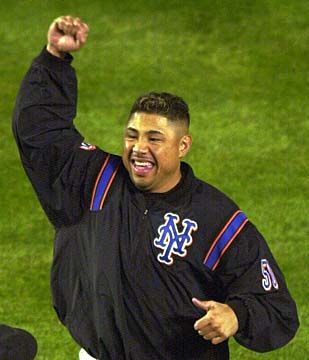 Associated Press
Benny Agbayani: The New York Mets' outfielder
celebrates after his team defeats the St. Louis Cardinals 10-6
in Game 4 of the National League Championship on Oct. 15.
---
Our favorite ball
player's a charmer

He made some spectacular plays
for the Mets, but he did us proud
off the field, as well

---

By Dave Reardon
Star-Bulletin

DEPENDING on how you look at it, in his third major league season Benny Agbayani arrived, thrived or survived.

Whatever the case, the St. Louis School and Hawaii Pacific University alumnus from Aiea cemented his status as Hawaii's favorite baseball player.

Not bad for a guy who almost began the 2000 season in the minor leagues.

Agbayani, a working-class hero who battled six years in the bush leagues before making it to the New York Mets two years ago, displayed a flair for the dramatic this season.

His batting average was a modest .289, and he hit only 15 home runs -- nothing spectacular for a big-league outfielder.

But Agbayani's timing was impeccable.

First, on the verge of being sent down in April, Agbayani hit a mammoth grand-slam home run as the Mets beat the Cubs in the first big-league series to be played in Japan. When outfielder Darryl Hamilton got hurt, Agbayani got to keep his job.

A back-up player at the beginning of the season, Agbayani performed well when he got his chances and worked his way back into the starting lineup.

Then, in one game he lost count of the number of outs, and gave a ball to a fan instead of throwing it back to the infield. The Mets won the game anyway.

He sparkled in the post-season, on the field and off. When he wasn't busy being interviewed by Regis Philbin, Agbayani drove in the winning run in Game 3 of the Subway Series for the Mets' only win against the cross-town rival Yankees.

Even though half the sportscasters doing his games couldn't pronounce it properly, Agbayani still became a household name across the country.

Through it all, he maintained an innocent charm. And that's not easy to do when you appear on Howard Stern's show.

With the No. 50 on his back, his Filipino-Chinese-Samoan-Caucasian heritage and his combination of never-give-up and laid-back style, Benny Agbayani represented Hawaii like no other baseball player before him.

Hawaii people wanted to know what Benny did every day last summer, even if it was nothing spectacular.

That's because he's truly one of us.

---

David Black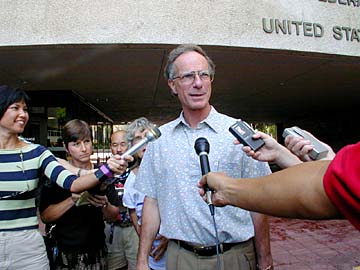 By Craig T. Kojima, Star-Bulletin
David Black: The soft-spoken Canadian has
a no-nonsense approach to business.
---
White knight rescues
Star-Bulletin

His bold moves to buy both the
Bulletin and MidWeek turn isle
media upside down

---

By Rick Daysog
Star-Bulletin

IT was a year of mergers and acquisitions in the local media industry. And David Black was at the center of two of the biggest deals.

The 54-year-old president of Victoria, B.C.-based Black Press Ltd., finalized his purchase of the 63,500-circulation Honolulu Star-Bulletin in November, rescuing the 118-year-old afternoon paper from closing and preserving a second daily editorial voice in Honolulu.

Black followed that up by announcing he was buying Kaneohe-based RFD Publications, which owns MidWeek, a 270,000-reader weekly newspaper.

During a year which saw ownership changes at the 100-year-old Maui News, KGMB-TV and KSSK-AM, Black's purchase of the Star-Bulletin and MidWeek stood out. Overnight, the deals made Black a viable competitor to Gannett Co.'s Honolulu Advertiser and shifted the balance of power in Hawaii's print advertising market.

"Competition is what it's all about and David Black brings that opportunity to the table," said Martin Schiller, president of The Schiller Group, a local ad agency.

To be sure, the soft-spoken Black is an unlikely candidate to take on Gannett, the nation's largest newspaper chain. All but one of Black Press' 80 newspapers are weekly newspapers, and most of his papers are in Canada.

What's more, he's bucking a national trend in which afternoon newspapers are closing nationwide as readers turn to morning newspapers.

But Black's characteristic, no-nonsense business approach, combined with a strong grass-roots support for a second editorial voice in Honolulu, point to an aggressive newspaper war between Honolulu's two dailies.

Last week, the Advertiser said it was adding an afternoon edition to compete with the soon-to-be independent Star-Bulletin. Black, meanwhile, has unveiled plans for a morning edition. He also plans a Sunday edition to bring the Star-Bulletin's coverage to seven days.

"We're headed toward a situation that's highly unusual in American journalism," said Gerald Kato, University of Hawaii journalism professor. "It goes against the conventional wisdom and business trends, and the conventional wisdom and business trends may prove true. But from an academic standpoint, it's a fascinating development."

---

Ed Ichiyama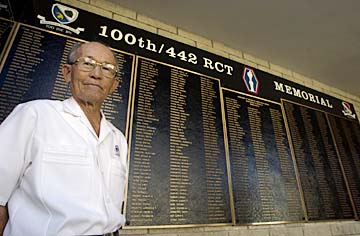 By Ronen Zilberman, Star-Bulletin
Ed Ichiyama stands outside
the 442nd Veterans Club.
---
Vet's work led to
Medals of Honor

'I didn't have a manual telling me
what I was supposed to be looking for'

---

By Suzanne Tswei
Star-Bulletin

BEFORE Ed Ichiyama locked himself in the cramped archives of the 442nd Veterans Club, there was only one Medal of Honor recipient among all the Japanese-American and Pacific Island-American soldiers who served during World War II.

After three months of painstaking research through a mountain of scrambled paperwork, the retired Honolulu lawyer and veteran of the 442nd's 522nd Field Artillery Battalion found 26 more eligible for the nation's highest military award for valor.

"To say he was dedicated is an understatement. I can't imagine the number of files he had to go through to find what he found," said Don Shimazu, president of the 442nd Veterans Club.

"The thing is also that he put everything in such a presentable way, he made it easy for people to see that these soldiers really deserve this award. He is a tremendous fellow -- very, very capable," Shimazu said.

In his typical unassuming fashion, Ichiyama calls himself a "gofer" and wants no accolade for the volunteer work that consumed him for three months four years ago.

"I just know it was weeks and weeks and weeks that I locked myself in that small office with boxes and boxes of documents," Ichiyama said. "But I didn't know what I was doing. I didn't have a manual telling me what I was supposed to be looking for. I just had to go through every piece of paper."

Ichiyama sorted through files donated locally and then pored over big boxes of paperwork that volunteers discovered in archives in the nation's capital. Ichiyama knew his task was to find as much information as possible on the 52 soldiers in the famed 100th Battalion and 442nd Regimental Combat Team who were awarded the Distinguished Service Crosses, the nation's second-highest award for valor. These soldiers were eligible for upgrade to the highest military award due to legislation introduced by U.S. Sen. Daniel Akaka giving these veterans a second chance at the highest award.

He resurrected files on 26 of these veterans, and 11 of them were selected to receive the Medal of Honor. Another 11 also earned the medal, with research conducted by others on the mainland. Of the 22 new awardees, 12 are from Hawaii.

---

Earl Koanui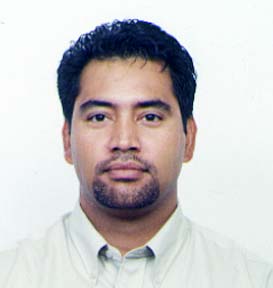 HPD photo
Earl Koanui: Honolulu police officer
was key in a major gambling bust.
---
Cop cracks
gambling operations

'What I regret is that my reputation
is still tainted' from taking
bribery payments

---

By Rod Ohira
Star-Bulletin

HONOLULU police officer Earl Koanui posed as a crooked cop for two years and eight months in an undercover assignment that led to the indictment of 32 people on federal gambling and money-laundering charges in May.

"The price was steep and I'm still paying for it," said Koanui, who was promoted to the rank of detective on Christmas Eve.

"What I regret is that my reputation is still tainted. Not everyone believes I was doing a job. And I also regret that I can never bring back the time I lost with my family.

"But I don't regret doing the cases and would do it again if I had to," he added.

Koanui devoted seven days and more than 100 hours a week to the 32-month assignment. Much of the work was done on his own time.

In addition to his undercover role, Koanui was involved in planning strategy for the operation.

Outside of a few HPD administrators and those working directly with Koanui -- four Honolulu police officers, five federal agents from the FBI and Internal Revenue Service, and two assistant U.S. attorneys -- no one knew that he was only pretending to be a crooked cop on the take.

From August 1997 through May 2000, Koanui accepted 233 bribery payments totaling $311,731 in exchange for advance warnings of police gambling raids.

The bribery payments came from gambling groups in Chinatown and on the Leeward Coast.

"The undercover police officer who worked on this case is a real hero," Steven Alm, U.S. attorney for Hawaii, said of Koanui in May. "He did a tough, dangerous job for a long time and did it well."

Despite the success of the operation, Koanui is realistic about its impact on gambling.

"It's put a dent in gambling, but we never expected to stop it completely," he said. "You can't do it as long as there's a demand."

The 37-year-old Koanui, a Kamehameha Schools graduate, joined the Honolulu Police Department 17 years ago.

He will remain with the Narcotics/ Vice Division's gambling detail until the indicted suspects have been tried.

Koanui expects the process to be completed by April. He will then be transferred to the Criminal Investigation Division's auto theft detail.

---

Siuaki Livai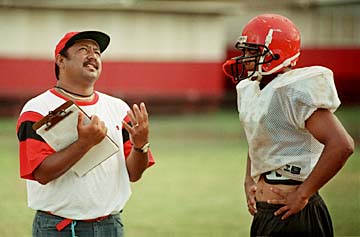 By Dennis Oda, Star-Bulletin
Siuaki Livai: The Kahuku football coach, left,
gives some pointers to Kala Latusela on how to catch
and return the ball during punting drills.
---
Coach leads Kahuku
team to great win

His football triumph over
St. Louis is hailed as a victory
for underdogs statewide

---

By Dave Reardon
Star-Bulletin

A 40-year-old father of 11 from Tonga named Siuaki Livai recently accomplished what no one else could do since 1986.

On Dec. 1 the Kahuku High School math teacher and football coach finally derived The Formula to beat The System.

The System is how St. Louis School dominated Hawaii high school football by winning the Prep Bowl or the state championship game for 14 consecutive years.

The Formula turned out to be the same thing as The System: equal parts talent, hard work and coaching, with a little luck thrown in.

And on one magical night at Aloha Stadium with 14,267 watching, the Red Raiders finally put it all together to beat the Crusaders, 26-20, for the first time after five unsuccessful tries in the big game.

Livai said the Red Raiders got extra motivation from a gauntlet of supporters who lined Kamehameha Highway as the team buses rolled from the North Shore to the stadium.

"We couldn't have done it without the community," Livai said. "We have the most supportive community you could ask for."

Indeed, thousands of red-clad fans cheered the team on to its historic victory.

For a week after the game, the headlines read "shocking" and "stunning." But those who really know Kahuku football were not all that surprised. They realized that the Red Raiders could do it; Kahuku -- a school with a long tradition of football excellence -- had nearly won the Prep Bowl on other occasions. Simply, its time had finally come.

Still, the triumph by an Oahu Interscholastic Association public school team against an Interscholastic League of Honolulu private school and nationally ranked powerhouse was hailed as a victory for underdogs throughout the state.

Some said it was the most significant outcome of a high school football game in Hawaii. Ever.

All engineered by an unassuming but passionate former Kahuku linebacker and running back.

"Siuaki is symbolic of what can be accomplished through hard work, confidence and persistence," said Keith Amemiya, Hawaii High School Athletic Association executive director. "St. Louis set a high standard for over a decade, and largely through Siuaki's leadership, Kahuku met that standard this year."

And, on that night of destiny, surpassed it.

---

David Ezra

By Terry Luke, Star-Bulletin
David Ezra: Called courageous and
fair by both admirers and critics.
---
Faithful to the law
in tough cases

Among his rulings are the
restrictions on longline fishing
and the Felix Consent Decree

---

By Debra Barayuga
Star-Bulletin

C OURAGEOUS. Fair. No-nonsense. Those are just some of the ways admirers and critics have described U.S. District Court Judge David A. Ezra.

In the past year, Hawaii's federal administrative judge has issued significant decisions on controversial issues ranging from Hawaii longlining to the Felix Consent Decree.

Despite his critics, Ezra continues to remain faithful to the law, the U.S. Constitution and what he believes is right.

"There's no compromise when it comes to justice," said Ezra, who returned a reporter's phone call on his cellular phone from Texas, where one of his daughters had just graduated with an M.B.A.

"You just have to do what's right."

Even those who ended up on the less positive side of his August longline decision to protect endangered sea turtles have commented on the difficulty he faced in managing an industry in the courts.

"I believe Judge Ezra made his rulings based on what he truly believes and what he truly interpreted as facts put forward to him," said Sean Martin, president of the Hawaii Longline Association.

While Ezra's ruling forced swordfish longliners to make some tough decisions regarding their livelihood and created a lot of uncertainty for the seafood industry and related businesses, he demonstrated that the management of fisheries and related impacts on the environment is a complex issue, Martin said.

Paul Achitoff, attorney for Earthjustice Legal Defense Fund, which sued the National Marine Fisheries Service for failing to protect the turtles, said Ezra took his responsibility in enforcing the law very seriously.

"Coming up with a legally supportable and equitable resolution required that he keep an open mind and continually revisit the issues until the right solution emerged," Achitoff said.

"I think that takes guts, to be flexible enough to work on something until it's right, and not make hasty decisions then dig in your heels."

Eric Seitz, one of the attorneys representing Jennifer Felix in a lawsuit that resulted in the court ordering the state to improve educational and mental health services for special needs students, doesn't always agree with Ezra's rulings, but has found the judge to be forthright and acting with utmost integrity.

In the Felix litigation, "I think he has kept a long-range view of what the goals are so we are moving toward accomplishing them in the best possible way," Seitz said.

---

Harry C.Y. Wong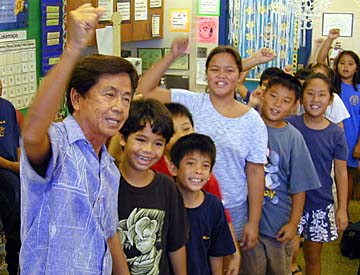 By Ken Sakamoto, Star-Bulletin
Harry C.Y. Wong leads fourth-grade students
in a dragon dance while they sing and pump their fists.
He teaches this class the Chinese Mandarin language.
---
Volunteer makes it
'fun to learn'

Retired teacher sees 'a moral obligation
to give what we can to the
children' at Liholiho

---

By Cynthia Oi
Star-Bulletin

THEY'RE all wild about Harry at Liholiho Elementary School. And Harry's wild about them, especially the children.

Although retired after teaching for 40 years, Harry C.Y. Wong still goes to school several days a week, a volunteer instructor in Mandarin and Chinese music. He loves doing it, and his students as well as school employees love that he does.

Sheri Yokota, who now works in the school office, was in Wong's fifth-grade class back in the 1970s.

"He made it fun to learn," she said. "We put on skits. We did all kinds of different things that helped us learn what was in our lessons."

"Harry has a wonderful ability to relate to children," using his humor and nurturing ideas to motivate them, said principal Christina Small. "Ask him about the warm fuzzies," she said.

"Oh, the warm fuzzies," Wong laughed. They were balls of yarn he had each child create and hang around the classroom. Whenever the children were feeling low, they could look at their warm fuzzies "and see them smiling at them. I told them it was their own guardian angel," he said.

Yokota remembers her warm fuzzy. It may sound silly, she said, but it worked. "Sometimes it would make all the difference in the world."

Besides the classes, Wong, 68, is a volunteer guide at the Waikiki Aquarium. He also put together a children's Chinese orchestra to play at charity events.

As a public school teacher, Wong did not look for validation of his work in his paycheck. If he did, he may have been as disappointed as many educators today who are considering a strike over wages.

But Wong does not view his generosity as anything unusual. "We all have a moral obligation to give what we can to the children. It's the concept of volunteering. What you do cannot be measured by the dollar sign; the value is in what we do. Reward is in inner satisfaction."

Like Yokota, most of the kids who have had Wong as a teacher remember him well.

"He made a big difference in their lives."

---

Angela Baraquio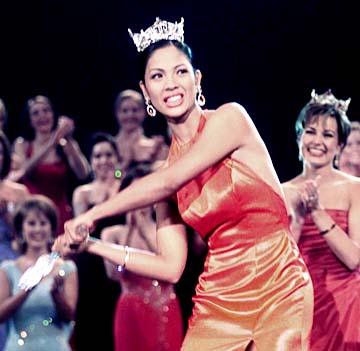 Associated Press
Angela Baraquio swings the Miss America
scepter at the pageant Oct. 14. She is the first
Asian American to win the title.
---
Miss America helps
break race barrier

Her influence reaches beyond
racial boundaries and teaches
the moral of hard work

---

By Cynthia Oi
Star-Bulletin

A day may come when barriers of race and gender are so torn apart that we will no longer count firsts: first woman in space, first Jewish-American on the presidential ticket, first African-American nominated to be secretary of state.

Until then, they are noteworthy as steps toward commonality.

So when Angela Perez Baraquio was chosen as Miss America earlier this year -- the first woman of Asian ancestry to win -- another bit of the barrier fell away.

"Now it feels as if Miss America is a reachable goal," said Billie Takaki, who was crowned Miss Hawaii after Baraquio took the national title.

And if that's possible for Asian-American women, then "what isn't?" she said.

Takaki, who is of Polish and Japanese ancestry, sees the glint of opportunity in the eyes of the girls and teen-agers she meets at her public appearances.

"They've seen Angela succeed, so now they're seeing they can succeed, too. It's wonderful for them, and it's about time. They see that their race is not a barrier. They see that others have gotten past the brown color of Angela's skin."

Baraquio's influence reaches beyond racial boundaries, said Thom McGarvey, director of the Miss Hawaii pageant.

"She is an ordinary young lady who has accomplished extraordinary things," he said. "She does things because of what her parents taught her was important in life -- to work for what you want, to use what you have to do that."

Baraquio, 24, a teacher at Holy Family Catholic Academy, comes from a family of 10 children. She coached volleyball, co-founded and directed a youth choir and volunteered in helping other sport teams.

Most of all, she put a exuberant face from Hawaii on the national scene, said Takaki, who was a friend of Baraquio's from their University of Hawaii days.

"People feel good 'cause she's a local girl. People know her. When you know her, her personality blows you away."

---

Steve Case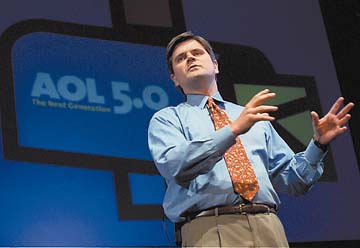 Associated Press
Steve Case, chairman of America Online,
is helping Punahou School build a technological
learning environment.
---
Quietly contributing
to islands

He invests millions in Maui and
Kauai and donates AOL stock
to alma mater Punahou

---

By Russ Lynch
Star-Bulletin

STEVE Case has been making global headlines, but the Hawaii-born billionaire chairman of America Online Inc. has been quietly making a difference in the islands, too.

In 1999, he made a personal investment of $41 million to buy a big stake in Maui Land & Pineapple Co.. This year, he followed up with the $26 million purchase of family-owned Grove Farm Co. on Kauai. He has said he will keep the employees of what had been a struggling company and invest money in its operations, such as the Kukui Grove Shopping Center -- Kauai's only mall, now in disrepair.

With all that going on and Case's drive to merge AOL and Time Warner Inc. into a single $166 billion company, one of his significant contributions in his home state has gone virtually unreported.

In 1999, Case made a major contribution to Punahou School, the high school where he and other members of his family graduated, including his father, the prominent Honolulu attorney Dan Case, class of 1942.

Punahou followed its normal policy of converting gifts of stock into cash and turned the AOL shares Case gave them into about $8 million.

That money was the basis for a lot of work this year, said Barb Morgan, Punahou's development director. The school has been in the planning process toward creating a learning environment for the future, she said.

Using Case's seed money and his direct personal interest in the process, Punahou has been working with the AOL Foundation, a Case family foundation, Vista Volunteers America, computer maker Gateway Inc. and others toward pooling resources.

The intent is "to bridge the digital divide by providing not just technology but real, thoughtful environments for young people to have access to computers and technology and get good training with good mentors," such as loan executives, Morgan said.

Case doesn't have time for frequent visits to Hawaii, but he keeps an active eye out for Hawaii opportunities and seems well-represented in the islands by his father.
E-mail to City Desk
---
---
© 2001 Honolulu Star-Bulletin
http://archives.starbulletin.com