Advertisement - Click to support our sponsors.

---

---
Thursday, December 28, 2000



The ousted Bishop trustee
is accused of helping to hide
sister's bankruptcy assets

---

By Debra Barayuga
Star-Bulletin

A federal grand jury has indicted ousted Bishop Estate trustee Lokelani Lindsey on charges of conspiring with her sister to hide assets from bankruptcy trustees.

The superseding indictment yesterday came one week after her sister, Marlene Lindsey, was named in a Dec. 20 four-count indictment charging her with bankruptcy fraud and money laundering. She allegedly concealed her interest in a local shipping business after filing for bankruptcy in January 1995.

The new indictment charges both sisters with conspiracy and a new money laundering charge, and Lokelani Lindsey with a bankruptcy fraud and money laundering charge related to the previous indictment.

Lokelani Lindsey "aided and abetted" Marlene Lindsey in concealing her interest in Atlantic Pacific International Services stock and the sale of 100 shares for $100,000 to an individual identified only by the initials "J.B," according to the indictment.

Michael Green, attorney for Lokelani Lindsey, said he is "shocked" that his client was charged with conspiracy

"That's really weak," Green said.

He said that his client has "gone through hell" trying to prevent her home from being foreclosed on, and having to seek work on the mainland, and now this indictment.

Deputy Public Defender Willie Domingo, who is expected to be appointed to represent Marlene Lindsey at her arraignment Jan. 3, said she will plead not guilty.

Here's an account of the alleged conspiracy from U.S. Attorney Steve Alm:

Marlene Lindsey, who owned Marlene's Hairstyling, filed for bankruptcy in January 1995.

In a disclosure statement and at a meeting with creditors in February 1995, she failed to disclose that she owned 100 shares in Atlantic Pacific stock.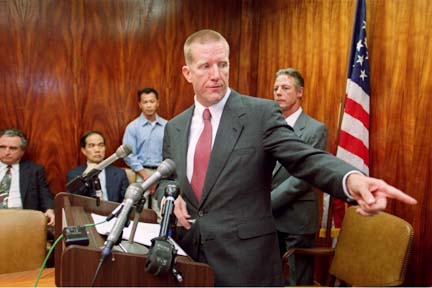 By Dennis Oda, Star-Bulletin
U.S. Attorney Steve Alm addresses the media concerning
the indictments of former Bishop Estate trustee Lokelani
Lindsey and her sister, Marlene.
---
In December 1995, the sisters met with J.B. and discussed the sale of the stock to J.B. and the fact that a transfer would constitute bankruptcy fraud.

Thereafter, the sisters discussed transferring the shares to Lokelani Lindsey to avoid the consequences for not disclosing the stock and to allow Marlene Lindsey to receive the proceeds without alerting bankruptcy trustees, Alm said.

On Dec. 27, 1995, Marlene Lindsey transferred her shares to Lokelani Lindsey, who then transferred the stock to J.B., backdating the transfer to Dec. 27, 1994 -- before Marlene Lindsey's bankruptcy filing.

J.B. then transferred $100,000 to a Bank of Hawaii account that Marlene Lindsey could access for payment or the stock.

In February 1996, a $35,000 cashier's check was made payable to Lokelani Lindsey and withdrawn from that same account.

Gayle Lau, assistant U.S. Trustee with the U.S. Department of Justice, said any debtor who files for bankruptcy must disclose "any and all assets" under federal law

Failure to do so constitutes bankruptcy fraud.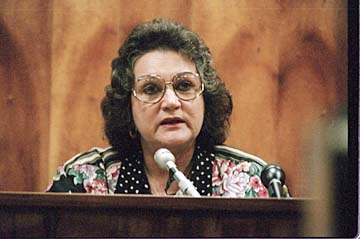 By Craog T. Kojima, Star-Bulletin
Lokelani Lindsey took the witness stand last year.
---
Bankruptcy trustees believe Marlene Lindsey owed various creditors in the "hundreds of thousands of dollars" when she filed for bankruptcy, Lau said.

Because she failed to disclose the stock, trustees found no assets to distribute to creditors and the case was closed, he said.

Bankruptcy is set up to assist individuals who are legitimately trying to pay off creditors, Alm said.

When a person tries to hide assets from bankruptcy trustees, "it means that much more are not going back to good-faith creditors who deserve to get their money back."

The IRS had been investigating Lokelani Lindsey's financial affairs for some time and began looking into Marlene Lindsey's involvement, Alm said.

Further investigation pointed to the ex-trustee, resulting in the indictments of both sisters.

Money laundering is punishable by a maximum 10-year prison term. Conspiracy is punishable by a five-year term.

---



E-mail to City Desk
---
---
© 2000 Honolulu Star-Bulletin
http://archives.starbulletin.com