Advertisement - Click to support our sponsors.

---

---
Wednesday, December 27, 2000



P R E P _ S O C C E R
---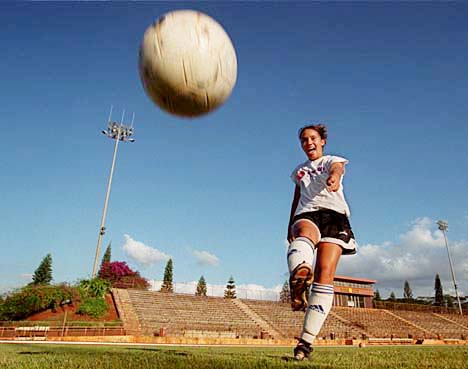 By Dennis Oda, Star-Bulletin
Mililani junior forward Mele French is tied for first place
in scoring this season in the Oahu Interscholastic
Association with 11 goals.
---



Prolific scorer Mele French
and powerhouse Mililani help
set the pace in the OIA

---

By Tim Crouse
Special to the Star-Bulletin

AT Mililani, Mele French is known as a finisher.

The junior forward has scored 11 goals in the Trojans' first three regular-season soccer games, including a five-goal outburst against Campbell.

French is tied with Pearl City's Carmen Calpo -- the Oahu Interscholastic Association's top scorer last year -- for the most goals in the OIA.

But Mililani's not a one-player team.

"It's not just Mele on this team, it's the team getting her open," coach James Uson said. "Our game plan is ball possession -- keep working the ball until we find the open man. That open man always seems to be Mele, and she's the one who finishes for us."

Mililani (3-0) has outscored its opponents, 25-1, with additional production from halfbacks Jennifer Iha, Jackie Matsuda, Ashlee Doi and Krystal Uchida.

Their most recent win was a 3-1 victory against rival Pearl City last week.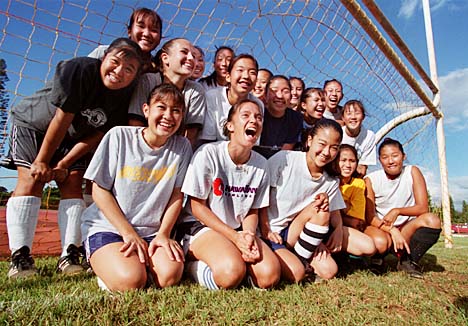 By Dennis Oda, Star-Bulletin
The undefeated Mililani girls' varsity team poses for a picture.
---
The Chargers (4-1-0) lead the OIA Western Division, but have played two more games.

A new defense installed by Uson and the emergence of French have made Mililani -- which made it to the quarterfinals of the last year's state tournament -- even tougher.

French started part of last season, but she's the first to admit that she wasn't nearly as good.

"I learned that I needed to be better and work on my footwork," French said.

So she joined a club team, the Bulls, coached by Phil Neddo.

"He's so hard on me and he pushes me. He taught me to be determined, committed and the best player I could be," she said.

PLAYING against mainland competition also helped. The Bulls won the state club championship and traveled to the mainland for the regionals.

"I learned so much. The competition there is excellent," she said.

Playing with the Bulls also helped French mentally.

"She's more confident on the field, and that's what she lacked last year," Uson said.

College is still two years away, but French is already drawing interest from coaches at the next level because of her experience on the mainland.

But French wants to focus on this year -- and her biggest goal.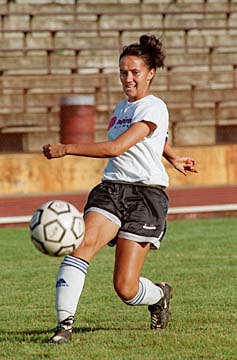 By Dennis Oda, Star-Bulletin
Mele French kicks the ball around.
---
"I'm not looking to score the most goals," she said. "I want to be a really good player and (make) all-state. But making it to the state championship is my top goal."

While the Mililani offense is scoring goals, the defense must hold up its end.

"We're going with three fullbacks this year (instead of four) and five halfbacks in the midfield," Uson said.

The scheme, which some players admit was confusing at first, gives Mililani more control in the middle of the field, and gives Uson the ball-control offense he wants.

"Teams are having a difficult time because there are so many offense players moving the ball around they don't know who to pick up," Uson said.

Uson's plan only works, though, with the right defensive players, with the absence of a fourth fullback.

So far, Mallory Iha, Jenn Loo and Erica Salvador -- along with goalkeeper Eryn Kishimoto -- have gotten the job done.

"We found three girls that are working hard and doing their jobs back there, so we don't have to worry about the defense," Uson said.

And because of the team play that has allowed French to score often, he hasn't had to worry about the offense, either.

French's biggest weapon is her speed.

"Speed in soccer kills," Uson said. "She has breakaway speed. If she can break away from the defender, then she's free, one-on-one with the goalie."

And French almost always wins that battle.

"I try to play every game like it's my last," French said. "I try to work hard to push (my teammates) and pick them up and motivate them to play better."

Mililani's run for a state title ended last season in the quarterfinals with a 2-1 overtime loss to eventual champion Baldwin.

In a preseason tournament on Maui earlier this month, Baldwin beat Mililani again.

"In the beginning of it, we just weren't ready and we hadn't really played together much," said French. "In the Pearl City game we played together and we did so well together.

"Next time we play Baldwin -- which I'm sure we will. We'll be ready for them."
E-mail to Sports Editor
---
---
© 2000 Honolulu Star-Bulletin
http://archives.starbulletin.com