Please support our very first Starbulletin.com advertiser!
---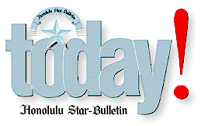 ---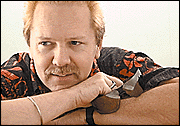 Island Mele



Friday, December 22, 2000
By John Berger
---
Strong debut for
rapper Mark Atuaia

Versatile From The Isles: By Mark Atuaia (Wolfgramm Productions, PGR-81190)

Rap is almost as popular in Hawaii as reggae these days and island-born Mark Atuaia does local rap proud in his debut as a self-styled "Polynesian Wyclef" with an assist from LeRoy Wolfgramm of the original Jets. Producer Wolfgramm neatly uses a riff from Smokey Robinson's "Cruisin' " as the melodic hook in "Island Warriors" while rapper Atuaia expounds elsewhere on life as a proud "Laie boy" and "Poly man."

Atuaia and his entourage step out of the Poly-rap format for a straight remake of Vince Gill's "Look At Us" that works as a valentine from Atuaia to his wife. A silly Jawaiian-style remake of Sue Thompson's "Sad Movies" doesn't work however and is the one track wasted.

review

http://www.olindaroad.com

---




Beauty Maui: By George Raymond (BBP, no serial number)

Maui-based George Raymond Ruiz Jr. uses genres ranging from slack-key to light jazz in an album that is part travelogue and part autobiography. All but one song is original; the exception, "Na Ka Pueo," gets an interesting Hawaiian-calypso make-over. Ruiz keeps things unpredictable by adding cartoonish voices on "Molokini" and then setting a straight romantic mood with "Lanai Our Love." The latter would be a perfect theme for a national ad campaign.

Bobby Ingano, Michael Paulo, Pekelo Cosma and Patrick Palomo of the original Kasuals are among the musicians adding their talents. Visitors will find this album a fine soundtrack of their stay but Ruiz' instrumentals make this more that a visitors' souvenir.

review

---




Collection: By Hapa (The Mountain Apple Co., MACD 2085)

Barry Flanagan and Keali'i Kaneali'i recap their career to date with this anthology culled from four of their first five albums. "Ku'u Lei, Ku'u Ipo," the biggest hit off their self-titled debut, is here of course. Each selection displays another facet of their musical interests.

The one track from their "Surf Madness" album doesn't reflect the dramatic range of their alter egos Axel & Barneldo, and the annotation says little of Hapa's history and unique musical chemistry, but this is a beautiful milestone.

http://www.mountainapplecompany.com





---




John Berger, who has covered the local
entertainment scene since 1972, writes reviews of recordings
produced by Hawaii artists. See the Star-Bulletin's Today
section on Fridays for the latest reviews.
E-mail to Features Editor
---
---
© 2000 Honolulu Star-Bulletin
http://archives.starbulletin.com