Advertisement - Click to support our sponsors.

---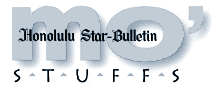 ---
Monday, December 18, 2000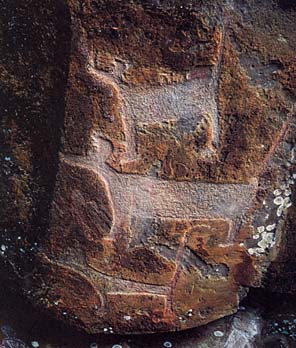 Legacy in Stone 2001
Images of ancient Hawaiian petroglyphs by Rowland Reeve
are featured in the state Department of Land and
Natural Resources 2001 calendar.
---
Time passages with
images in stone
Hundreds of years ago, someone had something to say, information or thoughts he or she wanted to convey. So the person carved them in the volcanic rocks of the islands, leaving them to survive the ages for others to discover.

These images of ancient Hawaiian petroglyphs grace "Legacy in Stone 2001," the state Department of Land and Natural Resources' calendar for the new year.

With a keen eye for light and color, Rowland Reeve spent five years photographing petroglyphs all through the islands, including Kaho'olawe.

Ed Stasack, University of Hawaii emeritus professor of art and author of "Petroglyphs," and Diane Stasack, a petroglyph researcher, provide a brief but informative text about petroglyphs.

"It is unlikely that the specific meanings of Hawaiian petroglyphs will ever be known," the Stasacks write. "Some are thought to be metaphors, symbols, maps and territorial markers."

Among the more awesome places photographed are two on Hawaii island: a coastal site where the figure is visible only at low tide and a cave where petroglyphs spread across walls and floor.

The exact location of some of the petroglyph sites aren't listed; some are on private land and all are fragile and need protection.

The calendar, at $8, is available at the Kalanimoku state office building, 1151 Punchbowl St., Room 130, at Native Books & Beautiful Things on Merchant Street, or at the state Historic Preservation Office in Kapolei, 601 Kamokila Blvd., room 555 (phone: 692-8015).

Information: 587-0355 or at http://www.state.hi.us/dlnr/hpd/hpcal01.htm.
---
Konishiki to divorce
Retired sumo wrestler Konishiki has filed for divorce from his wife of nearly nine years.

Konishiki spoke at a news conference yesterday at the Hawaii Prince Hotel, across the hall from the ballroom where he and the former Sumika Shioda were honored at a March 1992 reception about a month after their Tokyo wedding.

Konishiki, known in Hawaii as Salevaa Atisanoe, said he filed for divorce on Dec. 9 after living apart from his wife, a former model, for two years. He said he took the action to improve both of their lives and said there are no ugly feelings.

The marriage did not work out but they are still good friends. "I think we can do better in a friendship rather than in a husband-and-wife relationship," he said.

The couple didn't have much time together because he is busy with his career as an entertainer and corporate spokesman. The couple had discussed having children but separated soon after, he said.

Konishiki said he will support Sumika financially but he declined to provide any details. He said no attorneys were involved in the divorce and they reached agreement peacefully.

Although Sumika was involved in his entertainment promotion business, there was no conflict, he said. He was unable to say what role she will continue to play in the business, but said her father continues to go to the office.

Konishiki said he has no plans to remarry at this time, and said he would not object to Sumika remarrying if she finds someone good.
---
Radio Log

KONG 570-AM / 93.5 FM: Adult contemporary rock with some Hawaiian music
KSSK 590-AM / 92.3-FM: Adult contemporary music
KHNR 650-AM: CNN news, sports
KQMQ 93.1-FM: The Q hits of the '80s-'90s
KQMQ 690-AM: Radio Disney
KGU 760-AM: Talk, news, sports
KHVH 830-AM: News, talk, traffic, weather
KAIM 870-AM / 95.5-FM: Christian radio
KJPN 940-AM: Japanese-language shows
KIKI 990-AM / 93.9-FM: Contemporary country AM; contemporary hits FM
KLHT 1040-AM: Christian radio
KWAI 1080-AM: Talk radio
KZOO 1210-AM: Japanese-language shows
KNDI 1270-AM: Live news from the Philippines; programs in 10 languages
KIFO 1380-AM: News, public affairs
KCCN 1420-AM / 100.3-FM: All talk / UH sports AM; contemporary island hits, FM
KUMU 1500-AM / 94.7-FM: Adult standards, AM; light rock, FM
KHPR 88.1-FM: Classical, news, public affairs
KIPO 89.3-FM: Jazz, classical, news
KTUH 90.3-FM: Jazz, blues, Hawaiian, rock, country and alternative
KKUA 90.7-FM: Classical, news, public affairs
KKCR 90.9 / 91.9-FM: Hawaiian music, midnight-3 p.m.; and rock, reggae, classical and new age
KRTR 96.3-FM: Adult contemporary music and news
KPOI 97.5-FM: Modern rock
KDNN 98.5-FM: Contemporary Hawaiian
KORL 99.5-FM: Adult contemporary
STAR 101.9-FM: Modern hits
KKHN 102.7-FM: "Da Bomb" top 40 hits
KXME 104.3-FM: Top 40
KINE 105.1-FM: Hawaiian
KGMZ 107.9-FM: Oldies






Click for online
calendars and events.
---
Send WatDat? questions, stories
or any other story ideas or comments to:
Features, Honolulu Star-Bulletin, P.O. Box 3080,
Honolulu, HI 96802 or send a fax to 523-8509
or E-mail to features@starbulletin.com.
Please include your phone number.
E-mail to Features Editor
---
---
© 2000 Honolulu Star-Bulletin
http://archives.starbulletin.com