Advertisement - Click to support our sponsors.

---

---
Monday, December 11, 2000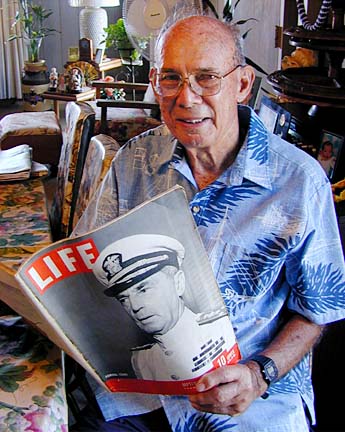 By Ken Sakamoto, Star-Bulletin
Halawa Heights resident Frank Freitas, 80, holds the Sept. 28,
1942, issue of Life magazine that contains a photo of him
inside. That's Admiral William Daniel Leahy on the cover.
---
Remembering
'tough men ready
to fight'


An isle man recalls taking
wounded Marine Raiders
to the hospital in 1942

---

By Gregg K. Kakesako
Star-Bulletin

THEIR training here nearly six decades ago was a military secret, and when they returned, they seemed like a ragtag bunch.

But the Marine Corps commando raid on Makin Island was the first good news the military could report after the devastating Japanese raid on Pearl Harbor.

It was hailed as a major blow to the Japanese Pacific war effort.

Halawa Heights resident Frank Freitas, 80, remembers many of the Marines as "tough, young men ready to fight."

He especially wonders what became of several of the Marines whom he befriended while they trained at Camp Catlin near Pearl Harbor and in the Salt Lake area.

Freitas was a civilian ambulance driver for the Navy in 1942.

When the Marine Raiders returned by submarine to Pearl Harbor after hitting a remote Japanese outpost, Freitas was there to help shuttle the wounded to the base hospital.

"Many were dressed in rags," said Freitas, who also helped evacuate casualties following the Dec. 7, 1941, Japanese attack on Pearl Harbor.

The Marines had lost much of their clothing in the rough Pacific surf trying to return to the waiting submarines and were given rags to wear by the crew.

"They looked exhausted and knocked out. A few died here of their wounds, and I was told they were first buried at the Navy cemetery in Halawa and later transferred to Punchbowl."

But one Marine haunts Freitas to this day. He only remembers him by the nickname "Red," because of the color of his hair. "He had lost both of his legs," Freitas said. "I visited with him after he got here, but once he left by a transport ship, I lost track of him."

Freitas said there was another Marine, whose name he also doesn't recall, who trained with his ambulance crew for at least a month before the Marines left for Makin Island, located 1,000 miles northeast of Guadalcanal.

"I was told that he was killed on Makin."

Freitas, who later worked for the Army as a motor-pool supervisor for 29 years before he retired, wonders if that Marine was one of the 19 members of the 2nd Marine Raider Battalion, who were killed in action on Aug. 17 and 18, 1942.

The Marines were left behind on the remote Pacific atoll in the first U.S. offensive against the Japanese.

The 19 sets of remains were excavated from a mass grave last year on Makin Island, now known as Butaritari Island in the Republic of Kiribati.

They were returned to U.S. soil in December 1999, and sent to the U.S. Army Central Identification Laboratory at Hickam Air Force Base.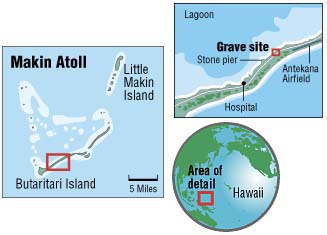 It took months using dental records and DNA testing to match the bones with the Marines. The forensic laboratory released their identities on Nov. 29.

One set of remains identified as Cpl. Mason Yarbrough of Sikeston, Mo., was to be returned to his hometown today for burial on Dec. 15.

A Marine Corps honor guard was to escort his flag-draped casket from Borthwick Mortuary today on its last leg home on a commercial airplane.

The Marine Raiders Association hopes to bury the remaining 18 Marines in a special plot at Arlington National Cemetery on Aug. 17 -- the 59th anniversary of the raid.

Freitas remembers the Marines "as a good bunch of guys. They were rough boys. They were all volunteers, but they did a great job.

"Salt Lake used to be so much larger then, extending to where the elementary school now exists," Freitas added. "Much of their training with rubber boats was there, and we were called out several times to help them when there were problems."

No one knew when the 220-member Marine Raider force left Oahu on two submarines, Freitas said. "It was a really big military secret. Nobody got the word when they left."

When they arrived at Makin, the two companies of Marine Raiders, led by their founder, Maj. Evans Carlson, sneaked into the lagoon on small rubber boats from the submarines Nautilus and Argonaut. In the predawn raid, 220 Marines attacked the Japanese garrison, destroying two seaplanes and killing 83 enemy soldiers.

Sgt. Clyde Thomason was killed while directing the actions of his platoon.

He was posthumously awarded the Medal of Honor, and his remains are among the 19 that were identified last month.

But 12 Marine raiders did not make the beach rendezvous and were left behind.

Three were captured a day later, on Aug. 19, 1942. It is not known whether they were taken prisoner or executed.

The other nine were captured two weeks later and taken to Kwajalein Atoll in the Marshall Islands, where they were beheaded.
E-mail to City Desk
---
---
© 2000 Honolulu Star-Bulletin
http://archives.starbulletin.com