Advertisement - Click to support our sponsors.

---

---
Friday, December 8, 2000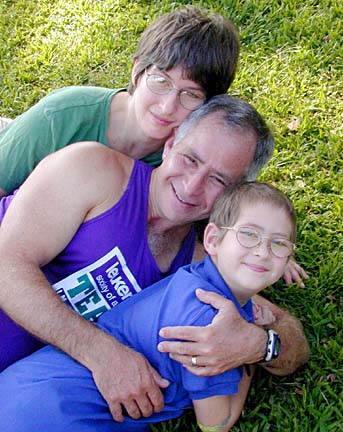 By Craig T. Kojima, Star-Bulletin
Claire and Ed Litteral hug their 6-year-old daughter, Katie,
who has leukemia. In Sunday's Honolulu Marathon,
teams of runners will be raising money toward finding a cure.
---
HONOLULU MARATHON

Running to
save lives


The father of a child with
leukemia joins other volunteers
in raising millions racing for a cure

Memory spurs team
Traffic advisory

---

By Helen Altonn
Star-Bulletin

When Master Sgt. Ed Litteral runs the 26.2-mile Honolulu Marathon Sunday, thoughts of his six-year-old daughter will spur him to the finish line.

Katie has acute lymphocytic leukemia and her dad is helping to raise money for a cure.

"I am running for her life," he said. "I like to think I'm doing it for all kids with leukemia -- and all adults with leukemia, too."

Litteral is acting command sergeant major with the 411th Engineer Battalion at Fort Shafter and one of 1,600 Team in Training runners participating in the marathon.

The Leukemia & Lymphoma Society organizes 200 volunteer teams annually to run in more than 40 accredited marathons across the country.

Another 40 teams are organized to cycle a century ride of 100 miles.

Team in Training Honolulu Marathon runners have raised $6 million for the Leukemia & Lymphoma Society to battle leukemia -- $230,000 for each mile.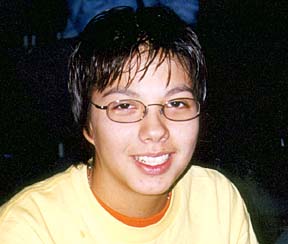 Louella Blackdeer, victim of a drunken-driver, in
a photo courtesy of her mother, Lani.
---
Wearing purple singlets, they will be easily identified.

About 80 percent are first-time runners, such as Litteral, said Liz Olsen, society spokeswoman in Hawaii.

She said the Hawaii team of 40 members is the largest fielded here in the leukemia program. They have raised about $60,000 in six months for research and patient services.

They'll be running for Katie and four other Hawaii patients, called "honored teammates," Olsen said.

In the 13-year history of Team in Training, she said the volunteers have raised $235 million to fight leukemia and lymphoma.

"They're not in it because they're running professionals or elite trained athletes. They're in it for a cause. It propels them all the way to the finishing line."

Katie must go through two and a half years of chemotherapy to treat the disease, but she is "doing fantastically," Litteral said. "You almost wouldn't know she was as sick as she is if I didn't tell you."

Litteral and his wife, Claire, were stationed here about a year ago, coming from the East Coast. She works with the lunch program at Katie's Pearl Harbor Elementary School. They have two older children in college in Maryland.

"We were here a short while when she (Katie) was diagnosed," he said.

She was being treated for what was believed to be a sinus infection and it got progressively worse, he said.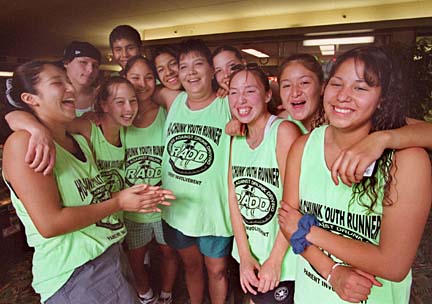 By Craig T. Kojima, Star-Bulletin
Blackdeer's teammates yesterday in Waikiki.
---
He was playing Santa Claus at his unit's Christmas party last year and his wife planned to stop by but Katie didn't want to go, he said. "We got her an appointment (with the doctor) the very next day."

She was suffering from general malaise because one lung had collapsed and the other had partially collapsed, he said. A mass was growing in her chest.

Chemotherapy was started within hours after she was diagnosed with leukemia, Litteral said. "They said if they didn't shrink the mass in her chest, she would probably die of respiratory failure in her sleep that night.

"The feeling ... it's like taking a baseball bat and smacking you between the eyes."

But the outlook is positive. Because of research discoveries, Katie has a good chance of full recovery.

"We're so close to a cure," said Gretchen Cates, director of the San Diego/Hawaii chapter's Team in Training Program. "We've seen particular success with childhood leukemia."

She said there's an 80 percent chance that children with Katie's type of leukemia will survive, compared with only four percent 30 years ago.

Katie plays like a normal kid now with few limitations, her father said.

Ocean swimming is out, but she can go into a chlorinated pool. She takes ice-skating lessons and loves hula, he said.

Litteral started a little running club in his office and trains with a group at lunch and on Saturdays. He said he "owes lots of people 26 miles of running" because many donors have contributed to the Leukemia Society to support his run.

Residents wanting to join Litteral in the Team in Training program may call 1-800-482-TEAM or visit www.teamintraining.org.




About bone marrow
and blood cancers

Facts about leukemia, lymphoma, Hodgkin's disease and myeloma:

These are cancers of the blood and bone marrow, characterized by uncontrolled growth of malignant blood cells.

The malignant cells interfere with production of healthy blood cells and the body isn't able to protect itself from infection.

Causes of leukemia, lymphoma and myeloma aren't known. Hodgkin's disease is a form of lymphoma and one of the most curable forms of cancer (more than 80 percent).

Nearly 300 people in the United States are diagnosed daily with these blood cancers; an estimated 640,000 Americans now are afflicted with them.

Leukemia strikes 10 times more adults than children; more than half of all cases occur in people over age 60.

The five-year survival rate for leukemia patients has tripled in 40 years.

Deaths among children with leukemia have declined 61 percent in 30 years. However, more children under age 15 die of leukemia in the U.S. than any other disease. Nearly 600 may die from leukemia this year.

More than 50,000 adults will die this year from leukemia, lymphoma and myeloma.

Source: The Leukemia & Lymphoma Society




---

A runner was killed
by a drunken driver;
now, friends and family
lace up in her honor

---

By Pat Gee
Star-Bulletin

Louella Blackdeer of Wisconsin took up marathon running to escape the demons in her life, and fell in love with Hawaii while participating in last year's Honolulu Marathon.

The Native American teen-ager was determined to come back to run in this year's race whether or not her team, the Ho-Chunk Youth Marathon Runners, returned with her. But Blackdeer, 15, was killed by a drunken driver in May, and her team is returning to run in her memory this Sunday.

Louella's mother, Lani Blackdeer, also the team's assistant coach, said the group of 9 runners will pay tribute to the teen-ager and cast a lei out to sea in her memory during their stay. Sheena Kasames will run the race on her sister's behalf.

Team members will be wearing a white tank top with a logo on the front that reads "RADD," which stands for Runners Against Drunk Driving. The Ho-Chunk Nation seal will be on the back of the shirts, she said.

"After she died, it seemed real important to make something good come out of it," said Blackdeer, who came to Honolulu with the team. The team members want to "make a difference in their lives and the lives of others."

Kasames and another sister, Nellie, took up running a month after Louella died so they could run the marathon in her place.

"I kept picturing myself bringing that medal back to Louella," Kasames said. Nellie, who is not participating in the marathon, and Kasames found it hard to train for the sport in freezing weather and because they've never run long distances before.

"It takes a lot to get out there," she said.

She is "very nervous" as she faces her first race; her greatest fear is not finishing because of a physical breakdown.

Although Kasames is skeptical of metaphysical signs of her sister's spirit, her mother pointed out "something magical on the picture" taken of her as she completed her first 20 miles in training. "It was like a cloud right beside me. Mom pointed it out" as Louella's spirit, Kasames recalled.

Blackdeer said the man responsible for killing Louella and three other teen-agers heading home from a prom also died in the head-on collision. He had been convicted twice before for driving drunk and had one citation pending.

"I know he had heard the warnings of driving drunk. Why didn't he listen? Why does this happen over and over again? What can we do?" Blackdeer said.

Her daughter had been struggling with peer pressures and insecurities six years ago, but "her world changed" when she started running.

"She was a natural. She could have made the Olympics," Blackdeer said.

The team was supposed to run in Paris this year, but decided to come here instead because Louella "absolutely loved Hawaii and wanted to go back," Blackdeer said.

---

Prepare for road delays

Police are advising motorists to avoid the Honolulu Marathon route Sundayand prepare for delays while traffic lanes and streets are closed to make way for runners.

"If they're caught (in marathon traffic), they have to be patient," said Capt. Bryan Wauke of the traffic division. Because it's a timed race, officers will have to let the participants through.

However, officers know that drivers also have to reach their destinations, Wauke said. "We'll do our best to get them through."

Traffic will be restricted along the marathon course from 1 a.m. to 3 p.m. Sunday. Some bus routes also may be canceled or detoured.

Motorists should expect the following streets to be closed or restricted until all marathon participants have passed:

Ala Moana Boulevard from Atkinson Drive to Ward Avenue will be detoured from 1:20 a.m. to 7:30 a.m.

H-1 Freeway will be closed in both directions from the Waialae offramp/22nd Avenue to Ainakoa Avenue from 3:30 a.m. to 1 p.m.

Kalakaua Avenue mauka lanes between Monsarrat Avenue and Poni Moi Road will be closed from 4:30 a.m. until the marathon is over. The makai lanes will be contraflowed for two-way traffic at about 8 a.m.

Monsarrat Avenue from Kalakaua to Paki Avenue will be a no parking/tow away zone from 4:45 a.m. until all runners have passed

Paki Avenue from Monsarrat to Kalakaua avenues will be open only to local traffic from 5 a.m. until the end of the marathon.

Police will direct traffic on Diamond Head Road, and Kahala and Kealaolu avenues.

18th Avenue from Diamond Head Road to Kilauea Avenue will be detoured, except for local traffic, until all runners clear the area.

Kilauea Avenue eastbound lanes from 18th to Waialae avenues will be closed, and westbound lanes will be contraflowed for two-way traffic from 5 to 8:30 a.m.

Kalanianaole Highway makai lanes from Ainakoa Street to Hawaii Kai Drive will be closed and mauka lanes will be contraflowed for two-way traffic from 5:15 a.m.

Hawaii Kai Drive makai lanes from Kalanianaole Highway to Keahole Street will be closed from about 5:45 a.m. until the area is clear. The mauka side of the highway will be contraflowed for two-way traffic.

Kalanianaole Highway will be closed from Hawaii Kai Drive to Keahole Street from the time the first runner enters the area until the area is clear.

Keahole Street makai lanes will be closed from the time the first runner enters the area until the area is clear. The mauka lanes will be contraflowed for two-way traffic.

Kealaolu Avenue from Waialae Avenue to Kahala Avenue will be closed, except to local traffic, from the time the first runner enters the area until it clears.

Star-Bulletin staff
E-mail to City Desk
---
---
© 2000 Honolulu Star-Bulletin
http://archives.starbulletin.com