Advertisement - Click to support our sponsors.

---

---
Wednesday, December 6, 2000



H A W A I I _P R E P _ S P O R T S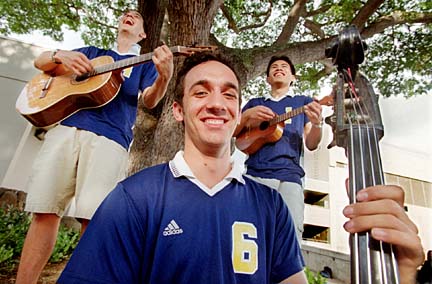 By George F. Lee, Star-Bulletin
Punahou volleyball players Kekane Yuen, Will
Reppun (6) and Kupono Nuuhiwa jam Hawaiian
music and jam up opposing teams.
---
The leader
of the band


State volleyball Player of
the Year Will Reppun of
Punahou plays a mean
bass -- and outside hitter

---

By Tim Crouse
Special to the Star-Bulletin

The deep notes from the stand-up bass lay the foundation for the guitar and ukulele. The bass doesn't stand out; the three instruments combine to produce a harmonious sound.

Will Reppun is the low-key, tempo-setting bass player. But on the volleyball court he becomes the front man, the demonstrative, emotional star.

Reppun and and his Punahou teammates Kekane Yuen and Kupono Nu'uhiwa haven't achieved stardom with their musical group yet, but on the volleyball court they've reached the pinnacle as state champions.

And Reppun is the Star-Bulletin boys' volleyball Player of the Year.

Reppun, a 6-foot-2 senior, was moved to outside hitter from middle blocker midway through the season so his passing skills could be better used.

He helped the Buffanblu to a state title with his all-around play, including thunderous kills, deft passing and tough blocking.

Equally as important was his leadership and will to win.

"He has confidence in his ability to play and we have confidence in him as a leader," Yuen said. "He brings emotion to the court. He knows what he wants and he helps everyone on the court get there."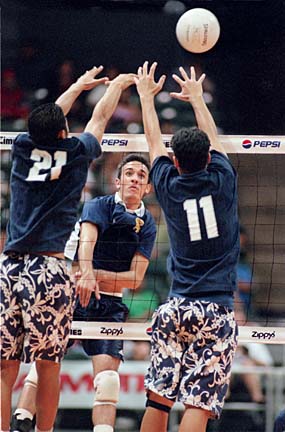 By Dennis Oda, Star-Bulletin
Punahou's Will Reppun was a force on the outside
against Kamehameha in the boys' state volleyball final.
---
Another teammate, senior defensive specialist Kaione Scott, has played with Reppun since seventh grade.

"He brings a lot of energy and he has a lot of love for the game. He brings it all to the court and fires everyone up," Scott said. "He digs deep during games and helped us get to where we are."

Reppun is also teachable.

"Put him in a new position, give him some instruction, and he'll learn," Punahou coach Scott Rigg said.

That helped make for an easy transition when they moved Reppun outside.

Reppun accomplished a rare feat by winning four state championships on the varsity level.

Three of those years he played with Parker Smith, last year's senior team captain who now plays at UCLA.

"You have to be positive when things are going good, but especially when things are going bad. I noticed last year Will had already started to do that," Smith said from California.

"I think he's a great leader. He's been on the team for four years and all the knowledge he's gained all came together. He was never scared or nervous. I never saw him back down from any challenge."

Said Rigg: "He did a lot of confidence maintenance for us."

During the state tournament -- especially the title match against Kamehameha -- Reppun was nearly unstoppable hitting from the outside.

"He's a smart hitter," Pearl City coach Reid Shigemasa said.

"Everyone knows the ball is going to him and he still hits (successfully)."

Kamehameha took an 11-7 lead over Punahou in the second game of the championship match -- but Reppun smashed a kill for sideout, and then slammed four more kills in the 15-12 win.

"During the last game I wanted the ball every time," he said. "During warmups I was jumping higher than I ever jumped before. I felt so good. Fortunately, the rest of the team felt the same way, too."

Said Smith: "If you (the captain) are playing well, it's easy for others to play good."

Here is the rest of the Star-Bulletin's all-state team, based on consultation with coaches from around the state: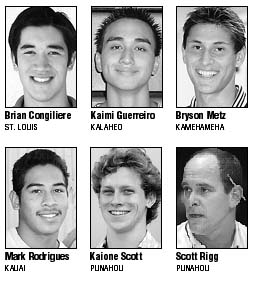 First Team

Brian Congiliere (6-4 Senior Setter, St. Louis): He was the most polished at his position.

"He does a good job of bettering the ball -- giving the hitter something to hit on a bad pass. He really gives them something to hit on a good ball," Kamehameha coach Pono Ma'a said.

"He was the leader by example," Crusaders coach Rick Tune said.

Kaimi Guerreiro (5-10 Senior Outside Hitter, Kalaheo): A superb athlete with incredible leaping ability, he is a powerful hitter and good passer.

"He has tremendous courage and heart," coach Mel Furtado said.

Said Tune: "He is confident in his ability, which translates onto the court."

Bryson Metz (6-3 Senior Middle Blocker, Kamehameha): The team captain proved to be a force in the middle on offense and defense.

"He's probably more intimidating blocking," Ma'a said. "He's quick at the net for a big guy. He's a team player with a good work ethic."

Mark Rodrigues (6-2 Senior Outside Hitter, Kauai): The left-handed hitter, who is also a good jumper, presented an extra challenge for defenses to try to stop.

"When he gets on a roll he can really smash the ball," Shigemasa said.

He displayed his ability during the state tournament when he buried 13 kills in a single game against Punahou.

Kaione Scott (5-9 Senior Defensive Specialist, Punahou): A seasoned veteran who plays great defense, is also a great passer, and he continued to improve.

"He wants that ball to come to him and he's real aggressive on playing it," Tune said.

Coach of the Year

Scott Rigg, Punahou: Guided the Buffanblu through adversity to their seventh consecutive state championship, the last four with him at the helm.

"Everyone on the team can't help but improve because of the way he runs practices. His drills are so good," Reppun said.

Tune said he was impressed with the adjustments that Rigg made throughout the season that made Punahou a better team.

"Every year they seem to peak at the right time," Shigemasa said.

Second Team

Arist DeWolf (6-6 Senior Outside Hitter, St. Louis)
Rickey Estrada (5-10 Junior Outside Hitter, Kamehameha)
Ikaika Francis (6-4 Junior Opposite/Middle Blocker, Kalaheo)
Eric Kalima (5-8 Junior Defensive Specialist, Kamehameha)
Kea Kometani (6-4 Senior Middle Blocker, Punahou)
Kupono Nu'uhiwa (5-9 Junior Setter, Punahou)

Third Team

Michael Chong (5-7 Junior Setter, Kalaheo)
Ryan Hanohano (6-0 Senior Opposite, Waiakea)
Isaac Kneubuhl (6-2 Sophomore Outside Hitter, Kamehameha)
Tyler Padayao (5-10 Senior Outside Hitter, Pearl City)
Donovan Roque (5-9 Senior Setter, Kamehameha)
Nicholas Yeager (6-2 Senior Outside Hitter, Kalaheo)

Honorable Mention

Castle: John Lam Ho. Damien: Kui Tolentino. Farrington: Kinohi Aki, Aaron Ramirez. Hilo: Napela Naniole. Kamehameha: Jon Paul Keb. Kaimuki: Jared Shirai. Kauai: Matt Miguel. Leilehua: Clint Torres Jr., Joshua Jumawan, Elmer Malealii III. McKinley: Shawn Pacquing. Maui: Kevin Wunder, Matthew Helekahi. Mid-Pacific: Aka Beaumont. Moanalua: Jose Sierra. Pearl City: Dana Kaleiohi, Scott Kobayashi. Punahou: Mike Harada, Gary Johnson, Daniel Lam. Roosevelt: Joshua Yoshimoto. Seabury Hall: Chris Thibaut. St. Louis: Justin Harris, Brian Vodrow. Waianae: Paul Kaio. Waimea: James Marques. Waipahu: Maota Tuitea, Thomas Vito.
E-mail to Sports Editor
---
---
© 2000 Honolulu Star-Bulletin
http://archives.starbulletin.com