Advertisement - Click to support our sponsors.

---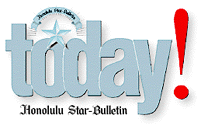 ---
Monday, December 4, 2000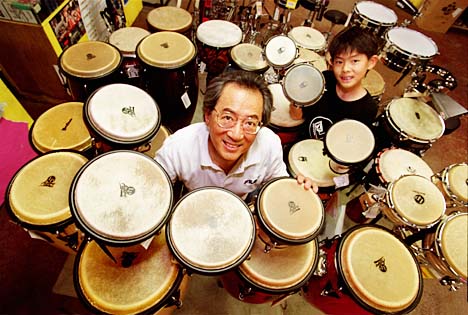 By Dennis Oda, Star-Bulletin
Harold Chang, drum department manager, and Marcus Masuda,
11, are surrounded by congas and bongos for sale at
Harry's Music on Waialae Avenue.
---

Old and new shops are part of
Kaimuki's charm with eateries
good and plentiful
Shop Zone runs Mondays through Dec. 18,
suggesting options for intrepid holiday gift-buyers.
Shop Zone focuses on a varied collection of stores
in a neighborhood, tells you where to park
and where to take a break.
---
By Stephanie Kendrick
Star-Bulletin
NEW and old businesses make Kaimuki a lively place to knock through a Christmas list. Venerable retailers like Harry's Music and Kaimuki Dry Goods are the perfect place to indulge existing hobbies or encourage new ones.

Relative newcomers like A Walk in the Garden and A Gift for All Seasons offer artful treats for a range of tastes.

And shops like Power Edge and Collector Maniacs offer gifts sure to please the inner keiki, particularly of the men in your life.

Parking is easy at the metered lot between 10th and 12th avenues, and it will set you back just 50 cents an hour.

Possibly the best part of shopping in Kaimuki, however, is the food. Kaimuki's own restaurant row, which fronts the parking lot, offers everything from Italian to Japanese to Continental. Go a little farther afield and you'll find coffee shops aplenty, Vietnamese food and pizza. Bakeries with luscious sweets abound as well. So budget in lots of rest breaks if you plan to shop the top of the hill on Waialae Avenue.

Harry's Music

Think long and hard before you buy gifts for your own children at Harry's Music, but it's a great place to shop for nieces, nephews and, perhaps best of all, grandchildren. The percussion department has been particularly busy lately, according to clerk Debbie Chinen. "I think that's our strongest department right now," she said. Among the holiday noisemakers are jingle bells, $7.50, and bongo drums, a small set can be had for less than $50. The 54-year-old institution also sells musical instruments of all kinds; books of sheet music, method and theory; and CDs by local artists.

3457 Waialae Ave., call 735-2866.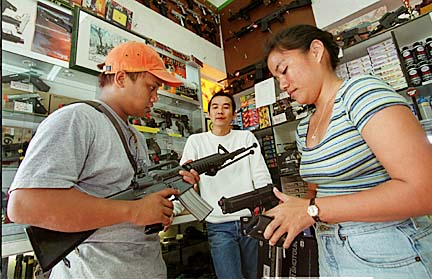 By Dennis Oda, Star-Bulletin
Customer Harvey Llantero, left, admires an "airsoft" gun
that store owner Peter Do, center, offers for sale at Power Edge.
Llantero's girlfriend MayLee Agena holds a pistol they
brought in for servicing.
---
Power Edge

There are doubtless exceptions to the rule, but by and large humans of the male persuasion do not want clothes for Christmas. It doesn't matter how old they are, they want toys. Power Edge offers guy toys galore. "We specialize in knives and swords -- ninja swords, samurai swords, airsoft guns and kitchen knives," said salesman Grant Woo. Credit-card style Swiss Army Knife kits sell for $19-$23. Photon micro light key rings, a hot item according to Woo, are $13 or $25 for two. Handcuffs and thumb cuffs can be had for $10, but you might want to consider the recipient carefully on those. Demand is growing at the 3-year-old store for Airsoft guns, which shoot little plastic pellets, said Woo. The guns, which have been around for more than a decade, are used in simulated war games, much like paintball guns, he said. Getting started requires goggles and a safety mask, about $40; a gun, $80-$300; and pellets, $20 for 2,000. Events take place every two weeks at a private field in Nanakuli. "As long as you're wearing your goggles and your face mask, it's pretty safe," said Woo.

3580 Waialae Ave., call 737-3343.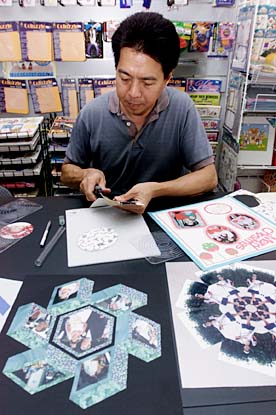 By Ronen Zilberman, Star-Bulletin
Brian Ching, owner of Photo Craft, shows some of
the crafts and supplies on hand for hobbyists.
---
Toys and comics

Christmas wouldn't be Christmas without toys and a small retailer has found a way to compete in this ever more crowded market. "Our niche? Getting the jump on current trends and Japanese imports," said Alex Le, who has owned Toys & Joys since taking over from his father five years ago. "We're personable and we keep tabs on our customers and take care of them."

The 20-year-old store also has established relationships with all the major suppliers, so Le doesn't have any trouble getting the stock he wants to fill store shelves.

So what's hot this year? Well, batteries, of course.

"Basically it's an electronic Christmas," said Le.

The robotic dogs are big sellers ($25-$40) and there's a robotic cat coming out in about a week, he said. Sony's Playstation 2 is the other high-demand item.

Pokemon and Digimon are still hot, as are the razor scooters, and their prices have started to come down, said Le.

3620 Waialae Ave., call 735-4546.

Nearby Discount Warehouse Entertainment Center, 732-0883, also boasts a huge selection of computer games.

And Kaimuki is a Mecca for collectors of comic books and action figures (do NOT call them dolls). See Collector Maniacs, 739-3912; Gecko Books, 732-1292; or Hawaii Collector's Gallery, 732-0670.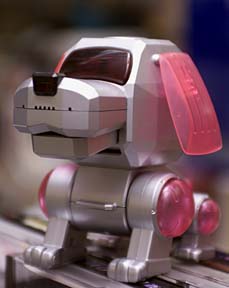 By Ronen Zilberman, Star-Bulletin
Robotic pets are a big seller this season at Toys & Joys.
---
Hobby stores

Photo Craft might be better dubbed Paper Craft since a shift in its main focus. "We're mainly scrapbooking now," said President Brian Ching. "The concept of the shop was to be the place to come when you've got a good image and you want to do something extra with it."

They still process photos onto everything from mouse pads to coffee mugs, but most of the shop is devoted to the paraphernalia of scrapbooking and other paper crafts: punches, embossing templates, stickers, rubber stamps and the Coluzzle system for making puzzles, and decorating bulletin boards or scrapbooks. An easy-to-handle pen knife and cutting pad cost less than $12. The Coluzzle patterns start at about $8.95.

The 2-year-old store also offers scrapbooking classes. "Sometimes they're tools oriented, sometimes they're skills oriented," said Ching.

Things on the photo project end tend to get backed up around the holidays, so Ching advised those customers to get their orders in early.

"Throughout the year, our normal turnaround is two days," said Ching. But when people come in with a lot of projects all at the same time, he gets backed up. "I can stay up to midnight only so many days in a row."

3571 Waialae Ave., Suite 103A, call 737-5045.

Other neighborhood craft stores include Bead It, 734-1182; Kaimuki Dry Goods, 734-2141; Kaimuki Camera, 735-5955; and Kwilts 'n Koa, 735-2300.

Gift shops

Despite its name, Mike Dela Cruz admits A Gift for All Seasons is distinctly busier at two times of the year -- Christmas and Mother's Day.

About 90 percent of the shop's inventory is the work of local artists, said Dela Cruz, who is co-owner with Wes Asari. They stock the work of a few artists from the mainland and Japan.

A Gift for All Seasons sells paintings, quilted pillows, fountains, pottery, painted and etched glassware, woodwork and jewelry, among other things.

The 4-year-old store relies on a solid base of repeat customers, 95 percent of whom are women, said Dela Cruz.

"The other five percent are the ones who come the day before Christmas or the day before Mother's Day. Those are the men," he said.

Paintings are consistently good sellers, said Dela Cruz, particularly watercolors.

Candles and candle accessories are popular this year, said Dela Cruz. A locally made etched glass tea lamp, $55, is particularly hot, he said.

1142 12th Ave., call 737-9038.

Other gift shops in the area are: A Walk in the Garden, 735-5699; Prosperity Corner, 732-8870; Bibelot, 738-0368; Native Winds Gift Gallery and Craft Shop, 734-8018; and Montsuki, 734-3457.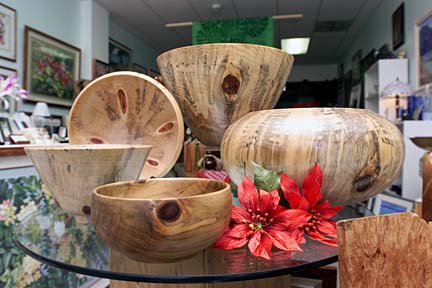 By Ronen Zilberman, Star-Bulletin
Woodwork by local artists are part of the
offerings at Gift for All Seasons.
---
Recycled stuff

Shopping for a fashion horse who craves the unique? Sweetie Moffatt may be able to help.

The owner of Comme Ci Comme Ca specializes in vintage women's clothing.

She defines vintage as turn-of-the-century to the 1940s, as opposed to clothes from the '50s on, which are "retro."

Moffatt's inventory is sold on consignment for friends who shop all over the world, she said. She has built her business on her own addiction to clothes, as well as the habits of fashionable girlfriends who buy great outfits and wear them for just a season.

She describes the shop's style as eclectic and its customer base as broad. "I go from executives to students," she said.

The key to the appeal of vintage clothing? "Fashion always recycles," said Moffatt.

3463 Waialae Ave., call 734-8869.

Other nearby places to buy used include Kaimuki Bargain House (furniture, some antiques), 732-2606; and Goodwill, 735-0085.

Food

There is one rule to eating at Cafe Laufer: Save room for dessert.

Pastry chef turned restaurant owner Cyrus Goo started out five years ago selling European pastries, but customers wanted more.

Now he offers soups, salads and sandwiches with a Pacific Regional-seasoned, Continental-European flair. It's an odd description, but not even the chef can get more specific.

Chinese Chicken Salad ($7.25 full or $5.50 half) shares the menu with the Bratwurst Platter with Sauerkraut and French Bread ($8.50). Cold cuts and cheese sandwiches are $5.75.

Recent specials included Grilled Polish Sausage, a German Sausage Platter, and Corn Chowder. There is a new soup each day.

Customers order at the counter, then are served at the table if eating in.

Dessert specialties are tortes ($3.50-$5.75 per slice) and pastries (65 cents-$1.50), which, the menu boasts, are made with 100 percent butter.

There may be no better way to reward yourself for working through that shopping list.

3565 Waialae Ave., Suite 107, call 735-7717.

There is much good food to be had in Kaimuki. These are just some of the eateries nearest the parking lot: Coffee Talk, 737-7444; Saigon's, 735-4242; Hale Vietnam Restaurant, 735-7581; Kim Chee II, 737-7733; Verbano, 735-1777; Maguro Ya, 732-3775; Big City Diner, 738-8855; and Treasure Garden, 738-2888.

---

Next week: Haleiwa





Click for online
calendars and events.
E-mail to Features Editor
---
---
© 2000 Honolulu Star-Bulletin
http://archives.starbulletin.com