Please support our very first Starbulletin.com advertiser!
---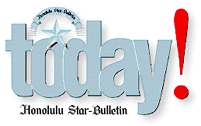 ---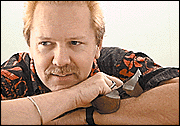 Island Mele



Friday, December 1, 2000
By John Berger
---
Serenaders'
harmonies rereleased

Paradise Serenaders: By Billy Gonsalves & His Paradise Serenaders (HanaOla HOCD 38000)

Fifty-three musicians were members of the Paradise Serenaders over four decades after the original quintet debuted in the early 1950s. This superb rerelease captures the group as it sounded in the '60s when Serenaders founder Lawaina Mokulehua and charter member Billy Gonsalves were still part of the lineup. The group excelled at harmonizing. Fans of modern Hawaiian vocal groups will find this a must-buy album. It is a perfect introduction to the genre.

HanaOla principal Michael Cord and producer/annotator Harry B. Soria Jr. have long set the standard for rereleasing vintage Hawaiian recordings. They reaffirm that commitment to excellence here. The audio restoration is first-class and Soria's liner notes include a detailed history of the group (including addresses of many of the local venues they played) and information on the meaning and significance of each song.

http://www.cordinternational.com

---




Music ... It's My Habit: By Waltah Boy (MGC 1032)

Big Islander Walter "Waltah Boy" Tavares has been by far the most prolific of the founding members of Ho'aikane since the band crashed in the mid 1990s. Ho'aikane started out in the '80s with three "back porch" slack-key albums before Tavares and the others opted to chuck the culture and reinvent themselves as pseudo Jamaicans. Tavares was one of the true believers who kept on through the changes of band members and management that ensued as Ho'aikane hit as a major Jawaiian act.

Tavares bounced back from the group's demise and has reinvented himself as a musical omnivore who does everything from generic pop chart remakes and pseudo-Jawaiian rap to grass-roots Hawaiian standards and solid Jawaiian originals. This is by far his best post-Ho'aikane album.

Some of the remakes are weak but "Sunshine Day (I Can See Clearly Now)" is an imaginative reworking of the Johnny Nash hit. "Pier Palu Man" is Tavares' best Jawaiian original and merits local radio play. "Pela Ka Lanakila" isn't original but stands as fine acknowledgment of the singer's Hawaiian roots even though producer Todd Adamski fails to provide an English translation.

Other songs show that Tavares has renounced the Rastafari beliefs of his Ho'aikane days and is a born-again Christian. He delivers his message in catchy Jawaiian style in "W.W.J.D." and reinforces the reggae approach with an uncredited interpolation of "Pass The Dutchie" in "Jesus Is." Hawaii's Christian music stations should have both songs in high rotation.

Phone 808-671-1771





---




John Berger, who has covered the local
entertainment scene since 1972, writes reviews of recordings
produced by Hawaii artists. See the Star-Bulletin's Today
section on Fridays for the latest reviews.
E-mail to Features Editor
---
---
© 2000 Honolulu Star-Bulletin
http://archives.starbulletin.com