Advertisement - Click to support our sponsors.

---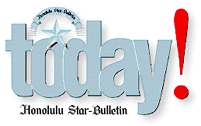 ---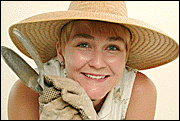 Dig This



Friday, December 1, 2000
By Stephanie Kendrick
---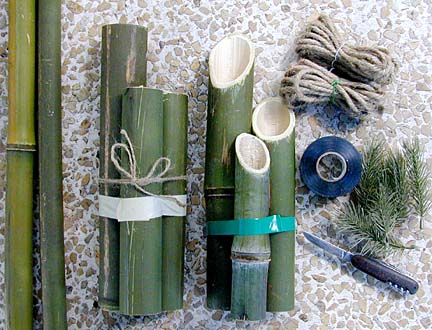 By Craig T. Kojima, Star-Bulletin
Bamboo stalks, left, are cut into shorter pieces and
grouped into bundles of three. The bamboo is cut
on the diagonal and taped into place before being
wrapped with twine.The tape keeps the bamboo
from shifting as it dries.
---
Making your
own luck

Supermarket, late December: You pick up poi to stop your stomach growling while you grill up some au and stir-fry choi sum for dinner. Don't forget the Portuguese sausage for breakfast and mochi crunch for the kids. While you're there, grab that pretty dried bamboo arrangement; you know it's supposed to be good luck.

Only in Hawaii.

Kadomatsu is an annual ritual in the chop suey that makes up local culture.

The practice originated during Japan's Edo period, about 400 years ago, but is no longer followed in Japan.

"My Hiroshima relatives just crack up and laugh that we still do this," said Ann Asakura, co-founder of the Temari Center for Asian and Pacific Arts.

But the ritual was important to Japanese immigrants in Hawaii and they have kept it alive.

Kadomatsu is an arrangement of fresh bamboo and pine used to summon Toshigami, the spirit of the New Year.

The sharp pine needles are supposed to foil evil spirits, the bamboo lends its ability to withstand nature's forces and the rope represents the binding together of man, heaven and earth, according to Asakura.

"(The placing of the kadomatsu) meant your house had been cleaned, your debts were paid, everybody had taken a bath. You were ready to greet the New Year gods," said Asakura.

"It's like any ritual for the New Year. Every time you do it, it reminds you where you've been and where you want to go."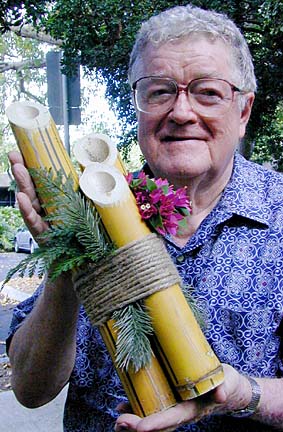 By Craig T. Kojima, Star-Bulletin
John White will teach kadomatsu making at Foster
Garden tomorrow.
---
Asakura, who was raised with the kadomatsu tradition, only began researching its history and significance 14 years ago when she couldn't answer the questions of a "haole boy" named Bud Morrison.

Morrison, owner of Tantalus Bamboo, was fascinated with the art and soon became the primary supplier on Oahu. His death last year left a void that has yet to be filled. "Without Bud, we really have a great big puka in our hearts," said Asakura.

Morrison used to teach kadomatsu making classes for Temari. No classes will be offered there this year, but people are welcome to watch kadomatsu being made at the group's New Year's Festival Dec. 27.

Foster Botanical Garden is offering a kadomatsu class, tomorrow at 9 a.m.

Instructor John White, who retired from GTE Hawaiian Tel in 1983, has been making the arrangements for about five years.

His research into Japanese new year rituals has included a lot of reading, as well as travel to Japan. He found, among other things, that the symbols used vary by area and over time.

While he does use the traditional bamboo in his arrangements, he encourages people to experiment, using everything from bougainvillaea to artificial pine.

"I always tell them since this is not traditional, there's no guarantee the evil spirits will stay away," he said.

Asakura doesn't have a problem with variations on the traditional. When she was a child, she remembers using ironwood branches for the pine, which was unavailable here.

"I think there's room for so many variations," she said. "It's OK, as long as people understand what it's good for."




Luck for the
New Year

Making kadomatsu: John White teaches a class 9 a.m. tomorrow at Foster Garden. Fee: $18, $15 for members. Call: 537-1708
Temari's New Year's Festival: Watch kadomatsu being made and learn about other Japanese New Year rituals Dec. 27 from 10:30 a.m. to 2:30 p.m. at Ward Warehouse. Call Temari at 735-1860 to order kadomatsu, it will be sold out before the festival.








---

Stephanie Kendrick's gardening column runs Fridays in Today.
You can write her at the Star-Bulletin, P.O. Box 3080, Honolulu 96802
or email skendrick@starbulletin.com
E-mail to Features Editor
---
---
© 2000 Honolulu Star-Bulletin
http://archives.starbulletin.com