Advertisement - Click to support our sponsors.

---

---
Tuesday, November 28, 2000




The accord was a condition of
the Canadian publisher's purchase

---


Star-Bulletin staff

The employees of the Honolulu Star-Bulletin this afternoon voted to accept a tentative labor agreement with Canadian publisher David Black, who plans to buy the 118-year-old afternoon newspaper effective March 15.

The vote was 54 yes, seven no and three abstentions.

Black's agreement to buy the 63,500-circulation paper from Liberty Newspapers Limited Partnership depended on reaching a labor accord with the employees, most of whom are represented by the Hawaii Newspaper Guild.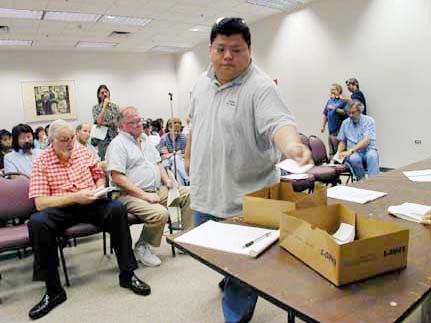 By Craig T. Kojima, Star-Bulletin
Star-Bulletin reporter Gordon Pang casts his ballot in
today's ratification vote. Employees passed the vote
by a 57-7 vote with three abstaining.
---
Under the sales agreement, Black was free to back out of the deal if he and the union did not come to terms on a labor contract by Nov. 30.

Late last year, Liberty Newspapers announced plans to shut down the afternoon paper in exchange for a $26.5 million payment from Gannett Co., owner of the Honolulu Advertiser. The state and a community group filed suit, and under a court settlement, Liberty put the newspaper put up for sale in April.

Black was declared the sole qualified bidder in September, and reached an agreement with Liberty and Gannett on Nov. 9.

Black, 54, is the owner of Victoria, British Columbia-based Black Press Ltd., which operates 80 community newspapers in western Canada and Washington state.

Black said he was prepared to invest about $20 million in the Star-Bulletin to expand its operations and increase its daily circulation to about 100,000.

He said the newspaper will hire more than 200 employees to handle circulation, printing, and advertising functions and will add a Sunday edition to the paper's six days-a-week coverage and greatly expand its neighbor island circulation.

Since 1962, the Star-Bulletin and the morning Honolulu Advertiser have worked under a joint operating agreement, in which both newspapers shared printing, advertising and circulation costs but retained separate newsrooms.

---



E-mail to City Desk
---
---
© 2000 Honolulu Star-Bulletin
http://archives.starbulletin.com