Advertisement - Click to support our sponsors.

---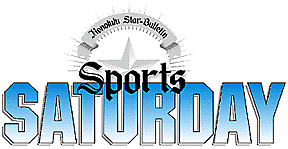 ---
Saturday, November 25, 2000



P R E P _ F O O T B A L L
---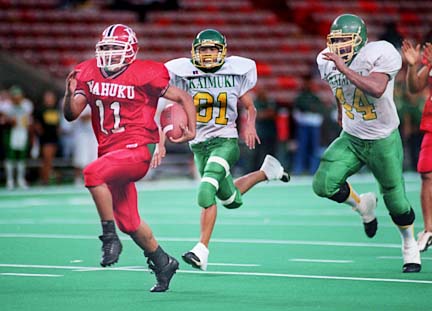 By Dennis Oda, Star-Bulletin
Kahuku quarterback Ferron Fonoimoana breaks away
from Kaimuki's Bryden Fujimoto for a touchdown.
---
Kahuku, St. Louis
in state final again

Fonoimoana helps the Red Raiders
get past Kaimuki and
into title game
---
By Glen Higa
Special to the Star-Bulletin
Here we go again.

Kahuku advanced to the championship game of the 2000 Chevron State Football Championships against St. Louis by defeating Kaimuki, 41-26, behind backup quarterback Ferron Fonoimoana.

Marcus Salanoa scored two touchdowns and led Kahuku's running game with 79 yards on two carries. Kahuku rushed for 264 yards and had 392 yards total offense despite resting six starters.

"They knew early in the week they wouldn't play," said Red Raiders coach Siuaki Livai.

Douglas Hiu and Chris Kemoeatu, OIA Red first team defensive All-Stars, also did not play, but Livai insists his team will be ready.

"Our practices are harder than the games," said Livai. "The practices are more physical than the games."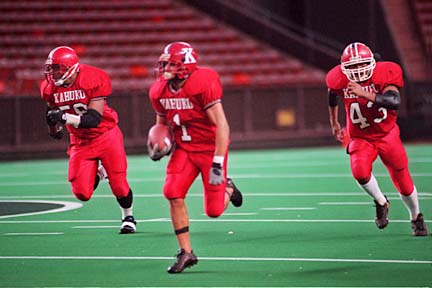 By Dennis Oda, Star-Bulletin
Kahuku's Bryson Au returns an interception
54 yards for a touchdown last night.
---
Making his first start of the year, Fonoimoana admitted to being nervous in the beginning but he didn't show it as he passed for three touchdowns and ran for another -- all in the first half.

"I found out after the game last week against Waimea because (Inoke) Funaki was sick. It's hard to fill his shoes so I just tried (to do my best)," Fonoimoana said.

Funaki, the starting quarterback who played with a 102-degree fever last week, is expected to start against the Crusaders.

Salanoa set a state tournament record with a 67-yard touchdown run on an option play set up by Fonoimoana.

Kaimuki finished its season at 10-4 and hung tough against the Red Raiders despite suiting up 31 players for the game. By comparison, 80 players were in uniform for Kahuku.

"We ended a good season, I'm proud of how we did," said quarterback Jordan Caires.

"It's been a whirlwind," said Bulldogs coach Ron Oyama.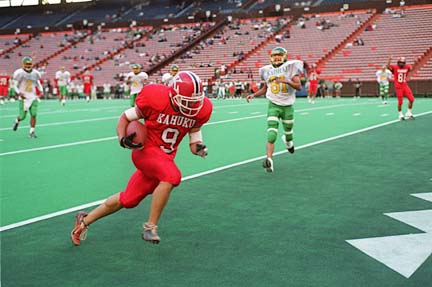 By Dennis Oda, Star-Bulletin
Kahuku's Robert-Marcus Salanoa scoots across
the goal line nearly unopposed to make it 35-0.
---
Justin Faimealelei, OIA Red offensive player of the year, caught two touchdown passes late in the fourth quarter.

Livai said his team is in better shape going into the championship game this year than a year ago.

"Definitely. The schedule was a little better for us. I think winning the OIA gave us an edge," Livai said.

| | | | | |
| --- | --- | --- | --- | --- |
| Kahuku (12-2) | 7 | 28 | 6 | 0 -- 41 |
| Kaimuki (10-4) | 0 | 0 | 7 | 19 -- 26 |

Scoring Summary

Kah--Marcus Salanoa 24 pass from Ferron Fonoimoana (Solomon Lee kick)
Kah--James Kammerer 11 pass from F. Fonoimoana (Lee kick)
Kah--F. Fonoimoana 30 run (Marcus Salanoa pass from Bryson Au)
Kah--Au 54 interception return (Lee kick)
Kah--Saia Hafoka 39 pass from F. Fonoimoana (kick failed)
Kaim--Soloni Taumalolo 18 run (Justin Faimealelei kick)
Kah--Salanoa 67 run (run failed)
Kaim--Jordan Caires 2 run (Faimealelei kick)
Kaim--Faimealelei 21 pass from Caires (kick failed)
Kaim--Faimealelei 52 pass from Caires (run failed)

Individual statistics

Rushing--Kah: F. Fonoimoana 16-32, Vai Napaa 2-17, Mulivai Pula 7-48, Salanoa 2-79, Travis Kaka 2-39, Colby Unga 5-32, Team 4-17.

Kaim: Faimealelei 2-1, Chanceton Mirafuentes 12-41, Soloni Taumalolo 10-45, Leland Ohelo 3-8, Kila Kamakawiwo'ole 1-16, Jonathan Ishida 2-17, Jordan Caires 3-(minus 6), Team 1-(minus 21).

Passing--Kah: Fonoimoana 7-18-1 for 128 yards. Kaim: Faimealelei 1-6-2 10, Caires 7-16-0 for 125 yards.

Receiving--Kah: Kammerer 2-30, Salanoa 1-24, Hafoka 3-55, Kaka 1-19. Kaim: Mirafuentes 1-10, Kamakawiwo'ole 2-18, Daniel Swearingen 1-9, Daniel Tautofi 1-17, Faimealelei 3-81.
E-mail to Sports Editor
---
---
© 2000 Honolulu Star-Bulletin
http://archives.starbulletin.com