Advertisement - Click to support our sponsors.

---

---
Monday, November 20, 2000



Photographs often are the best way to show dramatic changes in Hawaii, providing an easy update on landmarks, persons and events. At other times, however, photos showing minimal changes during the years remind us that the more things change, the more they remain the same. Look for examples of big and little changes every Monday in "It's about time," which will inform, update and prod a few memories.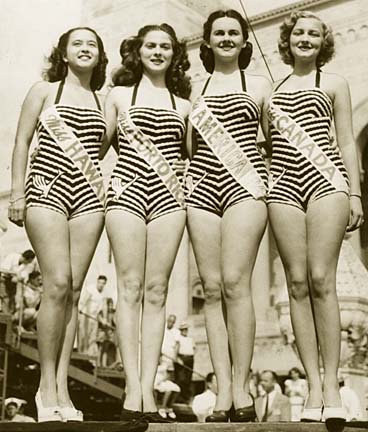 Star-Bulletin file photo
Miss Hawaii 1948, left, with Miss Puerto Rico,
Miss America 1947 and Miss Canada.
---
Miss America's first
contestant from isles
won her main goals

Yun Tau Zane was only 20 and a sophomore at the University of Hawaii when she assumed the title of Miss Hawaii 1948 -- the first year the contest was held.

Now Yun Tau Chee, 72 and retired, she recalls that she was "in awe" when she went to Atlantic City, N.J., to represent the islands in the Miss America pageant. Above, she stands on the left, with other pageant participants.

Chee did the hula for the talent portion of the pageant, recalling that Winona Beamer "trained me for the dance that I did." But when "the grass skirt didn't come on time," her holoku gained a lot of attention, Chee said. People were "intrigued that I didn't trip on the train."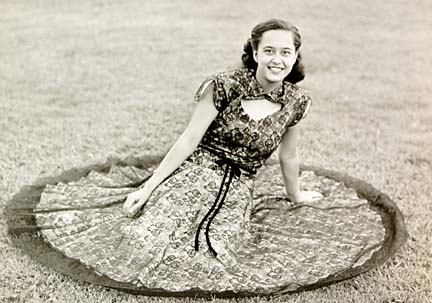 Courtesy Yun Tau Chee
Hawaii's first contestant won a scholarship as
the pageant's Miss Congeniality.
---
Chee didn't win the title, but she was named Miss Congeniality, winning a $1,000 scholarship. She said she "pretty much had the same goals in mind" as Hawaii's current Miss America, Angela Perez Baraquio, in becoming a contestant, namely, to earn money for college. She used her scholarship to attend the University of Wisconsin, where she obtained her fifth-year teaching certificate. Although she majored in home economics, Chee ended up teaching kindergarten for 31 years. She retired in 1986 from Ma'ema'e School, where she had taught for 26 years.

Chee and her husband, Hon Ting Chee, had four sons, but twin sons died of cancer just before their 13th birthdays.

So, Chee said, "I've always said I have known the highest peak in life (becoming Miss Hawaii) and I've known the lowest."

These days, she said, she is in "a real retirement" and enjoys traveling and reading. She and Hon Ting will celebrate their 50th wedding anniversary next year.

Left, she is "crowned" by her husband with a tiara in the same design as that worn these days by Baraquio.

---

Star-Bulletin staff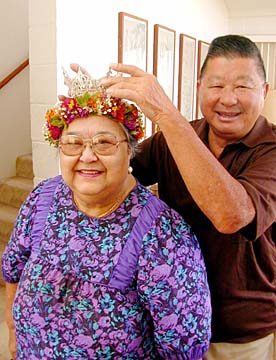 By Craig T. Kojima, Star-Bulletin
Hon Ting Chee "crowns" wife Yun Tau with
a tiara of her own.
---
Here she is, Miss Hawaii
today, and in years past

2000 -- Billie Takaki
(Angela Perez Baraquio named Miss America 2001)
1999 -- Candes Meijide Gentry
1998 -- Jennifer Hera
1997 -- Erika Kauffman
1996 -- Melissa Ann Short
1995 -- Traci Toguchi
1994 -- Courtney Nicolle Glaza
1993 -- Kanoe Aberegg
1992 -- Pamela Kimura
1991 -- Lani Stone
(Carolyn Sapp named Miss America 1992)
1990 -- Cheryl Akemi Toma
1989 -- Ligaya Stice
1988 -- Desiree Moana Cruz
1987 -- Luana Alapa
1986 -- Cheryl Bartlett
1985 -- Jeanne Miyamoto
1984 -- Debbie Nakanelua
1983 -- Wendy Sue Nelson
1982 -- Gale Lee Thomas
1981 -- Pamela Iwalani Offer
1980 -- Keonelehua Cook
1979 -- Sheron Leihuanani Bissen
1978 -- Elizabeth Kapu'uwailani Lindsey
1977 -- Libby Kawaikikilani Lee
1976 -- Haunani Asing
1975 -- Cathy Foy
1974 -- Coline-Helen Kanaloku Aiu
1973 -- Kanoelehua Kaumeheiwa
1972 -- Marlene Diane Kehaulani Kalahiki
1971 -- Aurora Joan Ka'awa
1970 -- Kathleen Puanani O'Sullivan
1969 -- Sheryl Hung Lan Lokelani Akaka
1968 -- Deborah Ynez Gima
1967 -- Robin Ruth Engel
1966 -- Loretta Ann Perreira
1965 -- Roberta Rosana Conlan
1964 -- Leina'ala Ann Teruya
1963 -- Susan Dee Pickering
1962 -- Patricia Lei Anderson
1961 -- Joan Whitney Vine
1960 -- Gabriella Haleakala I
1959 -- Gordean Leilehua Lee
1958 -- Georgietta Kahalelaukoa Parker
1957 -- Sandra Lei Lauhiwa Forsythe
1956 -- Jere Wright
1955 -- Barbara Mamo Vieira
1954 -- Gertrude Kapi'olani Miller
1953 -- Dorothy Leilani Ellis
1952 -- Beverly Kathleen Rivera
1951 -- Claire Kathleen Heen
1950 -- Dell-Finn Kalaupaona Poaha
1949 -- Betty Jane Johnson
1948 -- Yun Tau Zane

(Irmgard Leina'ala Waiwaiole was crowned Miss Hawaii, but disqualified herself when she could not complete the necessary high-school credits to qualify for the title. She is the only former Miss Hawaii now deceased, according to Thom McGarvey, executive director of the Miss Hawaii Scholarship Pageant.)
E-mail to City Desk
---
---
© 2000 Honolulu Star-Bulletin
http://archives.starbulletin.com