Advertisement - Click to support our sponsors.

---

---
Thursday, November 16, 2000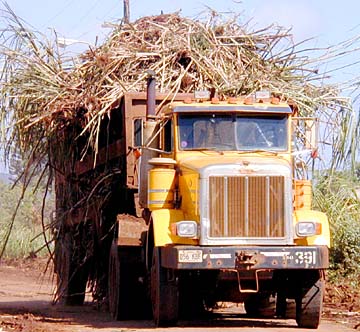 By Craig T. Kojima, Star-Bulletin
Scenes from the final week at Amfac's Lihue plantation: Donaery
Guerrero of the harvesting section drives in with a load of cane.
---
Final harvest
for sugar fields


Workers fight sorrow with
laughter as they try to cope with
the closure of two Kauai
sugar mills

---

By Anthony Sommer
Star-Bulletin

LIHUE -- "See my eyes?" asks Joe Maneja. "Not angry. Just sad. No one can help the company. No one can fix it." Maneja is one of a crew of about a dozen Lihue Plantation heavy-equipment operators and haul-cane truck drivers eating lunch at a field station near Wailua Falls, north of Hanamaulu.

It is the last field to be harvested this year. It is the last Amfac field to be harvested ever.

Maneja, a 28-year Amfac employee, is one of about 400 at Lihue Plantation and Kekaha Sugar Co. who will be unemployed at the close of business tomorrow, when Amfac shuts down its two sugar operations. Pau hana, an expression born in Hawaii's sugar fields, will really mean "work finished."

It is the largest layoff of agricultural workers in Kauai's history and will cut the island's farm labor force of 850 almost in half. But for each of the employees, it is a loss of a way of life.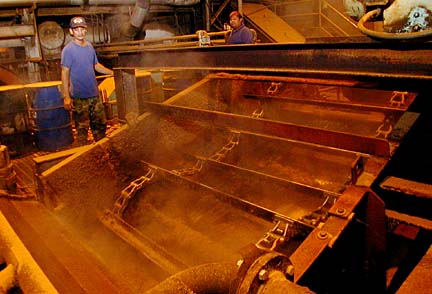 By Craig T. Kojima, Star-Bulletin
Juanito Agni looks over crushers used to extract sugar from cane.
---
Amfac employees remain loyal to the company. If they choose to attach blame to anyone, it's to the government that refused to help Hawaii's sugar companies fend off foreign competition.

"We're grateful to the company. They've been good to us," Maneja said.

Two years ago, they voted to take a 10 percent cut in pay to try to save the company. It wasn't enough.

During their lunch break -- in the middle of a 12-hour day in the normal seven-day harvest season work week -- the conversation is all kidding around, deceptively light-hearted.

But the mere fact they're having lunch together is a clear signal something is bothering them.

"Usually they just grab a quick bite, maybe one or two together or alone in the truck cab, and go back to work. All of them getting together for lunch only started about two weeks ago," said Howard Ramos, harvest superintendent.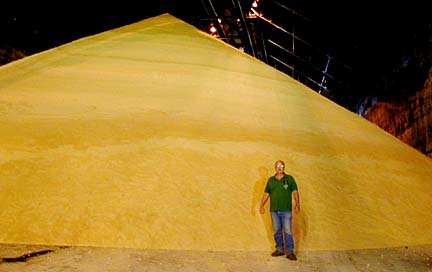 By Craig T. Kojima, Star-Bulletin
David Silver is dwarfed by 17,000 tons of raw sugar
ready for shipment.
---
It was Ramos who organized the parade tomorrow afternoon in which 30 huge Amfac haul-cane trucks, all cleaned up and shiny, will circle Lihue and Hanamaulu in a final display of pride and glory. Ramos said his drivers came to him with the idea.

"The only reason they're eating together is so they can talk story and cheer each other up." he said, out of earshot of the work crew. "You'll notice they never say what they're going to do after Friday."

Donaery Guerrero, 50, who has worked for Amfac since 1971, agreed privately that all the kidding around is for show.

"We're still laughing but you don't see what gets inside," he said. "We're really sad. We gotta start a new life. We gotta start all over again."

Guerrero has spent the past month putting together an extensive photo album of the last harvest. It is filled with pictures of his work crew.

Out at the edge of the harvest, John Ornellas took a break from operating the monster cane claw that grabs up enormous mounds of sugar cane and loads it into the haul cane trucks.

"It's sad to see the company go down," said Ornellas, 59, who has worked for Amfac for 38 years. "I've seen it just fading away."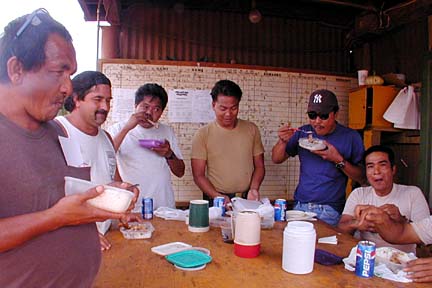 By Craig T. Kojima, Star-Bulletin
At Amfac's Lihue sugar plantation this week, cane truck drivers,
including Gilbert Dotimas, left, and Raymond Jervis next to him,
stop for lunch. For years, drivers would eat lunch alone in their
truck cabs, but since the plantation's shutdown announcement,
they have been sharing mealtimes.
---
He looked around the cab and poked at the array of levers that operate the claw. "This is our livelihood. This is what we do."

Lihue Plantation is really two worlds: the fields mauka of Kuhio Highway and the mill -- or factory as they all call it -- on the makai side. A conveyor belt carries the cane from the fields over the highway to the factory.

The fields are blue sky and red dirt and green mountains. The factory is five stories of darkness and gloom suffocated in relentless heat and noise.

But it is still a wondrous concoction of wheels and gears and valves and belts, a marvel of ingenuity in the words of Alan Muraoka, who supervises "the factory."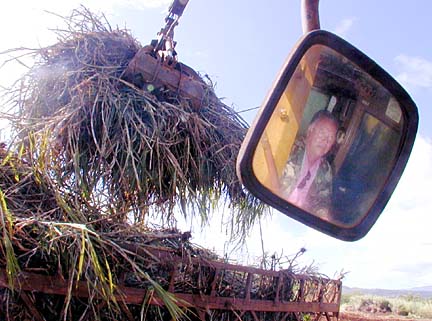 By Craig T. Kojima, Star-Bulletin
Out in the Lihue field, John Ornellas, whose dad put in 42
years at the plantation, uses his crane to load cane into trucks.
---
"Whoever put this place together was a mechanical genius," said Muraoka, whose degree is in chemistry rather than engineering. "Everything is linked together for maximum efficiency."

For example, the bagasse -- the fiber left over after the cane has been shredded -- fuels the boiler that makes the steam that turns the turbines that makes the electricity that powers the machinery. Then the same steam is routed and rerouted to heat the syrup that is boiled to make the sugar.

Like the field workers, the factory workers only recently have taken to getting together in groups and talking.

"They scatter when they see me coming, but I really wouldn't say anything. It's good for them to talk it out," he laughed as a group of employees scurry back to their stations at his approach.

"It's like any trauma. These guys have gone past denial and past anger. Right now they're really very depressed but they try to hide it," he noted.

Muraoka said the skilled workers like the machinists who make the parts to keep the century-old equipment running will have no problem finding jobs, but others may have a tough time. The factory probably will remain open until Thanksgiving to finish processing the cane already delivered.

"By then, it's the holiday season and nobody hires new help until after the holidays. There are guys here with big house payments and big car payments and second mortgages to send their kids to college on the mainland. There's going to be a lot of foreclosures," he predicted.

"But really, I'm going to be glad when this place finally closes. I'm tired of coming down here in the middle of the night every time some ancient piece of equipment breaks down. The first thing I'm going to do is take this pager and throw it right in the ocean and I'm going to love doing it," he said.

He doesn't sound very convincing.

---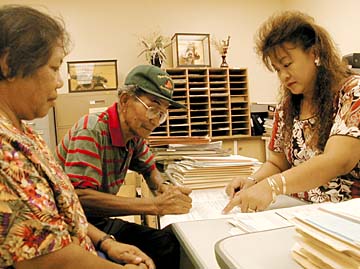 By Craig T. Kojima, Star-Bulletin
Ten-year employee Vicente Rualizo, 61, signs papers for his
pension benefits and severance pay, flanked by wife Estrellita,
left, and personnel specialist Imelda Riopta.
---
Sugar was king for
more than 100 years

---

By Anthony Sommer
Star-Bulletin

LIHUE -- And then there were two ...

The two Amfac/JMB sugar mills that will shut down tomorrow represent half of the surviving four sugar mills in Hawaii.

Sugar was first grown commercially in Hawaii at Koloa Plantation on Kauai in 1835. At one time there were 32 plantations in Hawaii. Collectively, they imported the 385,000 workers from Asia, Europe and North America who created Hawaii's unique multi-cultural society.

Lihue Plantation, which will officially close its doors tomorrow, has been producing sugar for 151 years. Kekaha Sugar Co., which also shuts down tomorrow, dates back to 1878.

Both are owned by Amfac/JMB, which traces its roots to a ship chandlery, Hackfeld & Co., started on Kauai by Hendrick Hackfeld, a German sea captain.

The firm, which remained in German ownership, was seized by the U.S. government during World War I and auctioned off to a group of Hawaii businessmen who changed its name to American Factors. In 1966 the name was shortened to Amfac and in 1988 the company was purchased by JMB Realty of Chicago and its name became Amfac/JMB.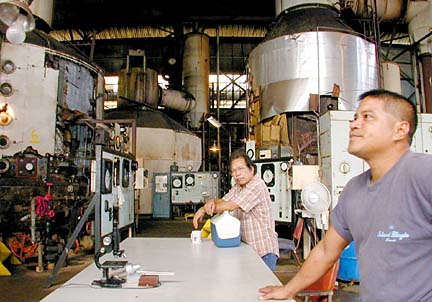 By Craig T. Kojima, Star-Bulletin
In the factory of the Lihue plantation, Rick Marino, right, and Larry
Tumbab tend to vacuum pans, where syrup is crystallized into raw
sugar. Tumbab, who has worked there for 31 years, says he will help
his wife with a fencing business after the mill shuts down tomorrow.
---
Founded in 1849 by W. L. Lee, Lihue Plantation was the best financed, most expensive and most modern sugar company in Hawaii. It was the first to use steam power to operate its equipment.

Three years later, plantation manager William R. Rice directed the construction of the 10-mile Hanamaulu irrigation ditch, the forerunner of all other cane irrigation projects. The ditch saved Lihue Plantation from a severe drought that drove many other early plantations out of business.

Hackfeld & Co. provided supplies -- and credit and loans -- to Lihue Plantation and gradually took over the company. It did not own a controlling interest until 1922 (by then it was American Factors), but many of Lihue Plantation's early managers, engineers and skilled workers came from Germany and settled on Kauai.

In 1933, Lihue Plantation merged with Makee Sugar Co., which began operation in 1877 (Hawaiian King David Kalakaua was an original partner with founder James Makee) in Kealia.

The following year, Makee's sugar mill was dismantled and moved to Lihue, where it was still in use this week. One of the pieces of equipment that will be shut down forever is the steam-driven cane shredder that originally belonged to Makee.

Two years ago, the property that was the site of the Makee Plantation was sold by Amfac/JMB to Kealia Plantation Inc. It is being developed into lots for multi-million-dollar homes.

Kekaha Sugar traces its history to the draining of then-crown lands (now state land) and the planting of 50 acres of cane in west Kauai in 1878. The company officially was created in 1880 to build the existing mill. Amfac gained a controlling share of the company's stock in the early 1970s. The mill stopped grinding cane two years ago and all of Kekaha's cane has been sent to the Lihue Plantation mill for processing since then.

Amfac has been leasing 27,000 acres of state land in west Kauai for Kekaha Sugar and 6,000 acres in east Kauai for Lihue Plantation. In addition, it has the remaining 17,000 acres of Lihue Plantation sugar land that it owns up for sale.

At the close of business tomorrow, only two plantations will remain in Hawaii: Gay & Robinson's Olokele Plantation on Kauai and Alexander and Baldwin's Hawaiian Cane & Sugar on Maui.
E-mail to City Desk
---
---
© 2000 Honolulu Star-Bulletin
http://archives.starbulletin.com