Advertisement - Click to support our sponsors.

---

---
Wednesday, November 8, 2000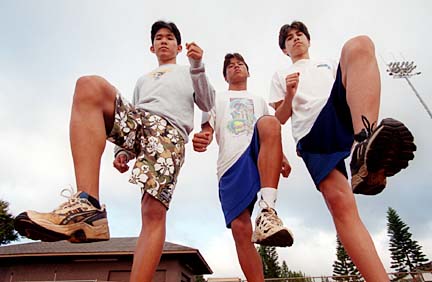 By George F. Lee, Star-Bulletin
Andrew Kamikawa, Jeff Lim and Chris Castell, from left, are
three reasons why Mililani has a shot at the state
boys' cross-country title.
---
Mililani runners
in step


The Trojans finish 1-2-3 in the
OIA boys' cross-country
championships and are
seeking their first
state title

---

By Ed Kalama
Special to the Star-Bulletin

STATE titlist Robby Philipp of Mililani may be gone, but his work ethic hasn't been forgotten by members of the Trojans' Oahu Interscholastic Association championship boys' cross-country team.

Mililani swept the first three places at the OIA championships, held in Nanakuli on Oct. 28, and will chase its first-ever state title Saturday at Hawaii Preparatory Academy on the Big Island.

Mililani coach Paul Oshiro thinks the ghost of Philipp, a four-year star for the Trojans who now runs for San Jose State, is a big reason for his team's success.

"In the five years I've been here, we've won three OIA titles and come in second twice," Oshiro said. "Of course, Robby, who won the state championship last season, was here for four of those years.

"When the younger kids would see how hard he worked, they realized that they have to work at a certain level to accomplish that level of running. Our kids have been brought up on that type of training, and even though Robby graduated last year, you still see our guys keeping up that high level of training and racing."

Leading the pack are junior Jeff Lim, who won the OIA title in 16 minutes, 42 seconds; senior Andrew Kamikawa, who placed second in 17:07, and sophomore Chris Castell, the third-place finisher in 17:18.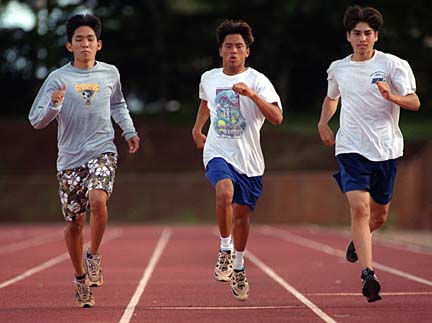 By George F. Lee, Star-Bulletin
Mililani will rely on, from left, Andrew Kamikawa, Jeff Lim
and Chris Castell, at the state championship.
---
"It doesn't happen very often that a team will take the first three spots," Oshiro said. "They're all talented, hard-working runners. Andrew and Jeff are both very good, but Andrew is actually our top guy. He had the flu earlier this season and lost a week of training, then right when he came back he sprained his ankle and lost another week. Now, he's behind Jeff. Chris is this year's OIA junior varsity champion, and we've always known this kid has talent."

Oshiro said his runners will be tested at the state tournament.

"We're definitely not the favorites, but we've got an outside chance," he said. "(Defending state and this year's Interscholastic League of Honolulu champion) Kamehameha is at the top, Punahou is right there and Iolani and Seabury Hall are also contenders. We should be somewhere in the top five."

Individually, Oshiro said ILH champion Todd Iacovelli of Punahou will be hard to beat.

"If our kids have good races, they could challenge for the state title, but Iacovelli and Kamehameha's Justin Peterson are excellent runners. And Waiakea's Ricky Lee, if he has a good day, will challenge, too."

"I think the worse I'll do is the top five," said Lim. "I'm not sure though, because there's a lot of competition. I like to take it out hard at the start and not try and think about anything else."

One thing Lim will have to think about is the three-mile HPA course, widely considered the most difficult in the state.

"You're looking at a course that's probably a minute and a half tougher than your average course," Oshiro said. "The grass makes it tough. On a normal, average day up there you've got strong winds and drizzling rain. Running on grass in those conditions, not to mention the hills, makes it difficult."

Said Kamikawa: "The HPA course is real hilly and grassy, and I think I can use that to my advantage. We knew we could finish top three in the OIA because we've pretty much been dominating the OIA races. We didn't say we were going to do it, but we saw the possibilities.

"For us to win the states, we're going to have to have a real good race. But our top three will be up there."

Robby Philipp would be proud.
E-mail to Sports Editor
---
---
© 2000 Honolulu Star-Bulletin
http://archives.starbulletin.com