Advertisement - Click to support our sponsors.

---

---
Monday, November 6, 2000



Talks continue as claims of a
'major snag' are disputed, and a
hearing is pushed back

---

By Rick Daysog
Star-Bulletin

CANADIAN publisher David Black said he still hopes to complete an agreement to buy the Honolulu Star-Bulletin despite claims by the publisher of the rival Honolulu Advertiser that talks have hit a "major snag."

Heading into today's court-imposed deadline to complete the sale of the 118-year-old Star-Bulletin, Advertiser publisher Mike Fisch said last night that Black has refused to accept the union contract for the afternoon daily's newsroom employees, in what he called a "major surprise."

Fisch said in a one-page news release that Black "apparently reversed" his position that he would hire all the Star-Bulletin's 97 employees.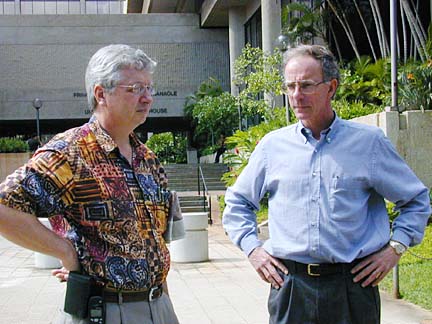 By Craig T. Kojima, Star-Bulletin
Star-Bulletin Editor and Publisher John Flanagan, left, and
sole qualified bidder David Black of British Columbia
talk outside the courtroom today.
---
"That Mr. Black won't accept the guild contract creates far-reaching issues with implications for employees of both newspapers represented by the unions," said Fisch, who was not available for further comment.

But Black said last night that Fisch has not been involved in the negotiations and that the publisher's statement mischaracterized his position on the union contract.

Black and a union representative both said last night that they planned to begin negotiations on a new contract only after Black comes to terms with the sellers.

The exchange is the latest flare-up since Black began negotiations with the Advertiser's owner, Gannett Co., and the Star-Bulletin's owner, Liberty Newspapers Limited Partnership, about a month ago.

Court hearing set for today

Throughout this morning, the parties involved were meeting in private with Federal Magistrate Barry Kurren, who is overseeing the court-supervised sale.

A public hearing scheduled for 11 a.m. today was postponed to 2 p.m. as the sides continued the private talks, according to a court clerk.

Kurren and U.S. District Judge Alan Kay had scheduled the hearing to either approve or terminate Black's proposed purchase of the 63,500-circulation Star-Bulletin. The judges could also postpone a decision today so that negotiations can continue.

Union representative Wayne Cahill, who was involved in today's private discussions, said the parties were still trying to put together a deal, but he was not sure it would happen today.

Black, owner of Victoria, B.C.-based Black Press Ltd., which operates 80 community newspapers in western Canada and Washington state, said that from the beginning of negotiations he has stated that he would not agree to take on all the terms of the recently expired union contract.

He said he would seek modification to the contract that would give the newspaper more flexibility and save costs since it would be competing head on with Gannett, the nation's largest newspaper chain.

Black also said he agreed to hire a majority of the Star-Bulletin's employees but not all. He added that he would not cut back wages or lay off employees.

'Pot calling the kettle black'

Under terms of the court-supervised sale of the Star-Bulletin, a buyer is required to assume terms of the union contract.

However, the three-year contract expired in June, and employees at both the Star-Bulletin and the Advertiser have been working under an extension while management and the union discuss a new deal.

Cahill, administrative officer for the Hawaii Newspaper Guild, which represents most of the 700 workers at the Advertiser, the Star-Bulletin and the Hawaii Newspaper Agency, also disagreed with Fisch, saying he did not believe that Black's position represents a major snag to the planned sale.

Cahill said the union is willing to sit down with Black to negotiate a contract after he reaches terms with Gannett and Liberty.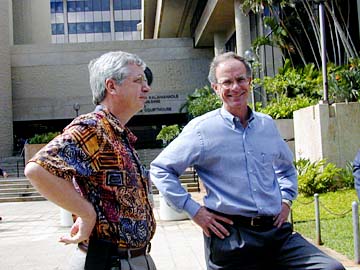 By Craig T. Kojima, Star-Bulletin
All was not grim between Flanagan and Black as they
chatted during a break in the proceedings.
---
While Black may seek some changes in the union contract, he did not seem unreasonable and was not out to "bust our chops," said Cahill, who met with Black briefly last month.

"Gannett calling another employer an anti-union employer is like the pot calling the kettle black," Cahill added.

Very high price for newsprint

On another issue, Fisch disclosed that Black and Gannett have come to terms over what had been a major sticking point: newsprint.

Black previously had asked to buy the Star-Bulletin's newsprint allocation, saying he had not been able to secure enough newsprint independently because of an industrywide shortage.

Gannett had refused to provide him with the afternoon daily's allocation, saying it amounted to a subsidy.

Fisch, who is also president of the Hawaii Newspaper Agency, which handles the business operations of both newspapers, said last night that Gannett was able to secure an adequate supply of newsprint for Black at market prices.

Black confirmed that he received a letter late Friday that Gannett has agreed to provide newsprint from an Oregon mill.

However, the letter, dated Nov. 1, quoted a price "a lot higher" than what Black said he typically pays and required a guaranteed contract for a year, which is unusual, he said.

"They sat on it since Nov. 1," Black added.

Sale of Bulletin will end JOA

Liberty Newspapers agreed to put the newspaper up for sale in April, postponing antitrust lawsuits by the state and a local community group, Save Our Star-Bulletin.

The suits, which were consolidated, were in response to Liberty's announcement in September 1999 that it was closing the Star-Bulletin.

In return for closing the paper and terminating its joint operating agreement with the Advertiser, Liberty was to have received $26.5 million from Gannett.

Under the JOA, which was set to expire in 2012, both newspapers share printing, advertising and distribution costs but retain separate editorial voices.

The proposed sale of the Star-Bulletin would terminate the JOA and force the new owner to build its own advertising and circulation functions from scratch.

The JOA's termination also would mean that the Star-Bulletin would have to compete with the morning newspaper for advertising revenue and readership.

---



E-mail to City Desk
---
---
© 2000 Honolulu Star-Bulletin
http://archives.starbulletin.com