Advertisement - Click to support our sponsors.

---

---
Friday, November 3, 2000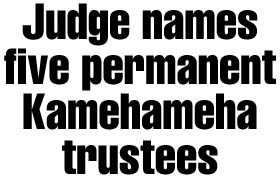 The new Kamehameha Schools
trustees will serve from
one year to five years
---
By Rick Daysog
Star-Bulletin
A state judge today appointed five permanent trustees of the Kamehameha Schools in a historic decision that marks a new era at the 116-year-old charitable trust.

Named by Probate Judge Kevin Chang were local attorney J. Douglas Ing, Hawaiian navigator Nainoa Thompson, former Hemmeter Development Corp. executive Diane Plotts, American Savings Bank executive Constance Lau and retired Adm. Robert Kihune.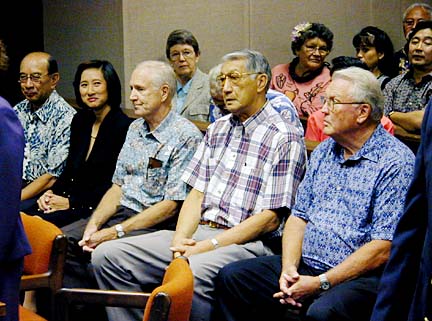 By Craig T. Kojima, Star-Bulletin
The five interim Kamehameha trustees sit in Judge Kevin Chang's
courtroom today awaiting announcement of their permanent
replacements. From left, Robert Kihune, Constance Lau,
Ronald Libkuman, Francis Keala, and David Coon.
---
Kihune, Thompson and Ing are part Hawaiian. Lau and Kihune are members of the estate's outgoing interim board of trustees that was appointed by Chang on May 7, 1999. Ing is a 1962 Kamehameha Schools graduate, while Kihune graduated from the school in 1955.

With Plotts and Lau, the estate board will include two women for the first time in its long history.

The appointments take effect Jan. 1.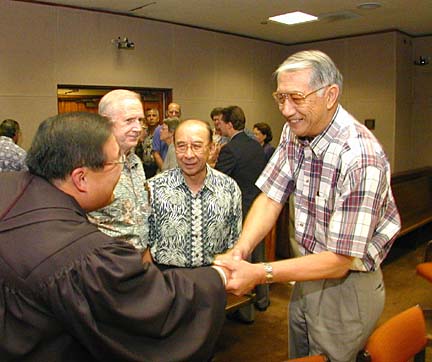 By Craig T. Kojima, Star-Bulletin
After naming the new trustees, a very happy Judge Chang
shakes hands with Francis Keala while Ronald Libkuman,
left, and Robert Kihune look on.
---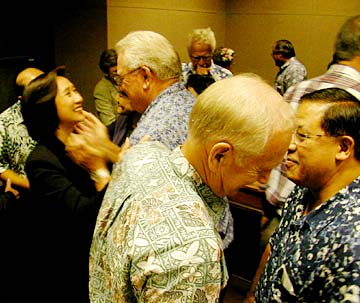 By Craig T. Kojima, Star-Bulletin
Newly-named as a permanent trustee, Constance Lau,
left, is congratulated by David Coon.
---
"They all share a deep sense of commitment and the ability to ensure that the vision and legacy of Princess Bernice Pauahi Bishop will be perpetuated in the future," Chang said. "All of the trustees have a recognized reputation for integrity."

The five new trustees were picked from a list of seven nominees named by a court-appointed screening committee in November.

The list also included former Amfac/JMB Hawaii Inc. executive Chris Kanazawa and Grace Pacific Corp. chairman Dwayne Steele.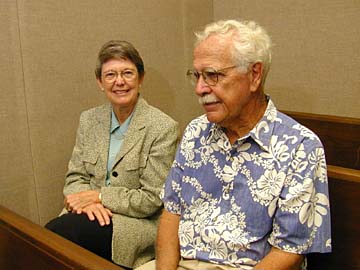 By Craig T. Kojima, Star-Bulletin
New trustee Diane Plotts chatted with Roy Benham
before the court session started this afternoon.
---
Previously, Kamehameha Schools trustees were selected by the state Supreme Court, as spelled out in the will of the estate's founder, Bernice Pauahi Bishop.

But a campus controversy prompted the high court in December 1997 to step away from its century-long role in selecting trustees.

The new trustees represent a broad cross-section of the local community:

Ing, 56, is a senior partner in the law firm of Watanabe, Ing & Kawashima and previously represented former trustee Oswald Stender in his successful suit to remove ex-board member Lokelani Lindsey. He also represented the estate's interim trustees in efforts to permanently remove former trustees Henry Peters, Richard "Dickie" Wong and Lokelani Lindsey.

The 63-year-old Kihune, chairman of the estate's interim board of trustees, also is president of the USS Missouri Memorial Association Inc. and has served as chief executive officer of Waimana Enterprises Inc. During his 35-year Navy career, Kihune served as commander of the Naval Forces of the Pacific Fleet, was the commander for the USS Kitty Hawk and USS Nimitz aircraft carriers, and was director of command, control and communications for the U.S. European Command.

Lau, 48, who also is an interim trustee of the Kamehameha Schools, is the chief operating officer of American Savings Bank. She also is a trustee of Punahou School and is a former chairwoman of the University of Hawaii Foundation.

The 47-year-old Thompson is famous for leading the Hokulea canoe voyages to Tahiti and other Pacific islands. The son of former trustee Myron "Pinky" Thompson, Nainoa Thompson is program director for the Polynesian Voyaging Society and serves on the University of Hawaii's Board of Regents.

Plotts, 65, is a former general partner of Hemmeter Investment Co., which developed many of the five-star resorts in Hawaii during the 1980s. She serves on the board of Hawaiian Electric Industries Inc. and is a director of the Hawaii Health Systems Corp.

The new trustees will serve terms of varying lengths, ranging from one year to five years.

Thompson will serve for a five-year term, while Kihune will serve a four-year term. Lau will serve for three years, Ing will serve for two years and Plotts will serve for a year.

Each of the trustees will be eligible for reappointment after their terms are over.

Trustees' pay will be capped at $97,500 a year while the board's chair will receive no more than $120,000 a year.

---



E-mail to City Desk
---
---
© 2000 Honolulu Star-Bulletin
http://archives.starbulletin.com