Advertisement - Click to support our sponsors.

---

---
Wednesday, November 1, 2000



P R E P _ R I F L E R Y
---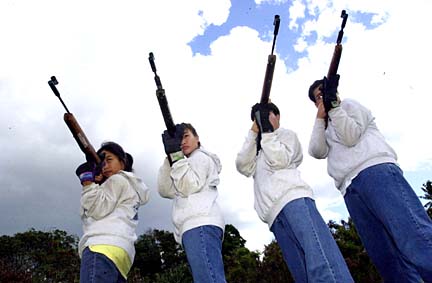 By Ronen Zilberman, Star-Bulletin
Taking aim at the St. Louis School riflery range are, from left, Chatess
Baguio from Sacred Hearts Academy, Telianne Ho from Sacred Hearts
Academy, Ryan Tanoue from St Louis and Keith Leopardi from St Louis.
---
Saints, Lancers will
take their best shots

---

By Ed Kalama
Special to the Star-Bulletin

From 33 feet away, they try and hit a spot no larger than the period at the end of this sentence. In essence, that's what prep air riflery is all about.

And when it comes to Hawaii High School Athletic Association state tournament competition, no one has done it better than St. Louis and Sacred Hearts.

The defending champion Crusader boys and Lancer girls are back to stake their claims to state bragging rights when the HHSAA tournament unfolds tomorrow and Friday at St. Louis.

Under coach Zig Look, who trains both squads, the Crusaders have dominated Interscholastic League of Honolulu riflery contests, which use a small bore .22- caliber rifle, in recent years and are now setting their sights on defending their air riflery crowns.

While the Oahu Interscholastic Association has held competition in air riflery for the past six years, the ILH is in just its second year of competition -- and this week will see just the second-ever state air riflery tournament.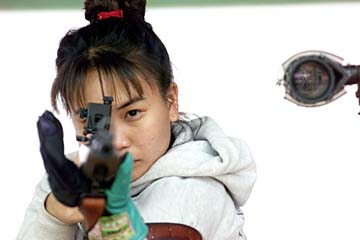 By Ronen Zilberman, Star-Bulletin
Telianne Ho from Sacred Hearts Academy advances
to the state championship.
---
"We expect to see very strong boys' and girls' teams from Waiakea and Waimea," Look said. "From the OIA, Leilehua is always strong and I'd say they're at the top of the pack right now."

Although he coaches some of the top guns in the state, Look said shooting is a sport that teaches respect for your opponents.

"At any given match, anything can happen," he said. "Someone can have an extra good day or someone can have a rough spot and it can be very costly.

"We're not unbeatable, but I'm confident we'll be competitive. And that's all you can really train to be."

In air riflery competition, 10 shots are fired from each of three positions -- prone, standing and kneeling. With the tiny bull's-eye worth 10 points, the best possible aggregate score is 300. In state tournament play, 20 shots are fired from each position, decreasing luck as a factor.

"In the states, we'll shoot double the course," Look said. "It helps to eliminate the element of luck. The longer the course, the more it becomes a test of skill."

Look definitely has some skilled shooters, led by St. Louis senior Ryan Tanoue, by all accounts a potential All America on the collegiate level.

Tanoue led all ILH shooters with a 274 average this season and has already been contacted by coaches from Xavier, West Virginia, Alaska-Fairbanks and Nevada-Reno. Tanoue looks to improve his second place state individual finish of last year.

"He's shot quite a bit on the national level and he's even shot for a World Cup on the international level," Look said of the fourth-year shooter.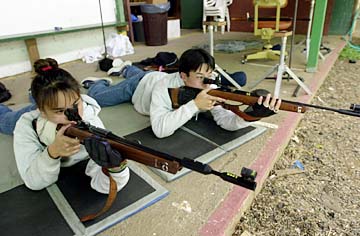 By Ronen Zilberman, Star-Bulletin
Telianne Ho from Sacred Hearts Academy, left, and Ryan
Tanoue from St Louis take their shots during practice.
---
Rounding out the Crusader four-man state squad are senior Keith Leopardi (257), junior Michael Sato (255) and sophomore Michael Tanoue (253).

The Sacred Hearts girls are led by the one-two punch of seniors Telianne Ho (268) and Chatess Baguio (262).

Ho finished as the top ILH shooter this year and Baguio was second. Baguio placed third in the state last year while Ho finished fifth.

"It's going to be tough to repeat this year," Ho said. "I've heard Waiakea is really good. There's going to be a lot of competition, but if we shoot like we do in practice then I think we're going to be fine."

Freshman Ashley Murakami (240) and sophomore Jacque Ohia (239) complete the Lancers' four-girl squad.

Look said that as a sport, shooting is sometimes misunderstood.

"A lot of people don't equate shooting with sports because you're using more passive systems than active," he said.

But shooting has left its mark on Ryan Tanoue.

"Shooting is not a sport where you need to be physically big, like in football," he said.

"If you have the will, if you really want to be good, really want to do it and work real hard, you can be good at it."
E-mail to Sports Editor
---
---
© 2000 Honolulu Star-Bulletin
http://archives.starbulletin.com