Advertisement - Click to support our sponsors.

---

---
Wednesday, November 1, 2000



'Very credible witnesses'
to the crash cited

---

By Jaymes K. Song
Star-Bulletin

The parents of a Haleiwa woman killed last month in a car crash involving an off-duty Honolulu police officer filed a lawsuit today against the officer and two local restaurant/bars.

Rod and Susan Ambrose of San Clemente, Calif., filed the lawsuit in Circuit Court in Honolulu against officer Clyde Arakawa, Tropic's Diner Inc. and Side Street Ventures Inc.

The Ambroses' 19-year-old daughter, Dana, died after her Honda Civic was broadsided by Arakawa's Ford Thunderbird at the intersection of Pali Highway and School Street on Oct. 7. Arakawa, who was on vacation at the time, was arrested for drunken driving and negligent homicide. He has not yet been charged.

Attorney Richard "Rick" Fried, who represents the Ambrose family, said he interviewed "very credible" witnesses who said they were in cars at the intersection. "He (Arakawa) went around them and went through the red light, which was red for some seconds," he said.

Arakawa's attorney, Michael Ostendorp, was unavailable for comment.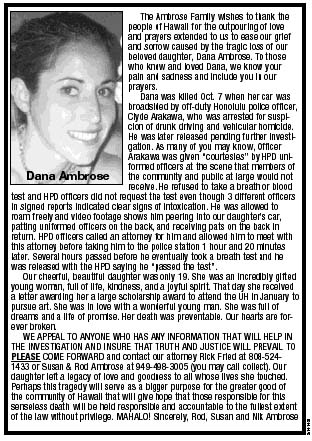 The family placed this ad in today's Star-Bulletin
thanking well-wishers and seeking more witnesses.
---


Arakawa had drinks at Tropic's Diner on Auahi Street at about 5 p.m. on the night of the crash, Fried said. After having "a number" of drinks there, he continued drinking at Side Street Inn on Hopaka Street, Fried said. Arakawa went back to Tropic's before leaving at about 11:30 p.m., he added. The two-car accident was reported at 11:50 p.m.

"The law is very clear: A bar or liquor establishment is prohibited serving alcohol to anyone who is intoxicated," Fried said. "We believe both bars breached that law."

Glenn Tanoue of Tropic's Diner said he has not seen the lawsuit and had no comment. He also would not say whether Arakawa had drinks at his business. Colin Nishida of Side Street Inn could not be reached for comment.

The lawsuit, which seeks an undisclosed amount of damages and legal fees, states Ambrose died as a "result of the defendants' negligence, actions and/or omissions."

"The Ambroses are doing this to try to find out what really happened," said Fried, "and on behalf of the community, so this doesn't happen again."
E-mail to City Desk
---
---
© 2000 Honolulu Star-Bulletin
http://archives.starbulletin.com