Advertisement - Click to support our sponsors.

---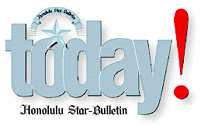 ---
Tuesday, October 31, 2000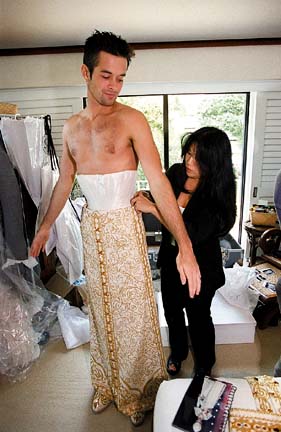 By Dennis Oda, Star-Bulletin
Lori Moriwaki fits Marlowe Holt into a corset to give him a
26-inch waist so that he may be the bishop in Saturday's
Fashion Ball wedding segment.
---

There's more to fashion than vanity.
But why does it cost so much?
---
By Nadine Kam
Star-Bulletin
arlowe Holt's timing couldn't have been better. A tonsillectomy a month ago left the 21-year-old without much of an appetite, so he ended up shedding 20 pounds from his 6-foot-3 frame, making him, at 145 pounds, almost perfect.

A 2-inch gap between closures on the front of his chasuble suggested otherwise.

Not to worry. With dressers tugging at the garment in front and back, Holt, already encased in corset and skirt, sucked in, held his breath and lo, the buttons on his ornate outer vestment came together. No choir of angels sang, but a few sighs could be heard as he stood in papal splendor.

"Does this mean no sex?," he asked.

"No smiling!" came his orders.

This isn't about Halloween. It's about fashion.




FRENCH FEST FASHION BALL

"Cirque de la Mode: Fashion Circus," features haute couture from Christian Dior, Chanel and prêt-à-porter collections from Celine and Thierry Mugler. Also featuring music by the Honolulu Symphony and performances by Cirque Éloize.

Place: Hilton Hawaiian Village Tapa Ballroom
Date: 6 p.m. Saturday Tickets: $300, $500 and $1,000
Reservations: 1-(877)-THE-FEST (843-3378)




Holt was one of about 12 models crammed into a small hotel room in Waikiki waiting to find out whether they would play brides, grooms or assorted relatives in Christian Dior's Haute Couture Wedding Party, one of the segments to be featured at the 2000 French Festival Fashion Ball Saturday at the Hilton Hawaiian Village Tapa Ballroom.

The event's theme this year is "Cirque de la Mode -- Fashion Circus." In addition to Dior's presentation, Chanel will show pieces from its 2000 haute couture collections, Neiman Marcus will present Spring 2001 prêt-à-porter (ready-to-wear) creations from Thierry Mugler, and Celine will also feature its Spring 2001 prêt-à-porter line.

With the help of the fashion show's creator Dean Christopher, Christian Dior director of haute couture Willie Lima is overseeing the Dior fittings. He coaches the models, gently, but firmly, in the art of walking.

Fourteen-year-old Jamie Cook wobbles on heels 6 inches high, the heel of the shoe positioned under the arch of her foot. She treads carefully, looking as if she's trying to balance a book on her head, which is festooned with feathers and wisps of lace that form a 2-foot-wide hat. It will be worse on show day, when most of her hair will also be weighed down by dozens of metal and jeweled clips.

"Neck high," Lima calls. "It's haute couture. You have to feel grand, very epoch. It's your sister's wedding day. You're happy for her."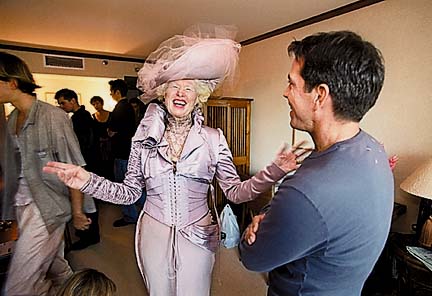 By Dennis Oda, Star-Bulletin
Willie Lima, director of haute couture for Christian Dior,
is pleased with Ann Simpson's transformation
into grandmother-of-the-bride.
---
Dior designer John Galliano was inspired by Sigmund Freud's ruminations about family. Said Lima, "He's created this picture of family through a wedding processional. How happy is a happy family?"

Such narratives are not unusual in Galliano's work, but casting this piece has difficulties. Said Christopher, "I book most shows using industry standards, but it's harder to find people to fill the character roles, the parents of the bride, the grandparents of the bride."

The weather's perfect

About 80 models are cast in the entire show, a huge number. Due to makeup demands of each house, models won't be able to cross over from segment to segment. For example, while Celine will present a classic, glamorous face, Thierry Mugler models will be painted with body makeup mimicking tan lines. Not easy to undo in mere minutes.

"We want the girls to look healthy, tan, beautiful," said Renato Cavero, manager of public relations/communications for Mugler. " 'City Sun' is the theme. The clothes, no matter where you live, should create the feeling that you're on vacation. We think everyone should be happy in the summer."

The Mugler show will open with garments in stark white, expanding out to colors of desert sands, and moving into evening, picking up the iridescent purples, blues and browns of Egypt's scarabs.

While Cavero shows pictures of Thierry Mugler's Spring 2001 prêt-à-porter line, to be introduced during a trunk show at Neiman Marcus (see calendar below), he is less willing to share images from the Summer 2001 collection which will be seen Saturday.

"We want people to be surprised," he said.

Precious cargo

In a warehouse in Kakaako, 5-foot tall cargo cases await inspection. Usually, the heavy-duty cases are associated with such fragile cargo as film equipment, musical instruments or art work. These hold garments, three per case.

"What is this?" Joyce Okano Reed wonders as cases are opened and she works at unwrapping and unfurling a length of black fabric. Then she starts to make sense of the piece before her.

"Oh, it has a corset ... and a train," says the regional vice president of Chanel. "I'm going to regret taking this down because of the complexity of putting it back."

When the garment is revealed, it is a strapless gown with a ribbed cage for support, and a triangular train to create movement. This piece, from an earlier collection, is destined to be on display in one of Chanel's boutiques.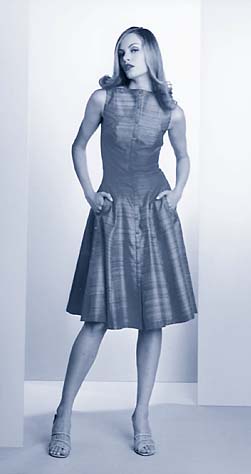 Thierry Mugler
A thousand stripes form a degradé pattern on this ready-
to-wear dress from Thierry Mugler on view
at Neiman Marcus. Cost: $1,855.
---
It is rare for any of the pieces to leave Paris.

"A couple of pieces went to Japan for an exhibition," Reed said, "But otherwise, they don't travel because these are one-of-a-kind samples. They're for experimental purposes, for inspiration. They're the epitome of the creative art of fashion."

On one evening jacket, sequins are handpainted. On another, pieces of fabric individually pleated and pressed form spring blossoms. Nothing is as simple as it appears at a glance. A spray of sequins seems random on the front of a jacket printed with flowers, but the lining shows a complex and precise embroidered floral pattern.

"These could not be made for commercial purposes," Reed said. Dozens of craftsmen and artists bring their skills to each garment.

No price is attached to the final work. To talk money, after all, would be gauche. Let's just say it's not unusual for Chanel prêt-à-porter designs to cost up to $30,000 and the haute couture is worth much more. During past French Festival Fashion Balls, it hasn't been unusual for models to step out in half-a-million dollars worth of tulle and jewels.

All of which adds up to excitement for fashion enthusiasts, and puzzlement to those for whom fashion equals vanity. Chances are, you're never going to have need for a bishop's chasuble or a gown that requires three dressers and an hour to be fully strapped on.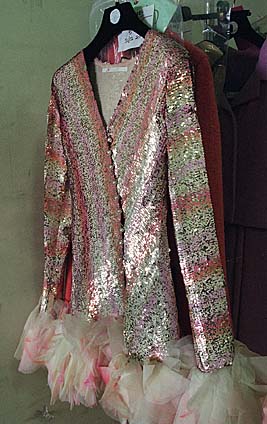 By Ken Sakamoto, Star-Bulletin Chanel's evening jacket in handpainted sequins and
hand-cut, hand-sewn organza demonstrates the artistry
involved in creating haute couture.
---
"Fashion is not a priority for every one, but even if it's not, going to a fashion show is the equivalent of going to a museum," said Reed. "Objects in there are not necessarily what you would want in your home -- you may not want any of it -- but it's important to see the things that historians view as precious. This falls into that category.

"It's about stretching, opening the mind to things that one might not normally be exposed to. In museums, the garments are wrapped in acid-free paper and stored flat because the weight of the garment would eventually case them to sag. No one can touch them unless they wear gloves," she said.

"For them to come to Honolulu is amazing. The designers understand the importance of the Hawaii market. We are at the crossroads, the center of the Pacific. They are dedicated to making this an important fashion destination."





Click for online
calendars and events.
E-mail to Features Editor
---
---
© 2000 Honolulu Star-Bulletin
http://archives.starbulletin.com