Advertisement - Click to support our sponsors.

---

---
Thursday, October 26, 2000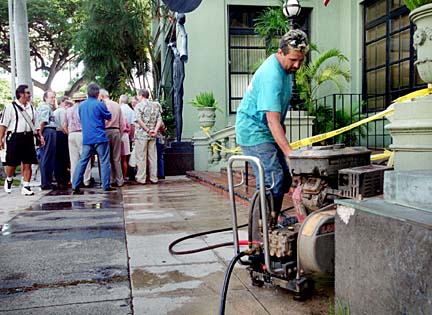 By Ken Ige, Star-Bulletin
A Save Our Star-Bulletin press conference (left) was
forced to the sidewalk in front of the HNA building
yesterday. Archie Stultz of Hawaiian Steam Inc. said
they were hired "around noon or 1 p.m." to clean the steps.
---
Deadline
delayed for
paper's sale


Newsprint supply remains
at issue in the proposed sale
of the Star-Bulletin

---

By Harold Morse
and Rick Daysog
Star-Bulletin

A federal judge has agreed to postpone tomorrow's court-imposed deadline to sell the Honolulu Star-Bulletin to Canadian publisher David Black while the parties continue to negotiate a deal.

Federal Magistrate Barry Kurren granted a continuance today to the proposed sale of the 118-year-old afternoon daily. Kurren set a hearing "to confirm the sale or terminate the sales process" for 11 a.m. Nov. 6.

The development comes as Black and the Star-Bulletin's owner, Liberty Newspapers Limited Partnership, and Gannett Co., owner of the rival Honolulu Advertiser, remain at odds over the issue of newsprint supply.

Black could not be reached for immediate comment this morning. Phil Murray, the broker handling the sale, also was not available.

Save Our Star-Bulletin, at a news conference yesterday, contended that Gannett has shown bad faith in refusing to supply newsprint to Black Press as it bids to buy the Star-Bulletin from Liberty Newspapers.

"Mr. Black has indicated that this is a deal-breaker if he can't get the newsprint," said Richard Port, spokesman for Save Our Star-Bulletin, a citizens group organized to to help keep the newspaper in business. Gannett, which owns the Honolulu Advertiser, is afraid of competition, he added.

Gannett responded by saying that Black is misleading the public. Gannett said Black wants to be subsidized because he wants to buy newsprint through Gannett at reduced prices.

Black, who owns about 80 newspapers in Canada and Washington state, said last week that when a newspaper is sold, the buyer usually receives the paper's allocation of newsprint from the seller.

He said he has been searching for another source of newsprint, but a shortage has made it hard to find an adequate supply. He also said that he has offered to buy the Star-Bulletin's current allocation at market cost.

Save Our Star-Bulletin's news conference in front of the News Building yesterday was almost drowned out by a noisy gasoline engine powering a pump to pressure-clean the front steps.

The cleaning, with yellow tape positioned to keep passersby away from the front doors, was organized to aggravate conference participants, Port charged.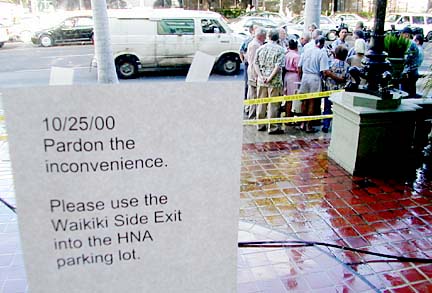 By Ken Ige, Star-Bulletin
People inside the HNA building encountered
locked front doors and this note yesterday afternoon
while the Save Our Star-Bulletin news conference
was held outside.
---
Dennis Francis, general manager of the Hawaii Newspaper Agency, said: "The cleaning started well in advance of the news conference. ... The folks could have gathered 50 feet away or in the News Building parking lot or in the Star-Bulletin itself," he said.

Front doors were locked while work was going on. Someone called the Fire Department, and an inspection team came to check. No citation was given. A pulled fire alarm in case of fire would automatically unlock all doors for building occupants to evacuate, firefighters said.

A Gannett news release quoted Thomas L. Chapple, Gannett senior vice president and head of its negotiating team: "We continue to see and hear press reports that attribute statements to David Black, president of Black Press, that indicate he cannot move forward with the purchase because he cannot find sufficient paper to print the Star-Bulletin and that Gannett will not help him in his search.

"The reality is that Black Press has from the very outset of the negotiations sought to require that Gannett provide him either direct or indirect subsidies to offset his costs as he acquires the Star-Bulletin."

Port said, "Mr. Black isn't asking for a subsidy" but just wants the same newsprint used to print the Star-Bulletin that is currently available to Liberty.

In its release, Gannett quoted Rupert Phillips, managing partner of Liberty Newspapers, as saying Liberty is prepared to sell Star-Bulletin assets but will not give them away. It quoted Phillips as saying: "Black wanted us to give him the Star-Bulletin assets for $1. We offered to sell the Hawaii assets at their liquidation value, the price those assets would bring on the open market. Black never responded to us, and we have not heard from him since Oct. 4."

Wayne Cahill, administrative officer, Hawaii Newspaper Guild, disputed this. Phillips refused to put the Star-Bulletin up for sale in 1999 because he said nobody would buy it, he said. "Apparently he thought the assets were worthless then. Under the stipulated agreement there is no minimum price for the assets."

Liberty put the 63,500-circulation Star-Bulletin on sale in April, postponing antitrust lawsuits in federal court by the Attorney General's Office and Save Our Star-Bulletin. The two groups sued after Liberty announced last year that it was closing the Star-Bulletin and terminating its joint operating agreement with Gannett.

Gannett had agreed to pay Liberty $26.5 million to end the JOA, which was set to expire in 2012. Under the JOA, both newspapers share printing, advertising and distribution costs but retain separate editorial voices.

---



E-mail to City Desk
---
---
© 2000 Honolulu Star-Bulletin
http://archives.starbulletin.com