Advertisement - Click to support our sponsors.

---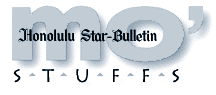 ---
Wednesday, October 11, 2000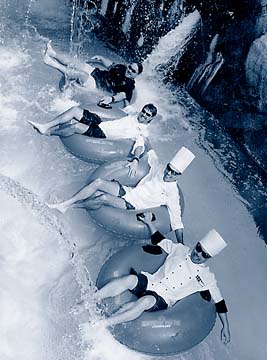 Courtesy photo
Cooking at the water park will be, from top,
chefs D.K. Kodama of Sansei Seafood Restaurant
& Sushi Bar, Liam Martin of Gordon Biersch Brewery
Restaurant, Ian Riseley of Niblick at Ko Olina Golf
Club and Aurelio Garcia of Brew Moon Restaurant
& Micro Brewery.
---
Float 'n' feast
for good cause
The Taste at Kapolei, a benefit for Leeward Oahu schools, is one of those all-you-can-eat (and drink) gourmet affairs that has the added attraction of raft rides. It will take place at the Hawaiian Waters Adventure Park Oct. 21.

Seventeen chefs are participating, representing restaurants including Chai's Island Bistro, Outback Steakhouse, Baci at Restaurant Row, Nick's Fishmarket and lots, lots more.

The ticket price of $50 in advance, $60 at the door ($20 for children 7 to 12) also covers beer, wine, "hard lemonade," soft drinks and coffee; desserts by Leeward Community College culinary students; and a Kids' Zone.

Entertainment will be provided by Aunty Genoa Keawe, Halau Hula Olana, the Lim Family and Kapena.

"Taste," sponsored by the Rotary Club of Kapolei, will run 6 to 10 p.m. Call 487-3200.
---
Wine Spectator, Gourmet
laud Padovani's
Two magazines in the last two months have compiled lists of the nation's best restaurants. Wine Spectator recognized establishments for the quality of their wine cellars; Gourmet chose 180 top restaurants overall.

The single common factor on both lists among Hawaii restaurants was Padovani's Bistro and Wine Bar.

In September, Wine Spectator gave 26 island restaurants Awards of Excellence, but only three were given the additional designation of Best of Awards of Excellence. Padovani's was one, along with Jameson's Grill & Bar and Longhi's, both on Maui. Padovani's was cited for its 900 selections and 9,000 bottle inventory.

This month, Gourmet picked Padovani's and Alan Wong's Restaurant for its list of "America's Best Restaurants 2000." Padovani's was named Best French and Alan Wong's was named Best Regional.

"For the duration of a meal, Honolulu seems like just another town in Provence," the magazine says of the experience chef Philippe Padovani creates at his restaurant.

Of Wong, Gourmet says: "The Tennyson of teriyaki, the Proust of poi, the Lorca of lomi lomi, Alan Wong knits regional Hawaiian flavors into his cooking with the virtuosity of a poet weaving classical allusions into a sonnet."

Wine Spectator also gave these Hawaii restaurants Awards of Excellence:
Oahu: Donato's Ristorante E'Carpacceria, 3660 on the Rise, Bali by the Sea, Hy's Steak House, Prince Court, La Mer, Matteo's, Sarento's
Big island: The Grill at The Orchid at Mauna Lani
Maui: Mama's Fish House, Fish & Game Brewing Co. & Rotisserie, Ruth's Chris Steak House Lahaina, Castaway Cafe, Pacific'O, David Paul's Lahaina Grill, Gerard's, I'O, Jameson's Grill & Bar, Nick's Fishmarket, Plantation House Restaurant, Roy's Kahana Bar & Grill, Seasons, The Anuenue Room, The Waterfront Restaurant.
Since 1981, Wine Spectator has evaluated thousands of restaurants that submit their wine cellars for judgment. The top designation, the Grand Award, goes to restaurants offering more than 1,000 selections, backed by cellars holding at least 10,000 bottles. They must also pass an on-site inspection. Only 87 restaurants around the world qualify.

To check out the complete list, go to www.winespectator.com and click on "Worthy Wine Lists."

To check Gourmet's list of great restaurants across the country, go to www.gourmet.com.
---
Dinner affairs

Special evening at the Pearl: Leeward Community College's fine-dining restaurant, the Pearl, is hosting a four-course dinner, Oct. 25 at 6 p.m., featuring a menu created by Rodman Machado of Diamond Head Grill. Machado is the newest chef instructor in LCC's culinary program.

His menu: Asian Crispy Spring Roll with Szechwan Sauce, Salad with Cured Salmon Carpaccio, Potato Cake and Sesame Vinaigrette; Guava-Crusted Rack of Lamb with Thai Black Rice and dessert of Apple and Banana Napoleon and Haupia Anglaise. Cost is $40, including wine. For reservations call 455-0475.

"Big Red" Wine Tasting: Hawaii Kai's Portlock Restaurant features Heitz 1996 Zinfandel; Stag's Leap '96 Merlot and David Bruce '96 Petite Syrah paired with food prepared by chef Marcia Cades at a wine tasting Oct. 18. The event, 6:30 to 8 p.m., costs $30 per person. Call 394-5550.
Learn about joint pain
Kuakini Health System is offering a free seminar from 9 to 11 a.m. Saturday for those suffering from joint pain.

Dr. Gary Okamura will be the speaker and will focus on hip and knee pain, two common ailments facing older adults.

Seating is limited. To register, call 547-9133.
---
HIV instructors sought
The American Red Cross seeks instructors for HIV prevention classes conducted in English and Spanish.

Free training for the English language instructor course will take place 8:30 a.m. to 5:30 p.m. Oct. 21 and 22 at the Red Cross Hawaii State Chapter Headquarters at 4155 Diamond Head Road. The Spanish HIV instructor course will take place Nov. 29, 30 and Dec. 1 at the same location.

The courses will prepare prospective instructors to share facts about HIV and AIDS accurately and non-judgmentally with people from diverse communities. Group discussion about sexuality and drugs will encourage people to apply facts to their own behavior.

To register for the courses, call the Red Cross at 734-2101 ext. 131 or 146.
---
New members are also being recruited for the Hawai'i HIV Prevention Community Planning Group.
Positions are open for one individual to represent each of the following areas or groups: West Hawaii; women at risk/sex industry; corrections industry; transgendered individuals; injection drug users; gay men of Hispanic, Asian/Pacific Islander, Filipino, Hawaiian or African-American descent.
Those working in the fields of drug abuse, behavioral science, HIV/AIDS research or epidemiology are also encouraged to apply.
PCPG was formed six years ago to provide a forum to plan HIV prevention services that are most appropriate for Hawaii. The group meets 10 times a year, with two neighbor island meetings slated in 2001.
For more information, or to apply, contact community planning coordinator Xuan-Lan Doan at 689-1569.
---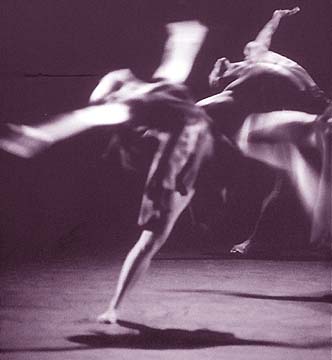 Mark Morris Dance Group
The acclaimed Mark Morris Dance Group will
perform one night only at the Hawaii Theatre.
Tickets go on sale Friday.
---
Mark Morris Group to dance

Tickets go on sale Friday for the Honolulu debut of the acclaimed Mark Morris Dance Group, which performs Nov. 17 at the Hawaii Theatre under the sponsorship of Ballet Hawaii.

Tickets are $20, $35 and $50 and may be charged by calling 528-0506 or 526-4400.

Mikhail Baryshnikov has called Morris "one of the great choreographers of our time."

The company will perform a diverse program featuring pieces choreographed to Chopin, country-western songs and popular tunes from the 1930s.

---




Public radio drive begins

Hawaii Public Radio, which recently expanded its services with the addition of station KANO 91.1 Hilo, is hoping more of its listeners will make the leap to being members.

Celebration 2000 runs Oct. 18 to 27 and the goal for the fall membership drive is just under $300,000.

Fewer than 10 percent of Hawaii Public Radio listeners are members according to promotions director Judy Neale. They are responsible for 50 percent of the organization's revenue.

Hawaii Public Radio offers classical music and news on KHPR 88.1, KKUA 90.7, and KANO 91.1. It offers news, information, jazz, blues and other music on KIPO 89.3 and KIFO 1380.

To pledge support, call 955-8821.

---




Trekkies to gather in Waikiki

After an absence in a galaxy far, far away, the Creation Convention returns to Honolulu in November with stars from science fiction shows like "Star Trek" and "Xena: Warrior Princess." The event runs 10 a.m. to 5 p.m. Nov. 4 and 5 at Pacific Beach Hotel.

Guest stars include Tim Russ of "Star Trek: Voyager," Chase Masterson of "Deep Space Nine" and Meg Foster of "Xena." Other guests are Grace Lee Whitney, Barbara Luna, Celeste Yarell, France Nuyen and Victor Lundin from the original "Star Trek" series, Ben Chapman from "Creature From the Black Lagoon" and Herb Jefferson from "Battlestar Galactica."

The events also feature contests, auctions, costume competitions, movie previews, exhibits and science-fiction venders.

Admission is $20; ages 7 to 10 pay $10; advance tickets through www.creationent.com are $17. Call (818) 409-0960.

At 8 p.m. Nov. 4 is a special cabaret featuring Russ, Masterson and Lundin performing music and comedy. Admission is $20.






Click for online
calendars and events.





---





Send WatDat? questions, stories
or any other story ideas or comments to:
Features, Honolulu Star-Bulletin, P.O. Box 3080,
Honolulu, HI 96802 or send a fax to 523-8509
or E-mail to features@starbulletin.com.
Please include your phone number.
E-mail to Features Editor
---
---
© 2000 Honolulu Star-Bulletin
http://archives.starbulletin.com