Advertisement - Click to support our sponsors.

---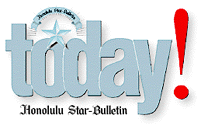 ---
Wednesday, October 11, 2000



Recipes to bank on

Recipes prepared by Wayne Minami of American Savings Bank, on "Hawaii's Kitchen" this week. The show aired at 5:30 p.m. Sunday on KHON Fox 2.

American Savings, KHON and a host of Hawaii businesses are sponsoring a drawing for a completely stocked dream kitchen. Visit Times Super Markets for information.

Smoked Salmon

3 pounds salmon fillet with skin
Hickory or alder wood chips
Smoked Salmon Brine
4 cups water
3/4 cup Hawaiian salt
1 cup brown sugar
1 tablespoon garlic powder

Cut salmon lengthwise. Cut again into 4-6 inch pieces.

Soak salmon in brine overnight.

Remove salmon from brine and pat dry with paper towel. Place in refrigerator uncovered for 24 hours. This will seal the flesh so liquid from the fish will not leak out while smoking.

Place salmon on rack skin side down, placing thicker portions closer to heat source. Smoke for 8-12 hours. Belly portion will cook faster. Remove when flesh is firm.

Salmon Linguine

12 ounces linguine
1 pound salmon, cut into 1-inch cubes
3 cloves garlic, minced
1 cup round onion, chopped
1/2 cup celery, chopped
1 cup mushrooms, chopped
1 tablespoon lemon herb seasoning
1 4-ounce. bottle of capers
1 cup evaporated milk
1/2 block margarine
Fresh dill

Cook garlic, onions and lemon herb in margarine. Add celery and salmon. When salmon is half cooked, add mushrooms, capers (including juice) and evaporated milk. Heat mixture until it starts to bubble. Do not boil or milk will curdle. Pour mixture over cooked linguine. Garnish with dill.

Ricotta Cheese Pancakes

1 dozen eggs (discard some of the yolk for a healthier serving)
32 ounces ricotta cheese
1 cup flour
8 teaspoons sugar
1 teaspoon salt
1/2 cup vegetable oil

Mix well and cook on a 375 degree, nonstick griddle lightly sprayed with oil. Use a hot griddle and turn pancakes over when small bubble pockets appear on surface. Serve with assorted syrups: raspberry, guava, passion fruit, maple. Makes 16 pancakes.

Nutritional information unavailable.






Click for online
calendars and events.
E-mail to Features Editor
---
---
© 2000 Honolulu Star-Bulletin
http://archives.starbulletin.com