Advertisement - Click to support our sponsors.

---

---
Wednesday, October 4, 2000



P R E P _ S P O R T S
---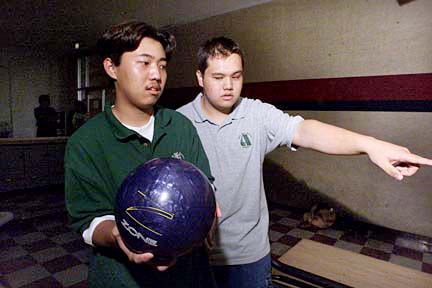 By Ronen Zilberman, Star-Bulletin
Aiea High Coach Jason Theodorson, right, works
with Na Alii Whiz Kid Ivan Miyasato .
---
Theodorson a
whiz at coaching


Thanks to him and the Aiea
Whiz Kids program, Na Alii have
bowled over competition

---

By Ed Kalama
Special to the Star-Bulletin

HE returned four of his five starters and has his Aiea boys' bowling team perched atop the Oahu Interscholastic Association standings, as usual. But coach Jason Theodorson isn't sure if his club is getting enough respect.

"No one really thought we'd do well this year," he said. "We lost three really good guys last year and nobody thinks we're going to win. But we're going to be one of the top two in the West."

Finishing in the top two places is important to Theodorson because it would qualify Na Alii for the Hawaii High School Athletic Association state tournament, slated for Nov. 9-10 in Kona.

Aiea, the two-time defending state champion, is 10-2 and tied for first place in the West with Pearl City.

"We've won the West, the OIAs and states the past two years," Theodorson said. "If we don't lose again for the rest of the season, and we shouldn't if everything goes well, then we should win the West again."

In his third year directing the Aiea show, state championships are all Theodorson has ever known. He said one of the key reasons behind his team's success is the influence of the Aiea Whiz Kids, a junior bowling program for ages 5 to 22. Based at Aiea Bowl, the Whiz Kids are affiliated with the Young American Bowling Alliance.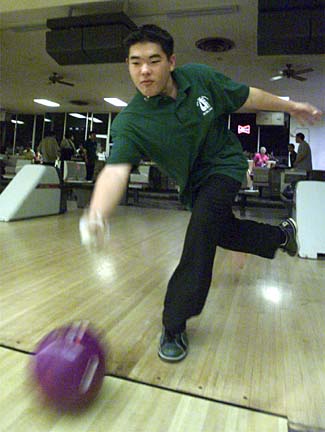 By Ronen Zilberman, Star-Bulletin
Aiea's Jason Kotani rolls the ball during a match
against Waipahu at Aiea Bowling Center.
---
"It's year 'round so it makes sure you're out there bowling at least once a week all year long. It makes you keep up with the sport," Theodorson said.

Five of the seven bowlers on the Aiea team have been touched by the Whiz Kids program, and that doesn't include Theodorson, the 1994 state individual champion for Aiea and a seven-year Whiz Kid.

"Being a Whiz Kid is unbelievable," Theodorson said. "When you're younger the coaches work with you and they make it a lot of fun. They kind of make you want to bowl. This is really the program that everyone wants to be in."

Theodorson's not just saying that. There are now 150 Whiz Kids and a waiting list of young athletes wanting to get in.

"Part of the problem is I need more coaches willing to work with the younger kids," said Jared Kaufmann, who coordinates the Whiz Kids organization with help from a 12-person coaching staff and a six-member administration team.

Kaufmann, a modern day Pied Piper of bowling in Hawaii, also coordinates the Maryknoll High School program and helps out with the ILH bowling league and running the state tournament.

But his true love is obviously the Whiz Kids.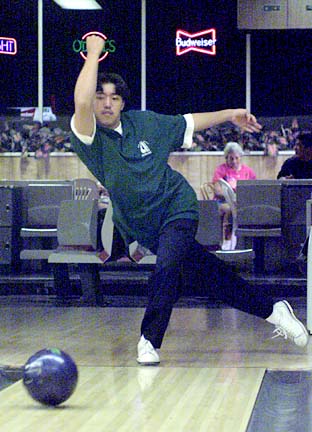 By Ronen Zilberman, Star-Bulletin
Aiea High Na Alii Whiz Kid Ivan Miyasato bowls a frame.
---
"I make sure that this program is done well for the kids," Kaufmann said.

"We try to foster a spirit of friendship through bowling and try to develop skills to a point where these kids can enjoy the game.

"Most of our bowlers come from the Aiea-Pearl City area, but we've attracted kids from Manoa, Hawaii Kai, Waipahu and Mililani. We've fed players into a tremendous amount of high school programs. We're not the only junior program that's done that, but our kids have had great success."

Though not a Whiz Kid, Aiea's top gun is Ivan Miyasato. The favorite for the boys' state individual title (he finished second last year), Miyasato's 217 average is the best in the West.

"Ivan is real solid," Theodorson said. "He always bowls good, no matter what the conditions. On talent alone, nobody else is even close. He's the best in the state."

Other top Na Alii strikers include Jason Kotani (201 average) and the Kealalio brothers -- Grayson (195) and Sloane (188).

"Jason is the one who pumps everybody up," Theodorson said. "He's the spirit of the team."

Theodorson said that spirit could take Aiea to a third straight state title, but he's wary of challenges from Pearl City and Roosevelt and said he thinks Hawaii Baptist Academy could also make a run for the crown.

The Aiea coach said his young age (he's just 20), has helped him relate to his players.

"It's easier for me to get through to them. They listen, and we can joke around without them feeling scared. But I can be mean when I have to be," he said with a smile. "Really, it's good to have bowlers that come out of a junior program like the Whiz Kids. They already know how to bowl."
E-mail to Sports Editor
---
---
© 2000 Honolulu Star-Bulletin
http://archives.starbulletin.com