Advertisement - Click to support our sponsors.

---

---
Tuesday, October 3, 2000
THE FUTURE OF THE
ALA WAI GOLF COURSE


Composite photo by Craig T. Kojima, Star-Bulletin
A composite panorama of the Ala Wai Golf Course,
with Diamond Head and the Waikiki skyline in
the background.
---
Cayetano sees
site as 'meaningful
park' for city


Opponents say the plan
will take away what they claim
is the world's busiest links

Closing course might help canal
A look at the links

---

By Gordon Y.K. Pang
Star-Bulletin

Gov. Ben Cayetano says many of the greatest cities in the world are defined in part by their "central parks," and Honolulu should be no different.

That's his response to golfers who are upset about his proposal to shut down the Ala Wai Golf Course -- considered the busiest golf course in the world -- and put a park there.

"Every great city has a significant, meaningful park -- New York has Central Park, Vancouver has Stanley Park, and San Francisco has Golden Gate Park," Cayetano said. "I hope these golfers that are opposing take a look down the road and see what our needs will be 10, 15 years from now."

Lionel Aono, chairman of the city Board of Public Golf Courses, is among those opposed to Cayetano's plan to take away what amounts to 176,000 rounds of golf each year.

Aono said it makes no sense to him why Cayetano wants to take away the course when the demand for a golf facility is so great, while there are other facilities in the area for park-goers.

"You won't find another park being used with that intensity" seven days a week, he said, adding that Ala Moana and Kapiolani parks are "relatively empty" on weekdays.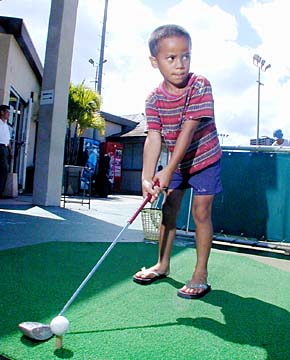 By Craig T. Kojima, Star-Bulletin
Kamakana Apelu, 4, takes a swing yesterday at the
Ala Wai Golf Course driving range.
---
As to exactly what kind of park would be created at Ala Wai, the governor wants to leave that up to a group made up of stakeholders in the community. Cayetano said the group would be similar to the "vision teams" set up by Mayor Jeremy Harris to look at priorities in Oahu's neighborhoods.

The project is far from certain.

The state owns the site, but the city runs the course by executive order.

Cayetano would need to amend the order to take back the property. A two-thirds vote of the state Senate, or a simple majority of the entire Legislature, could veto the amendment.

Both houses of the Legislature this year rejected a request by Cayetano for $1.36 million to plan the park at Ala Wai and look into using Sand Island as an alternate golf course site.

Cayetano also said he is not wedded to the idea of using Sand Island as a replacement course, although the Office of State Planning has been looking into that alternative.

Harris earlier had suggested the Luana Hills Country Club in Maunawili as a possible replacement course, but Cayetano yesterday rejected that Windward site.

"It's too hilly and very difficult -- for senior citizens, in particular -- to walk," he said.

"There's another one that I have in mind right now -- maybe two, depending on whether the people who have them right now want to sell," Cayetano said.

His preference would be to buy an existing course because "if you have one that's ready to go, then you can move quicker."

That would appear to be good news to Harris, who was golfing at a charity tournament yesterday but issued the statement, "If (the Ala Wai) is taken out of operation, it has to first be replaced by another municipal course."

Both Councilman Duke Bainum, who represents the area, and Council Chairman Jon Yoshimura also urged that the concerns of golfers be met before the park plan proceeds.

Bainum said he supports the Sand Island plan because for Honolulu residents, "everything else would be a long drive."

Yoshimura said he doesn't care if a site is bought or developed so long as it is "whatever can be done for the least amount of money."




YOU MAKE THE CALL

What do you think would be the best use for the land that is now the site of the Ala Wai Golf Course?

Please give a brief reason for your opinion, your full name, telephone number and the area in which you live. A reporter may call you back.
Send responses by email up to 8 p.m. today to: youmakethecall@starbulletin.com.
You may also call 545-5867 up to 8 p.m. today.





| | |


Closing course
would help canal,
state planner says

---

Christine Donnelly
Star-Bulletin

The state's planning director says the Ala Wai Golf Course needs to be redeveloped to help clean up the Ala Wai Canal and that land adjacent to Sand Island State Park is the best site for a new urban golf course.

"It's about the only possible site in town, within the urban district" if the state decides to build anew, said state planning director David W. Blane. "It's a beautiful site, level, on the ocean, with room for parking."

Blane said closing the Ala Wai Golf Course and redeveloping that area is crucial to cleaning up the the polluted Ala Wai Canal. The planned redesign includes several retention ponds to help filter sediment and debris that dump into the canal.

"To me, that's the most exciting element," Blane said.

Gov. Ben Cayetano has said he would move to close the Waikiki course and replace it, either by building a new course on state land or buying an existing course.

If Sand Island is chosen, "very preliminary plans" call for building an 18-hole, 6,000-yard golf course on a roughly 121-acre oceanfront parcel that includes vacant land adjacent to Sand Island State Park, as well some of the least-developed parts of the park itself, Blane said.

He said most of the state-owned parcel is vacant, littered with old machinery and other junk people have dumped. The U.S. Environmental Protection Agency has done preliminary soil tests that found the area safe for use as a golf course, he said.

Assuming that the various governmental bodies, including the Legislature, approve the idea, it would be about July 2004 before the new course opens, Blane said, at a cost of $10 million to $12 million.

The Ala Wai Golf Course would remain open during that time, he said.

"The plan has always been to keep it open until a new place is done," he said.

Avid Ala Wai golfers have decried Cayetano's plan to close the course. Likewise, some Honolulu residents who frequent Sand Island worry that building a golf course there would limit access to their favorite surf, beach and picnicking spots. Others said taxpayers' money could be put to better use than closing one golf course to build another.

The park, off the beaten path, is "one of the few areas (in town) you can enjoy the surf, the beach, the fishing, the quietness," said Harry Ho'olulu of Kalihi, who frequently swims and surfs off Sand Island State Park.

But Blane said building a golf course would make the whole area nicer and more inviting for all types of recreational activities. He said he did not know exactly how much park land the golf course would take up because the planning is so preliminary.

Sand Island is a man-made island that forms the protective seaward border for Honolulu Harbor. Besides the state park on the shoreline, it includes industrial and military use.

---

Star-Bulletin reporter Leila Fujimori
contributed to this report.

---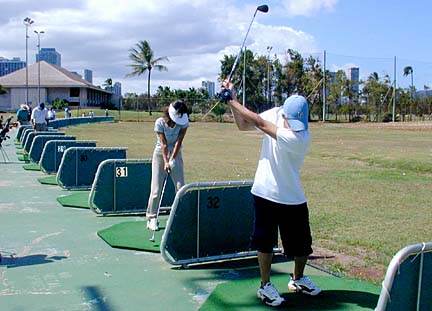 Star-Bulletin
As controversy swirls around the Ala Wai Golf
Course's fate, golfers hit the driving range yesterday.
---
Ala Wai has
survived other attacks

---

By Gregg K. Kakesako
Star-Bulletin

Gov. Ben Cayetano is not the first chief executive to take aim at the Ala Wai Golf Course.

Cayetano said in January, and again during the weekend, that he wanted the state-owned Ala Wai property to be redeveloped with more diverse uses for visitors and residents.

In 1955, Territorial Gov. Sam King urged the sale of public lands flanking the Ala Wai Canal to build two other golf courses at Hahaione Valley in east Honolulu and Halawa Valley and a city auditorium. King wanted the Ala Wai land subdivided and sold for homes and apartment buildings.

A year later, King said keeping the land, originally intended only as the site of the annual territorial fair, could no longer be justified because it was valuable and needed for home sites.

Another proposal involved building a Honolulu municipal auditorium and state capitol on the land. As early as 1953, Territorial Gov. Oren Long said the golf course was an ideal site for such a facility because it would have adequate parking spaces, unlike any downtown location.

A few years earlier, in 1947, Honolulu City Supervisor Nick Teves suggested a residential development of what was then called the Ala Wai Links.

One of the more novel ideas raised during the long debate over a Honolulu convention center was the "giant saimin bowl" concept on the Ala Wai site.

Architect Gary Chikasuye in 1981 proposed a convention center with more 100,000 square feet of exhibit space, a 900-room hotel and a 20,000-seat sports arena in the shape of a large bowl, with nightclubs, restaurants and a promenade on the top. Other stores would surround the base.

Another convention center proposal called for realigning the 18-hole golf course to accommodate a meeting facility.

The convention center was eventually built at Kalakaua Avenue and Kapiolani Boulevard.

The formal opening of the first four holes of the Ala Wai Golf Course was held Dec. 12, 1930 -- a year and a day after work began. Acting Gov. Raymond Brown drove the first ball off the No. 1 tee. Joining the three foursomes who played that day was Don McKay, who laid out the course.

Monte Ito, long-time Honolulu Advertiser sports columnist, recalled that it was Sam Yap and Bebe Carter who may have started the Ala Wai Links in the early 1920s by burying a salmon can for a one-hole course where the No. 6 hole now exists.

Other holes were gradually added until it became a six-hole course and, during the mid-1930s, it evolved into a nine-hole course. The first labor force to maintain the links came from the Territorial Oahu Prison.

Another version of how the course started held that the land, once used by Waikiki rice farmers, was idle during the depression and, to pass the time, caretakers of the territorial fairgrounds set up a three-hole course.

Friends were charged 25 cents a hole and the course was enlarged to six and then to nine holes. At that point, the Territorial Fair Commission took interest and assumed operation.

By 1937, a complete 18-hole layout was finished and was maintained by Raymond C. Brown, then secretary of the Territory of Hawaii, whom Ito called the "father" of the Ala Wai.

One of the fair buildings doubled as a "clubhouse." In 1947, the Legislature appropriated funds to build a clubhouse, which was completed a year later and named after Francis Ii Brown, "Mr. Golf of Hawaii."

It was replaced with a $5.8 million structure 41 years later.

The Ala Wai Links remained under the jurisdiction of the Territorial Fair Commission until soon after statehood in 1959. A special session of the Legislature that year turned the land over to the city a year later, but authorized the governor to return it to state control to prevent it from being used in other ways.

By 1963, the Ala Wai course was recording 105,750 rounds of play a year, taking in $154,000.

In 1983, the National Golf Foundation said that of the 13,000 golf courses in the United States and 20,000 in the world, the Ala Wai with its reported 220,000 rounds was the most heavily played 18-hole regulation facility.

In 1986, Ala Wai recorded 197,549 rounds. That dropped to 176,000 last year, but still made it the most heavily used municipal course in the country.




Ala Wai Golf Course

Facts about the popular site:

Established: Gradually during the 1920s and 1930s
Size: 146 acres and 25 staff
Rounds of golf: 176,000 a year
Par: 70
Length: 5,861 yards (men), 5,095 yards (women)
Annual revenue: $2.3 million



E-mail to City Desk
---
---
© 2000 Honolulu Star-Bulletin
http://archives.starbulletin.com