Advertisement - Click to support our sponsors.

---
---
Monday, September 25, 2000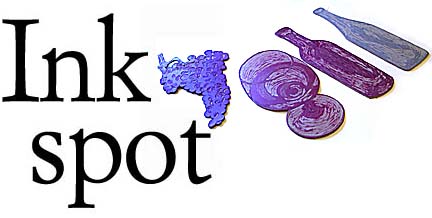 Honolulu printmakers
find a place to create a
community studio

---

By Cynthia Oi
Star-Bulletin

IF it wasn't for the heavy black presses in the sun-bright rooms at the Academy Art Center, Marcia Pasqua would not be able to explore her interest in printmaking. Pasqua is one of 20 or so artists who use the Honolulu Printmakers' community access studio at the old Linekona School.

For a minimal $35 a month, artists are given a place to call home, where there are inks, work space, tools, equipment and camaraderie.

"This is an incredible place, really," Pasqua said as she applied ink to a glass plate for the monotype she was creating.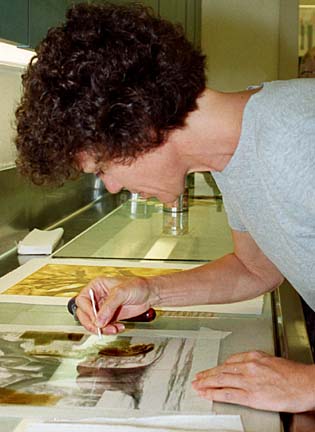 By Ken Sakamoto, Star-Bulletin
Marcia Pasqua lays ink on a glass plate.
---
Pasqua, a sculptor who teaches with the University of Hawaii Outreach Program, took a printmaking class and wanted to learn more about the medium.

But to explore on her own, she would have to make a major investment in equipment and space. The press alone would run into the thousands; the group paid about $8,000 for its big press. She'd need a spacious room with good light; counters for glass plates, carving woodblocks or linoleum and inking plates; storage for paper and printing materials, rollers and other implements; sinks for cleaning up; drying racks and slant boards.

She has all of this at the access studio, as well as the community of other printmakers. The artists offer each other support and the setting is comfortable, she said.

The tall windows in the high-ceiling studio looks out toward Thomas Square. The rooms are clean, light-filled and spacious. As they work, the printmakers talk story, give solicited opinions and advice, and exchange compliments.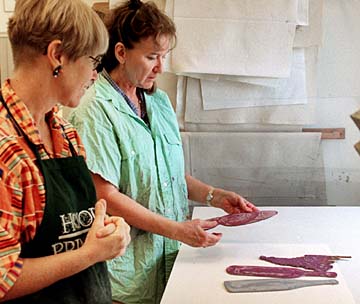 By Ken Sakamoto, Star-Bulletin
Laura Smith and Donna Broder discuss the colors
Broder will use on her print.
---
Laura Smith, executive director of Honolulu Printmakers, said the studio first opened in an old gas station at Honolulu Community College in the early 1980s. In 1986, when HCC needed the space for its own growth, the studio moved to Linekona. It is shared with the Honolulu Academy of Arts for its art classes.

Anyone with experience in the medium (the group offers classes) and Honolulu Printmakers membership ($35 to join) may use the facility. There are two intaglio presses, lithography presses and a vented acid-etching facility. The studio provides inks, acids and solvents.

Smith said there are not many other cities that have such a community studio.

"It requires a commitment by the organization," which numbers about 115 members, she said. Besides the money, volunteers are needed to staff the studio.

Being executive director means Smith "does everything the volunteers can't get to," said Florence Ko, another studio regular. "Laura is great. She's worked hard to keep this up," she said.

Ko, a grandmother who says she "came to art late in life," works at the studio at least once a week. She's been using the facility for seven or eight years, and said, "I don't know what I'd do without it."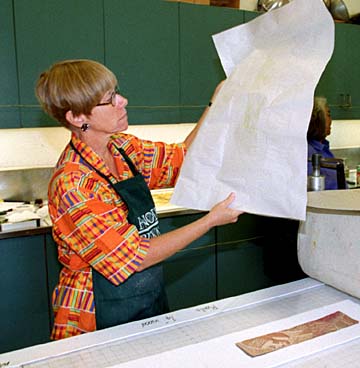 By Ken Sakamoto, Star-Bulletin
Laura Smith looks over her print at the Linekona studio.
---
"This is great asset to the community," Ko said.

Because they see each other regularly, the printmakers get along well. They work individually, but often trade information.

The quiet business of inking and printing is interrupted by, "Wow, how did you get that effect?" and "You're much better at color than I am."

No one seems to have an attitude. Instead they are courteous and share equipment and respect.

"There have been no real conflicts," Smith said. "We all get along.

"Printmakers have to learn to get along," she said, because when they first begin to train, they usually are sharing equipment and space at a college or university. "Painters are more solitary."

---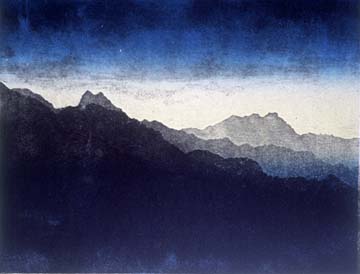 Dan Sailer

---
Printmakers fund raiser

The Honolulu Printmakers, which takes the printmaking art to public high schools, operates a community access studio and offers college scholarships to island students, will have a benefit party at 6 p.m. Oct. 6 at the Academy Art Center Sculpture Garden.

Called "A Night in the Secret Garden," each partygoer will receive an original print of their choosing from dozens of island printmakers, such as Yvonne Cheng, Sean Kimura, Cora Yee, David Smith, Mary Mitsuda, Joe Singer, Marcia Morse or Gary Choy.

There will be food and drinks from such island restaurants as Chai's Island Bistro, Irifune, Cafe Laufer and Ryan's Grill.

Tickets are $100, $125 for couples (one print) and $25 for spectators (party only).

Friday is the deadline for ordering tickets. Call 536-5507.






Click for online
calendars and events.
E-mail to Features Editor
---
---
© 2000 Honolulu Star-Bulletin
http://archives.starbulletin.com